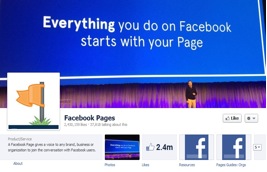 Facebook Pages are the simplest and easiest way to get started with Facebook Marketing. It's free and easy to set up. Unfortunately, many companies don't use this feature to its full potential. Good thing, there are easy guides that you can follow when it comes to using Facebook Page for your business.
Optimize Your Info Tab
When it comes to setting up a Facebook Page for your business, you shouldn't ignore your Info Tab. This component is the same as the "About Me" section on your personal Facebook account. Use this section to tell your fans about your brand, what your business does, and what makes it unique. You should also remember to keep it casual, since a friendly tone works best on Facebook.
Post Useful Content into Your Wall
What you post on your wall will appear on your fans' News Feed. Thus, you have to make sure that what you post is something useful to your fans. Some content that works are links to articles related to your niche, coupon codes for fans to save on your product, new product announcement, and links to useful online tools.
Ask Questions to Your Fans
Other than posting content on your Wall, another way to keep your fans involved is to ask them a question. You can ask an open-ended question, create a poll, or ask their opinion about a product suggestion. This is a great way to inspire fan loyalty for your page, and it will also keep them engage.
Run Contests
Facilitating contest is another way to inspire fan loyalty to your page followers. It is also a great way to generate new fans. Other than opening the content to your fans, you can also encourage them to join by giving monetary price or product freebies.
Avoid Spamming
Spamming is a big no-no in Facebook marketing, and in any social networking sites. When you clog your fans' News Feed will endless sales pitch, it will definitely annoy them. In turn, they will most likely unlike or unsubscribe from your page. One account out of your connection is like losing access to hundreds of other users.
Monitor Your Page's Statistics
Other than setting up a Facebook Page, it is also important that you learn the nook and cranny of your page's Admin Panel. This will help you monitor your content's reach and your fans demography. That way, you'll know how to tweak your content based on your audience.