Applications are big, and I mean "sliced bread" big. Not only are they becoming a major part of overall mobile use, but it is becoming rare to find a business that doesn't offer some kind of application to further expand their corporate agenda. Even small businesses are getting on board, with free apps that make it easier for customers to find out about special offers, her coupons or browse new items and services.
If you have just invested the money into the creation of a mobile based application, you now have the task of making it work for you. Without a major percentage of downloads from clients or potential clients, you won't be able to justify the cost of the initial creation. That means your company is unlikely to approve your action, which will look bad for you.
But don't be too nervous about the reaction of your company's execs. There are plenty of ways for you to boost visibility and so increase your chances of your mobile app being downloaded and used. As for the results of this progress, the numbers will speak for themselves.
Get the Word Out
If your customers don't know that you have made the app, they are not likely to download. Some will probably come across is by accident, but it is a much better idea to make it clear that it has been developed. Building hype before the release is always a tried and true method of advertising. Use text messages, email and social networking for the bulk of your announcements. These seem to be the preferred method of marketing for most at this point, and it is a cheap way of letting the cat out of the bag.
Old Fashioned Signs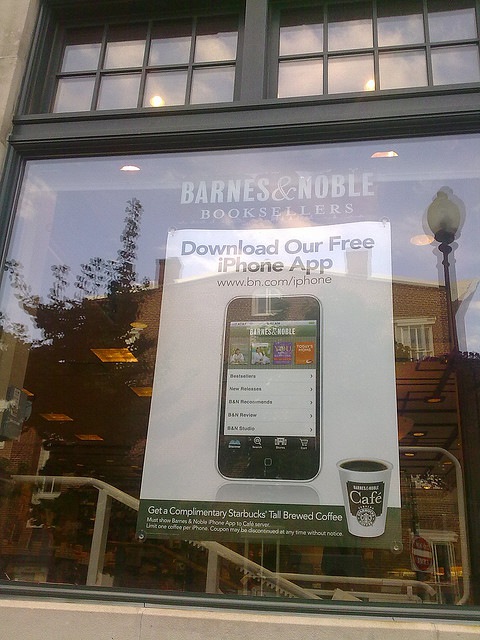 Sometimes the traditional way is best. For your physical store, hanging up signs on the windows and walls will tell your customers every time they visit that your app is on the way. Be sure to give a release date and a website where it will be located (for example, your official site and the iPhone/Google apps store). Otherwise, keep it simple and clean.
Put It On Your Site
It seems like a no-brainer, but you would be surprised by the number of companies that don't provide at least a link to their mobile app on their website. The easier you make it, the more likely the customer will be to get it. Keep in mind that it is cheaper and easier to host it at a mobile app store and provide a direct link, rather than hosting it on your own servers. This won't make it any harder for the customer, and might make it easier as they will be able to search for it through the phone.
To offer a quick good example, I love the CouponSherpa iPhone app landing page:
It is short, concise and useful;
Obviously, offering the application for free, they want to make the most of the page link juice sending links to most important pages of the site (without breaking user experience): coupon codes and print coupons;
Lastly, at the bottom, they offer the quick video guide on using the app with the mild call to action: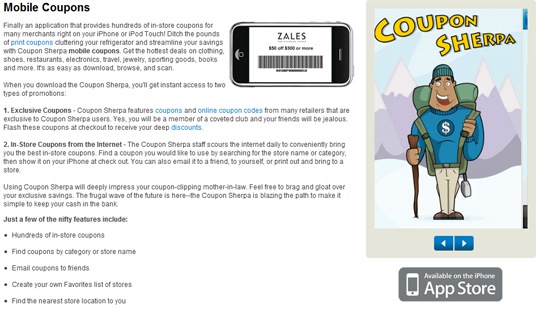 Get it Reviewed
Whether on blogs or review sites, paying someone to try out your app and give a real opinion can be a great way to market it online. Depending on what business you are in, this could be easy or hard. Most gossip, fashion and entertainment blogs are happy to branch out a bit and provide a review for an unrelated product or service. But the most popular the blog, the more they will charge for this.
To make it easier for you, here's the handy list of most powerful iPhone app review sites out there:
| | | | | |
| --- | --- | --- | --- | --- |
| | Google PR | Alexa Rank (as of January 2011) | Submit / Contact page | Owner name |
| AppShopper | 6 | 5,300 | About | Marianne Schultz |
| 148Apps | 6 | 17,000 | Submission information | |
| iPhone Application List | 5 | 42,000 | Submit | |
| AppCraver | 5 | 48,000 | Contact (submission guidelines) | Fred Krueger, Founder and Clark Landry, Founder |
| Apptism | 5 | 55,000 | Contact | |
| Apple iPhone Apps | 5 | 694,000 | Contact us | |
| AppSafari | 3 | 27,000 | Submit | |
| AppStoreApps | 3 | 118,000 | Write for us (check out submission guidelines) | Doug Lynch |
It isn't hard to market an application, mainly because mobile services tend to sell themselves on the web. You might be a little anxious about justifying the cost of development, but remember how many people will download an app impulsively, and keep it on. If it is free and they already like your business, they are almost sure to check it out. Just get the word out and let the rest take care of itself.