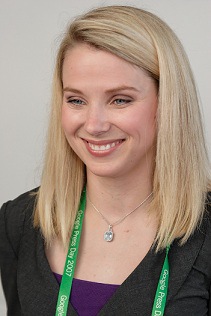 Earlier this afternoon, Yahoo! announced that it has appointed Marissa Mayer as its next President and CEO. The company is undoubtedly hoping that Mayer, who is Yahoo's third chief executive in under a year, can help recapture some of the search engine's lost market share. Since the majority of industry analysts and insiders were predicting the job would be awarded to interim CEO Ross Levinsohn, the announcement was completely unexpected and shocked the industry.
Although Mayer has less executive experience than her predecessors, she was one of Google's first employees, and she has been instrumental in their success. In addition, she has a Master's degree in computer science from Stanford University, and she has a comprehensive understanding of both the technical and business challenges that Yahoo currently faces.
During Mayer's 13 years at Google, she held many positions, including engineer, designer, product manager, and executive. She was Google's twentieth employee, its first female engineer, and, most recently, the executive that led Google's local and location division. Even though she was a rising star and a stellar spokesperson for Google, there has been speculation about tension between Mayer and Larry Page's senior leadership team.
In an official press release, Mayer issued the following statement:
"I am honored and delighted to lead Yahoo!, one of the Internet's premier destinations for more than 700 million users. I look forward to working with the Company's dedicated employees to bring innovative products, content, and personalized experiences to users and advertisers all around the world."
Even though Mayer has a wealth of industry experience and knowledge, she will not have an easy time turning Yahoo! around. The slowly dying search engine has continued to lose market share to its competition for the past ten months, and Google seems poised to continue dominating the search market for the foreseeable future.
Do you think Mayer can turn Yahoo! around? What would it take for you to start using Yahoo! instead of Google?
Sources Include: Market Watch, CNN Money, & Bloomberg Businessweek
Image used under Creative Commons from Tohma