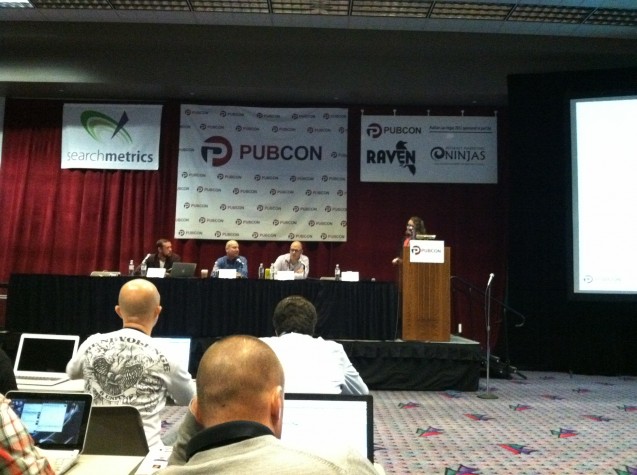 Loren Baker, the VP of marketing at BlueGlass Interactive and founder of Search Engine Journal, spoke on a panel this morning that focused on how to build links that have maximum benefit and minimal risk. His presentation focused specifically on how to build links socially and virally.
Early Linking:
Baker first started building links in 2000 (before links mattered to search engines!) when links were primarily used to drive traffic to a site. He learned that he needed to build relationships with high profile sites, which would generate targeted traffic and drive conversions.
Post Google Linking:
Having "exact match anchor text" allowed sites to manipulate Google results. With Panda and Caffiene, Google has started to crack down on this and has basically reverted back to the "early linking" methods. Brute force is dead! If your site's backlink profile is filled with unnatural links to targeted money pages your site looks unnatural and it will no longer work! If you build relationships, it will last long term, drive traffic, lift conversions, and will withstand future algorithm changes.
To better understand your existing site's links ask the following question:
What kind of links point to the homepage?
What kind of links point to your content?
What kind of links point to your blog?
What level of subdomain traction is occurring?
Content marketing still works and can go viral! If the site is not a "link magnet," it will be very difficult to build a natural linkgraph. The site should have content that people want to visit and share (via social and links). It is highly recommended to build out a content library, using a CMS such as WordPress, which has exceptional content people find valuable.
Remember, content lives forever – good content will enhance the life of your links! In addition, good content can go viral on social networks that generate targeted traffic, natural backlinks, and produces valuable social signals. Social Promotion and PR is a long-term effective strategy and is very low risk.
Takeaway: Moving forward use the SNOW approach to link building:
Scale
Natural
Occurrences
Widely
See what works in a natural linking environment and build a scaled strategy to replicate this and magnify the effect using social networks, influential people, and PR.