Voice search and digital assistants are changing how people search for local businesses.
This year, there will be more opportunities for local businesses to enhance their presence on search engines.
Here are six tips to help you revamp your local SEO strategy.
1. Optimize for Google Lens
Visual search is going to make an impact soon.
Many people prefer images as compared to text so expect them to search things using images.
This is giving rise to a new technology for search engines known as the visual search engine.
Google Lens is the name given to Google's visual search engine.
In the words of Sundar Pichai, Google Lens is "a set of vision-based computing capabilities that can understand what you're looking at and help you take action."
Now, imagine people looking at your brick and mortar store and Google lens providing information about it to persuade users to take action.
This is what visual search and Google lens can do for you.
With Google Lens, your smartphone camera won't just see what you see, but will also understand what you see to help you take action. #io17 pic.twitter.com/viOmWFjqk1

— Google (@Google) May 17, 2017
2. Optimize for Voice Search Queries
Google has already shared the data that 20 percent of mobile search queries are voice search.
Moreover, by 2020, it's predicted that around 50 percent of queries will be voice searches.
Voice search queries are longer than normal text queries and mimic how real people talk. Hence, instead of optimizing your site for the query "restaurants in New York City", optimize it for conversational search queries like "which restaurants are open in New York City".
Remember, voice search queries always start with words like "who", "when", "where", "how", "what" etc.
The below list (from Bright Local) provides the best keywords for voice search: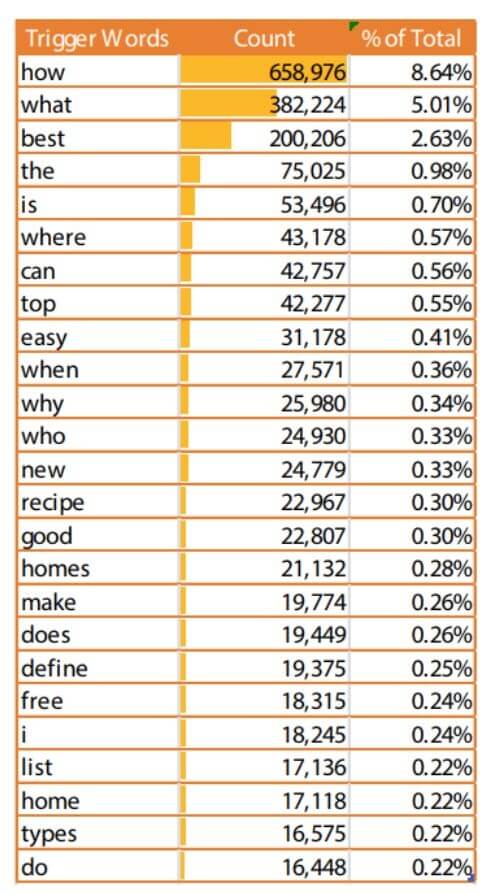 Optimize your site for personal assistants like Google Assistant, Apple Siri, or Amazon Echo.
Assistants provide proactive suggestions based on the user search queries after collecting data through structured markups. That's why you need to provide proper structured markup in your site like opening hours, address, areas served, location, review, telephone etc.
A full list of local business markups is listed here.
Prepare a list of FAQ pages having answers to the common questions that people might ask to reach your business through voice assistants.
You can find a list of questions using a tool like AnswerThePublic.
Own the featured snippet as this is the place that can generate the maximum conversions for local businesses.
3. Ensure NAP Data Is Consistent Across Local Business Listings
NAP – which stands for name, address, and phone number – are crucial pieces of information that can literally decide the presence of a local business online.
It is necessary to claim your local business listing on each of the top business listing sites as people still review a business before choosing it.
Having solid positive reviews on popular local directories will help your business to gain more visibility and improve the bottom line.
Make sure your business displays the same business name, address, and phone number across all the local business listings as this will help Google to accurately predict the address of your business and display it directly on the search results.
Every component of your Google Maps strategy must be properly optimized.
Consider using Google Business View 360-degree virtual tours as this will help potential customers to see a special section beside your business photos that says "see inside".
The better you optimize your business listing, the greater the chances of potential customers reaching you.
4. Encourage Customers to Leave Reviews
When it comes to gaining trust, nothing is better than earning lots of positive reviews for your business. Good reviews attract people to check your local business as people trust their peers and have faith in their choice.
Here are some great ways to gain lots of good reviews for your business:
Ask your customers to leave a review on your site. Email them, message them, or reach out to them personally.
Improve the overall experience of the users. If your customers are happy they will certainly leave nice reviews for your business.
Ensure your business has accounts in all the major review sites like Yelp, Yahoo Local, Google My Business, TripAdvisor, Facebook, City Search, Angie's List, Amazon, etc.
Make it easy for your customers to leave reviews on your site and above all make your website mobile-friendly. Many customers will browse your site using their mobile devices so it makes sense to have mobile-friendly pages (preferably AMP) on your site to speed up the addition of reviews.
At times you can also offer incentives to your customers for adding reviews.
5. Ask Local Influencers for Help
Influencer marketing is not only for bigger brands but instead, you should be using the power of micro-influencers to revamp your local SEO strategy.
Local influencers can be bloggers, reviewers, or social media stars.
For example, every summer, restaurants, and bars in Center City, Philadelphia, offer a special happy hour on Wednesday evenings called Center City Sips. Under this program specials, snacks and drinks were offered. In 2017, the Center City District put together a Sips Style Guide, that relied on style ambassadors (local influencers), to help spread the word and share style tips with people who live or work in Center City.
Hosting events like these are a great way to share your brand voice across the local community.
You can also make use of influencer marketing platforms to identify popular local influencers and collaborate with them online.
Influencers help to start chatter about your brand. Google is pretty good at noticing when brands are gaining popularity, which can result in better rankings.
6. Earn Local Backlinks
Links are not going to die anytime soon!
Local businesses should leave no stone unturned to acquire as many local backlinks as possible.
However, opt for links that send direct referral traffic and builds your reputation as a business.
Here are some ways to do that:
Offer a student scholarship and tie up with universities to spread the word. Reach out to local newspapers and inform them about the scholarship. This is a great way to grab eyeballs and people would be more willing to link to the main story.
Host events and invite influential local community members.
Sponsor a charity group or a healthy living meetup.
Grab links from local directories. Here is a list of 50 local business directories to get links from.
Take the help of HARO and reach out to reporters with stories that can get your business highlighted.
Curate a list of local blogs and ask them to review your business or products.
Convert the relationship with your client or vendor into a backlink.
Regularly research your competitor's backlinks and prepare a list of new sites to gain links from.
Need more ideas? Then head over to this post from Wells Yu.
Earning local backlinks is a crucial factor in improving your site's visibility in the search engines.
Conclusion
Local SEO is getting tougher every year. New businesses are launched every day and Google makes thousands of changes to its ranking algorithm every year. However, the tips in this post will help you to revamp your SEO strategy and help your business succeed.
More Local Search Resources Here:
---
Image Credits
Featured Image: Pexels
In-Post Photo # 1: Bright Local
In-Post Photo # 2: OTT Blog