Live Search is rolling out to new features, or should I say two new way of giving users answers to the information that they are looking for. It's either Instant Answers or Active Answers. Both of them would enable users to find the information they need instantly and up-to-the minute.
First is the Live Search Instant Answers which is being rolled in time for the March Madness. You can use Live Search's Instant Answers to get the latest and up-to-the-minute going ons in the NCAA Tournament such as Team Standings, Score highlights and more useful information that fans of March Madness would surely appreciate.
The other feature is Live Search Active Answers. Similar to Instant Answers, this feature also gives you instant information on a more active search query, say "Flight Status". When you search for specific flight details, Live Search Active Answers will give you the latest flight details including gate information, flight delays and more.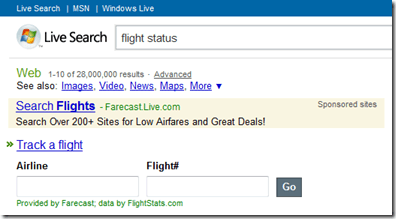 For generic search terms, Live Search instead of displaying various results will give users the option to refine their searches through an interactive interface which will prompt them to enter more specific information regarding flight schedules.