LinkedIn is rolling out enhanced targeting tools to help advertisers reach more of the right audiences.
The new tools include more sophisticated audience, targeting, and reporting features in Campaign Manager. These features are designed to bring more powerful reach and insights to LinkedIn campaigns.
Audience Forecasting
An improved campaign forecasting panel in Campaign Manager will allow marketers to learn more about their target audience.
The panel can be customized to surface specific professional characteristics about an audience, such as top industries, years of experience, or company sizes
"When combined with contacts you've uploaded to Matched Audiences, you can be sure that you're not only serving ads to the specific prospects you're trying to reach, but that you'll have the demographic insights to deliver the content and creative mix that will resonate with them."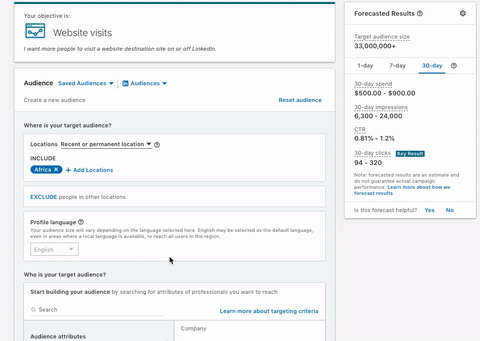 Precision Targeting
As a result of feedback from marketers, LinkedIn is incorporating Boolean targeting logic which allows for using "And/Or" in queries. "And/Or" targeting lets advertisers reach more of the right audiences through more sophisticated combinations of profile facets like job function, seniority, and titles — all in a single campaign.
Previously, if advertisers wanted to target people using "Director" as job seniority and "Finance" as the job function, they could only do so by targeting directors in finance roles.
Now, with Boolean targeting, advertisers can use a single campaign to reach people who are Directors at any job function, as well as people in Finance roles of any seniority.
Enhanced Reporting
LinkedIn is improving on its existing demographic reporting capabilities with insights into who is watching video ads, filling out lead gen forms, and opening sponsored InMail messages.
This data will help advertisers understand what kinds of professionals are becoming quality leads, and provide the insight needed to make strategic adjustments to ad campaigns.
These updates are now available to all LinkedIn advertisers.