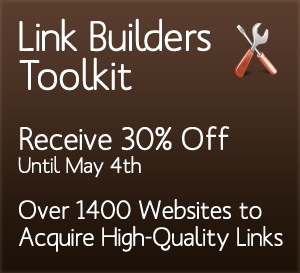 I wanted to let all of the Search Engine Journal readers know about a new product that I am offering on my blog called the Link Builders Toolkit. Personally I have always wanted a link building resource I could reference to find high-quality and relevant places to acquire backlinks. So over the years, I have been putting together an excel document of sites that I have come across that could help me with my link building efforts.
So finally the Link Builders Toolkit was created!
What is the Link Builders Toolkit?
The Link Builders Toolkit is the ultimate resource and collection of over 1400 websites to gain high-quality inbound links from. Each site has been hand-picked to find only the websites that are at least a PR 3 or higher. They are also organized by category so you can easily find the right type of sites, depending on the type of link building you are doing. This excel document saves hours and hours of manually trying to find places to acquire links from.
This toolkit is perfect for Link Builders, SEO's, Internet Marketers, and In-house Marketing teams!
Over 1400 Sites to Acquire Links From:
Over 160 Blog Directories (Download Tab For Free)
Over 30 Classified Sites
Over 100 Content Sharing Sites
Over 80 Coupon/Deal Sites
Over 400 Directories
Over 40 eBook Sites
Over 25 Event Sites
Over 30 Forum Sites
Over 50 Local Sites
Over 40 Photo Sharing Sites
Over 35 Podcast Sites
Over 300 PR/Article Submission Sites
Over 35 Q&A Communities
Over 65 Review Sites
Over 60 RSS Submission Sites
Over 50 Social Bookmarking Sites
Over 50 Social Community Sites
Over 45 Shopping Sites
Over 35 Twitter Sites
Over 35 Video Sharing Sites
Over 60 Free Website Creation Sites
Over 15 Wiki Sites
Other Great Resources That Are Included:
List of Ping Sites to Syndicate Your Content
Complete List of Search Queries for Finding Link Partners
For 1 Week: Get 30% Off the Link Builders Toolkit

For the first week, I will be giving a 30% discount on the Link Builders Toolkit. To purchase, check out the Link Builders Toolkit page on my blog. I am also offering the tab that includes 160 Blog Directories for free. Feel free to download it here.
I hope everyone will buy a copy, I know it has saved me countless hours! Please provide me your feedback.