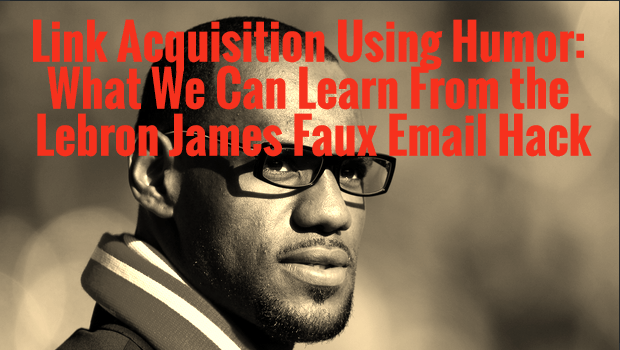 Link building is a critical part of any search engine optimization effort, but sometimes the manual methodologies get old. The good news is, you can just trash an athlete or appeal to geek sensibility and the links will follow.
If only it were that simple, right? But it is possible.
Just look at what Justin Halpern did on Grantland last year with the infamous Lebron James 'Fauxclusive' e-mail hack. Easily one of the summer's best link-baiting schemes, Halpern produced a faux email screen capture supposedly taken from the Gmail account of NBA superstar LeBron James. The fake Gmail account was purportedly shown by fake hackers who posted a screenshot to the web. Although intended as humor, it also carries with it a modicum of plausibility, since more than a few celebrity accounts have been hacked in the past.
The fake Gmail account was littered with topical humor from the summer of 2012: A fake email from Republican Mitt Romney makes a clueless attempt at seeking an endorsement. Jeremy Lin sends James "Lingratulations" on his recent championship. Michael Jordan taunts him in crude terms. The content is so good it makes it nearly irresistible for a hoops fan not to click a share icon.
The outcome?
The faux LeBron Gmail generated buzz, yielding thousands of backlinks and sending massive social signals everywhere around the web. It was a viral success and search engine catnip – an SEO firm's dream.
And even though Halpern probably doesn't even know this, he is already a link baiting champion, thanks to the success of his Twitter feed, "S### My Dad Says," which rocketed to internet fame in 2009. It also produced two book deals and a short-lived sitcom on CBS.
Link Baiting with parody ideas – How hard can it be?
We should all be so lucky to have the link baiting success that Halpern has achieved. However, it does take some talent and a lot of creativity – but not more creative than a lot of infographics I've seen on the web.
If you don't do graphics, hire a guy on Upwork or pick up some design software and you should be able to put something decent together. The hard part is finding a killer idea that people will find hilarious. Start by analyzing the biggest players or thought leaders in your niche, then figure out what outlets or websites need to be notified when the parody goes live.
The big lesson of link baiting might be appealing to a bigger audience. Although concentrating on a tight niche is usually smart marketing advice, good link bait, frankly, tends to have a wide, but shallow appeal. Think: celebrities.
It may be difficult to create a viral smash, but is it more time-consuming than creating an infographic or landing 10 guest blog deals?
Keep it in perspective. Plus, making fun of people is a lot more fun than guest blogging, right?