Pinterest recently began rolling out a new feature to their existing advertising options, Search Ads. It goes without saying that Google has had a multitude of success with search advertising, and now the social platform for Pinners is joining the group as well.
What Are Pinterest Expanded Search Ads?
Until now, it was only possible to run Search Ads by using promoted pins. These ads would solely appear by related and applicable searches. With Pinterest's latest update, the ads will now appear directly after a user enters direct searches.
To help speed up the rollout, Pinterest has partnered with Kenshoo, a Tel-Aviv based advertising company that controls ad buying software used by several search advertisers to allow retailers to provide feeds that are utilized to create streams of product-specific Search Ads in real time.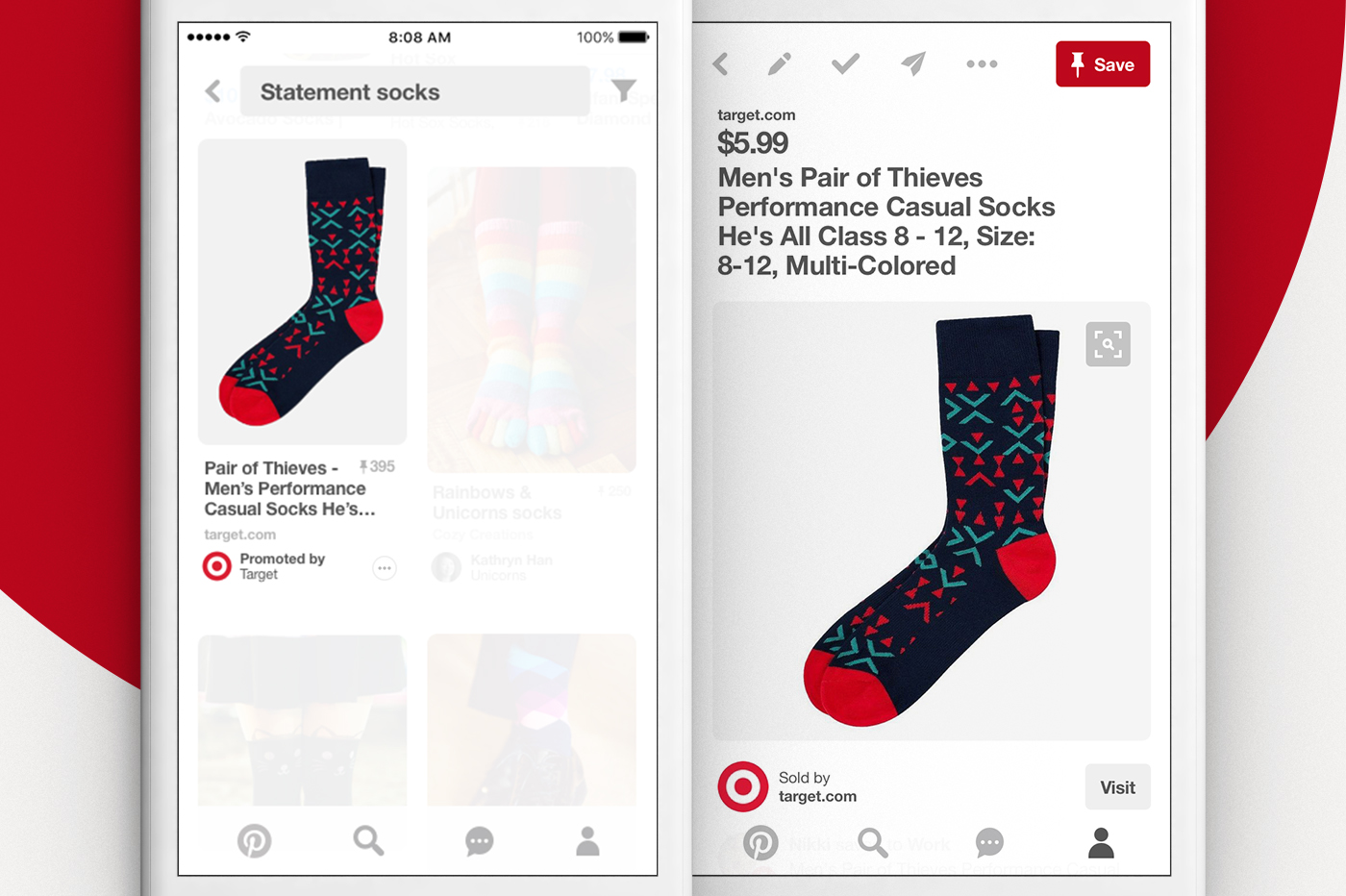 The ads will mirror other paid campaigns that function like an auction, as they will automatically be generated from the product inventory so advertisers will have the option to pay for impressions, pin clicks, and engagement.
Ad groups are also possible, where bids are optimized at the keyword level, and marketers are able to gain insight into how images are being pinned, including the names that they are utilizing to save them.
In addition, this new feature includes enhanced targeting and reporting options, however additional information on this has yet to be released by Pinterest.
A Gold Mine for Search Intent
By rolling out Expanded Search Ads, Pinterest gains a major advantage to advertising on its platform. According to Pinterest, 97% of search queries on the platform do not mention a specific brand. In addition, Pinterest users have been shown to begin their searches about three months prior to peak events such as holidays, summer vacations, etc.
This means that users on the platform are in an active discovery phase and are open to ideas from several potential places. This is a prime time for advertisers to get their message to end users at the beginning of their consideration phase and onward.
Pinterest has stated that approximately 2 billion searches occur on the platform per month. While 2 billion searches per month pales in comparison to other platforms such as Facebook, Pinterest still surges forward in terms of buying intent.
According to Millward Brown, a market research firm, "93% of Pinners have used Pinterest to plan for or make purchases and 52% have seen something on Pinterest and made a purchase online." The shopping potential on the platform is thus compelling, and brands have an enormous opportunity to utilize the platform to meet their goals and be present to users, especially in the discovery phase of their journey. Based on this behavior, Search Ads make perfect sense for Pinterest.
How Can Advertisers Use Expanded Search Ads?
The combination of Pinners' discovery mindset and commercial intent can create a new sense of demand. Pinterest Expanded Search Ads have the potential to be a wise investment for companies with money to spend on social advertising, as it has proven itself to be a solid platform for targeting audiences: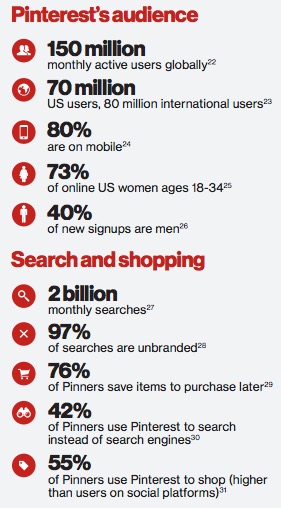 There have been several studies that also speak to CPG brands having enormous success on Pinterest, including a study by Oracle in which certain brands that advertised on Pinterest saw 5x more revenue per impression.
Pinterest represents a potential gold mine for advertisers, as users on the platform are constantly searching for ideas, learning about new brands, and saving and sharing their finds. The new ad options also support this. Marketers can reach users via keyword campaigns, shopping campaigns, targeting options, and reporting. And the main advantage with Pinterest over other channels is, of course, the visual aspect.
Advertisers can leverage their strongest visual imagery to target users, and Pinterest has the insights into understanding how people interact with an image by how they are saving it, naming it, and what words they use, thus providing very valuable keyword insights. Advertisers can then tailor this for their purposes for current and future campaigns, using the language that they know Pinners are using.
Shopping campaigns are now based on feeds, eliminating the need to develop individual creative for every pin. Shopping ads can be pulled directly from an advertiser's feed and then dynamically updated based on inventory, which is an incredible time saver. In addition, it is possible to take a current product inventory feed and move it over to Pinterest with little to no required updates.
Reporting and insights have also received a new boost with Pinterest's partnership with Kenshoo, since they specialize in online attribution. Advertisers can thus have a greater amount of insight into which ads are effective and which ones need some tweaking.
The Mobile Impact
We are all aware of the ever-increasing importance of mobile, and advertising on Pinterest is no stranger to that as well. Since discovery is at the core of the Pinterest platform, search tools are aligned with consideration top of mind. Pinners conduct approximately 2 billion searches a month, primarily on a mobile device. Whether someone wants to plan a birthday party, browse the latest summer clothing trends, or plan a long weekend getaway, Pinterest aids in helping users find ideas and eventually act on them.
The visual experience on Pinterest is tailored incredibly well for mobile, as visual content allows Pinterest to be particularly mobile-friendly and easy to navigate on a smaller screen. In addition, the whole journey can occur in-app, from the initial search to the last click. Since approximately 80% of Pinterest users utilize the app, the search team at Pinterest is well prepared for mobile conversions.
Moving Forward With Pinterest Search Ads
For now, Search Ads are only available for a few select advertisers such as Home Depot and Target. However, the rollout will be happening after Pinterest makes adjustments to their current algorithm.
In addition to Search Ads, over the last year or so, Pinterest has been adding many new features and improvements to its existing ad features:
Buyable Pins (available for Rich Pins as well): If a pin has a blue pin, it can be purchased. A user can search for pins based on price, style, etc.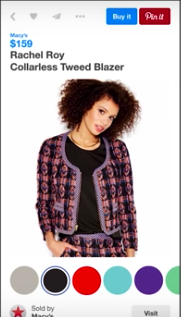 Advanced Image Search: Automated image recognition that allows users to search for an individual item in an image.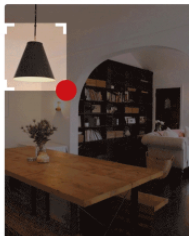 Remarketing and Custom Audience Tools: such as customer list targeting, visitor retargeting, and lookalike targeting

Customer list targeting: Target existing customers using emails or mobile ad IDs
Visitor retargeting: Reach people who've visited your site
Lookalike targeting: Reach a larger group of people who look and act similar to your audience

Promoted Video: Video integrated more naturally into the experience, where users can scroll and the video can be expanded to a new separate tab, with relevant products listed below the video content.
If a brand's target audience is on Pinterest, Expanded Search Ads and other ad options on the platform are a no-brainer worth trying out. The first step is, of course, ensuring that a brand has an optimized business page on Pinterest.
As the rollout moves forward to more brands, the value of Search Ads will become increasingly prevalent. The potential return and awareness, especially for the massive amounts of users who are present on Pinterest during the discovery phase all the way down to the point of purchase, has incredible potential for advertisers.
Image Credits
Featured Image: Pixabay
In-post Images: Screenshots by Natalie Hoben. Taken March 2017.