In his book Why We Buy, Paco Underhill writes,
"The Internet, after all, is a repository for rumors, half-rumors, quarter-rumors, errors, speculations, hypothesis and racy untruths. These co-exist along with, well, facts – things that derive from what at least appear to be valid sources…"
For marketers today, it's all about using content marketing to be the most "valid source" for information. As brand don the new role of publishers, thought leadership is the carrot and content marketing is the stick. Brands are on a mission to provide verifiable, accurate, and insightful data along with the custom layers of personality and voice that companies wear today.
Not all large companies and popular brands get content marketing right, but some certainly do.
In a joint annual report by Marketing Profs and Content Marketing Institute, it's clear that the push for good content marketing is obvious. According to an infographic – thanks to Jason Miller of LinkedIn Marketing Solutions — 93% of B2B marketers are using content marketing today. More than 42% of them consider themselves effective at content marketing (compared to just 36% last year). At least 73% of marketers now believe that they are creating more content compared only to the previous year, and 58% of B2B marketers plan to increase their content marketing budgets next year.
The most effective content marketing strategists have a few rules in common: they have a well-documented content strategy, dedicated teams to oversee content marketing efforts, and marketing budgets that spend generously on content marketing. The top goals for content marketing include brand awareness, lead generation, customer acquisition, and thought leadership.
Image Courtesy: Linkedin.com, Marketingprofs.com, and Content Marketing Institute
There is a lot we can learn from the brands that get content marketing right. So, how do the big boys do it?
Sears: Fitness Experts Have the Last Word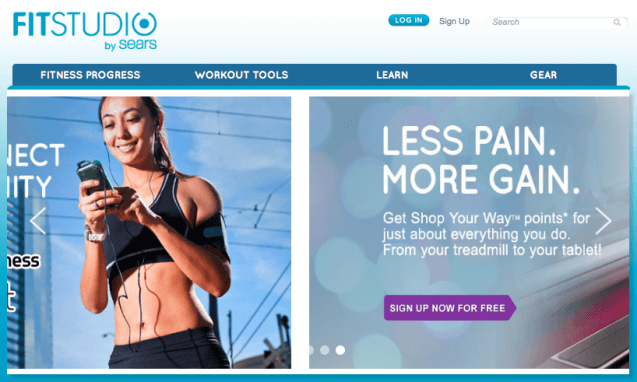 Image Credits: FitStudio
What's in an online community, any ways, you ask? The answer is a little complicated: plenty of case studies and facts show just how powerful communities can be with respect of building brands, establishing a platform for mutual support, leveraging social media, and making content marketing work. Sears' FitStudio – an online fitness and wellness community – has fitness experts themselves as content creators.
Users consume this content, trust what they consume, and then share it across social media channels. For Sears, their content marketing strategy is just one of their multi-channel marketing programs, according to Brandon Gutman of Forbes.com. Yet, it's one that Sears bets on. The company tracks membership acquisition, coupon redemption, engagement, and many other metrics.
GE: Boring Can be Interesting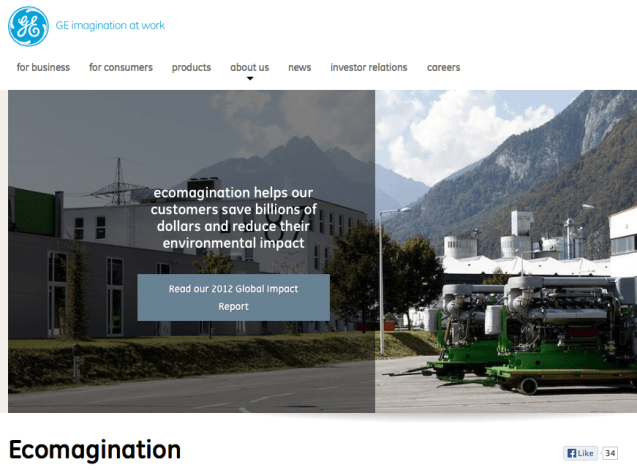 Image Credits: GE, Ecomagination
What kind of content marketing would you expect from a 132 year old, multi-national behemoth of a company? You'd be surprised at what General Electric accomplished. Ecoimagination – just one of the ways GE shares stories and insights – also acts as a forum for clean energy, technology, and sustainable infrastructure. GE's CMO Beth Comstock reveals that GE's smart content marketing strategy enabled the company to gain 30% extra value from every dollar spent on content marketing in general.
GE also ran a Vine-based program called #6SecondScience, experimented with native ads on BuzzFeed, and is pretty much all over YouTube. Social media has played a big part in GE's content marketing success.
For GE, content marketing helps connect with passionate people working with GE to other passionate people who'd like to invest, buy, or just engage with a brand that's a household name.
Kraft Foods: Content Makes it Yummier than Ever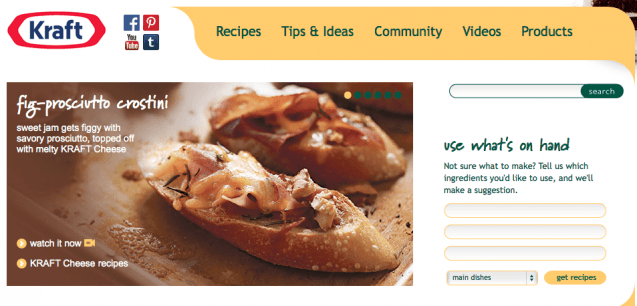 Image Credits: Kraft Foods
Kraft Recipes is a full-fledged community platform. The brand also has a dedicated magazine called Kraft Food and Family. Apart from a strong presence on social media channels, Kraft recipes are a chef's delight, a homemaker's trusted resource, and a mom's best friend.
Kraft Recipes features recipe exchanges, photos, feature articles, photos, lunch ideas, dessert recipes, and much more. This community grows with hunger (pun intended!) rarely seen for such a large brand. Kraft Foods also has other sites such as: Comida Kraft — a bilingual recipe site; and Kraft Military – a source for deals, commissary information, and military resources.
Colgate: More of a Dental Resource Than a Company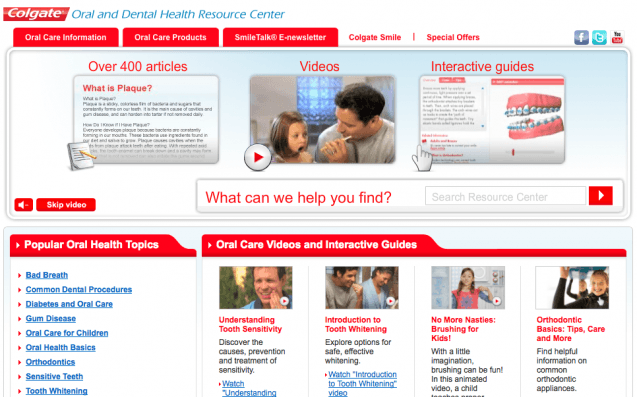 Image Credits: Colgate.com
Your smile means a lot to Colgate, in a lot more ways than just for the commercial benefit. Its website doesn't even feature a normal-looking company homepage. In fact, it's a complete resource center on Oral and Dental care. Featuring a growing database of 400+ articles, interactive guides, videos, and tons of information, Colgate aims to arm you with a range of dental information including dental care basics, tooth sensitivity treatments, tips on brushing for kids, and information about orthodontics.
Colgate also has specific portals for specific markets: for Dental professionals; for Teachers; and for kids. That makes for an efficient sweep of Colgate's whole target segment with smart content marketing. The overall message? Colgate does care.
Coke: Branding is All About Community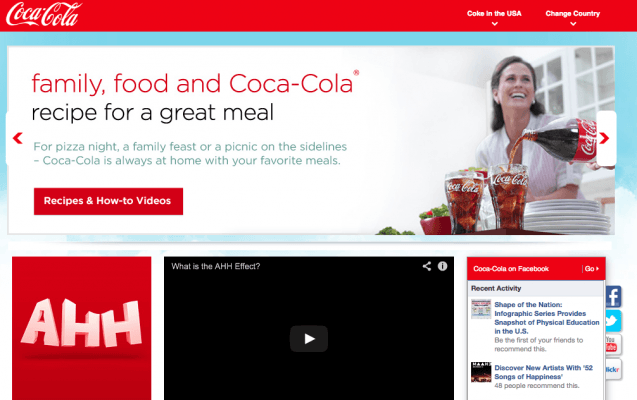 Image Credits: Coke.com
Coke is another great example of a traditional company that lives and breathes content marketing. Along with the support it finds from social media, it's one of those companies that invests a lot on branding, particularly content marketing. Coke believes in keeping its brand fresh, relevant, and engaging. It pushes its fertile ideas out to its global base of customers using content marketing and social media as its primary platforms for marketing.
For Coke, story telling is in its DNA. Starting from its own series of videos explaining their approach to content marketing all the way to their 70/20/10 marketing plan, Coke thrives on creativity, content, exposure, branding, and engagement.
With more than 56 million fans on Facebook consuming more than 1.8 billion worth of its products around the world, it's a busy brand with a hectic content marketing schedule. Coca Cola UK has a Caffeine Counter and a Work It Out Calculator. Coke also has a community called 5by20 where it aims to empower 5 million women entrepreneurs worldwide by the year 2020.
With another community called EkoCycle, Coke's brand initiative was to educate customers about everyday recycling choices and bring in a factor of social change movement while consuming products.
In short, Coke does it all.
Red Bull: Connecting Energy with life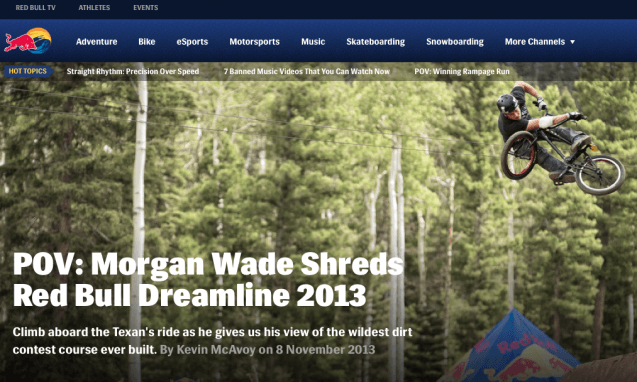 Image Credits: Red Bull
What does an energy drink maker have anything to do with Content Marketing? For Red Bull, it's everything. The company almost takes content marketing to an extreme, so says James O'Brien of Mashable. Leaving a rather large footprint in the world of fast action sports, adrenaline-pumping adventures, and extreme events, the energy-drink maker has just the kind of gusto and "energy" that the drink claims to offer its patrons.
Boasting of a never-ending stream of content, concepts that seek to bring a community together, more than 5000 videos and after hosting 50,000 photos, it's a content marketing strategy that's hard for Red Bull to fail with. It's about relevance, synergy, association, and engagement on full steam. Red Bull features its own magazine and it even spent more than $2 million to create a feature film titled The Art of Flight.
That's a lot of energy creeping into content now.
Nike: Perform like you should on your terms.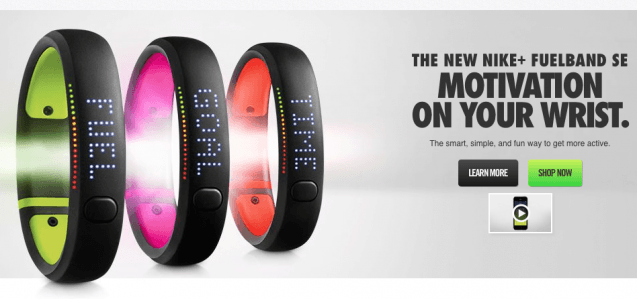 Image Credits: Nike
Nike is always looking for creative concepts and new ways to position its brand. Content marketing is too large a bus for the popular footwear company to miss. In the movie Step Up Revolution, Nike's marketing gig offer to a group of dancers in a small town Ohio might have been fictional, but in fact, Nike really does use the same approach.
Its approach to content marketing isn't new, though. In the year 1996, the company had cut down on its traditional marketing spend only to launch sites such as Game On, World which empowers people to achieve greatness on their own terms. The community enables members to share their performances, track their own progress, and to inspire others to do more. Nike also launched Fuelband which in turn syncs with Nike's training App to provide inspiration for fitness enthusiasts all efforts of content marketing that sync beautifully and work brilliantly for the brand.
It's easy to ignore these content marketing examples because they belong to those huge brands with billion dollar budgets and a global market. However, there are countless examples of small businesses achieving similar feats through communities, dedicated content marketing, and dedicated drive to engage with their respective target segments. So, you might not be able to offer $10,000 to a group of unknown dancer's like Nike. The question is: What can you take from these examples? How do you approach your content marketing?