Editor's Note: This is the second in a monthly series of book reviews by the Search Engine Journal editorial team. Join us each month to discuss our picks on Facebook, Twitter, and Google+ using the hashtag #SEJBookClub and via the comments below.
For our second SEJ Book Club, I read Virtual Freedom: How to Work with Virtual Staff to Buy More Time, Become More Productive, and Build Your Dream Business (affiliate link) by Chris Ducker. For me, it was one of those books that you start reading and don't put down until you're done. I read it in two days between my regular work load and a road trip to see family, and it was a quick read with a ton of brusquely highlighted excerpts and dog-eared pages. I'm glad I bought the paperback version so I could refer to it later down the line.
I learned a lot, but I thought sharing the road I took, how the book helped me, and where I am now would be a great way to showcase the book's impact.
My Experience With VAs
I've been using a virtual assistant to help me with various tasks for my marketing agency for about a year, and have found it to be an amazing source of relief to know that someone is behind the scenes, helping you with your more tedious or extensive projects. I have found my VAs to be extremely resourceful, insightful, positive, and helpful, something that Ducker repeatedly mentions throughout Virtual Freedom as well.
When I first started researching virtual assistants, I used Elance and oDesk to post what I was looking for and what I needed in a VA: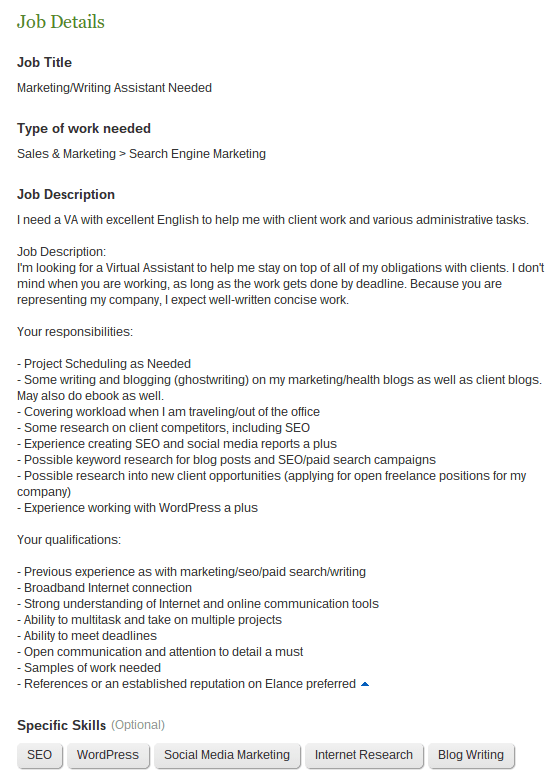 What I Did Right
One thing I did correctly in my job posting was be as detailed as possible, but also to outline what I'm looking for and what is the most important to me. In this case, since my VA was going to be doing some writing, I needed someone who had excellent English.
What I Did Wrong
I chose a VA, but it ended up not being a good match after a few months, due to their continued missed deadlines, which often set my own work back several days. I told the VA it was unacceptable, but didn't stick to my word when they continued to miss deadlines.
After a few more months of this cycle of lateness, I had to let them go and find someone else.
How Virtual Freedom Helped Me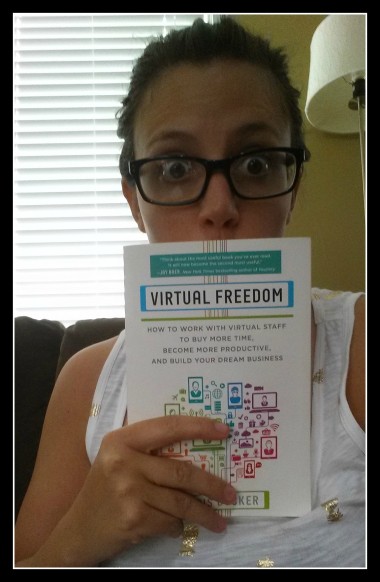 In the middle of this, I started reading Virtual Freedom because I wanted the next VA I hired to be the perfect person for the job, even if it meant re-training someone all over again (one of the reasons why it took me so long to let my first VA go). Ducker stresses the importance of having a clear relationship with your VA so they know what you value most and what your expectations are. Because I had let my first VA slide with missed deadlines, that became their normal.
For the next VA I hired, I set up a system where I made sure they knew deadlines were priority, but that if something was to be late, they let me know right away. I also created more of a buffer for deadlines as to when the VA needed to finish it and when I needed to finish it, so the final deadline wasn't missed.
Ducker also recommends sending weekly emails to your VA (usually on Fridays) with what work you need from them next week and any notes or housekeeping. These regular emails can help keep expectations clear and the maintain a high level of communication. I now have a regularly scheduled task on my weekly ToDoist list for my Friday email to my VA.
Along with making sure you find the right VAs for your company and needs, Ducker also brings up several valid points that I glibly didn't even think about, including:
Being considerate of other nation's holidays and traditions
Considering Christmas/Holiday bonuses for VAs
Rewarding VAs with gift cards, especially for hard or rushed projects
The nuances of specific cultures and how they communicate, as well as their work ethic, when it comes to virtual assistant duties
My Favorite Tips From Virtual Freedom
Besides schooling me on how to be a great VA boss, Ducker also showcases resources for training VAs, deciding what types of VAs you need, and the types of tasks that VAs can do for both your business and personal life. I went through my dog-eared and highlighted pages of my copy and pulled out a few of my favorite tips from the book:
Create '3 Lists to Freedom' to help you figure out what you want to do and what you can assign out to your virtual staff: Tasks You Don't Like Doing, Tasks You Don't Know How to Do, and Tasks You Feel You Shouldn't Be Doing.
Entrepreneurs and business owners should be focusing on high-level priorities. Everything else should be assigned out to a virtual team member.
Treat your extra time like another VA: set goals and track progress in order to be more productive
A Special Offer for SEJ Readers
I reached out to the author for an exclusive quote on his book about how it can help the SEJ audience, who are mainly entrepreneurs and marketing specialists either working for themselves or in-house (based on our latest survey data). He stated:
"As online business owners, we need to be focused on working ON our business, not being trapped working IN it. Virtual staff are the key to that freedom-based, laptop lifestyle, and it's a lot easier to implement than most people think!"
Next Month's Book
Next month, SEJ Copy Editor Danielle Antosz will be reviewing Malcolm Gladwell's Outliers: The Story of Success (affiliate link). Feel free to pick up a copy from Amazon or your local library and read along with us!
Have you read Virtual Freedom? What tip has helped you the most? Can you recommend any other books for professionals looking to live a "freedom-based, laptop lifestyle"?
Want to see what the SEJ Book Club has read or is planning on reading next? Check out our GoodReads profile and add us as a friend!
This post contains Amazon affiliate links.
All screenshots taken June 2014. Featured image by Paulo Bobita.