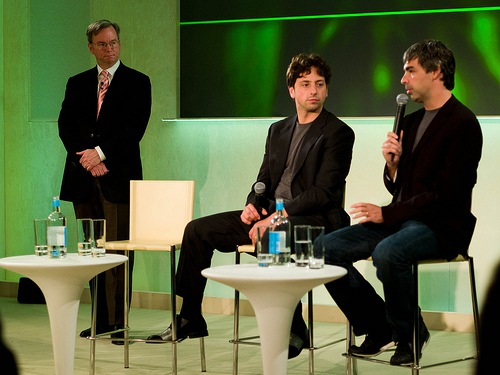 Larry Page, Google's 39-year-old Chief Executive Officer, has been absent from the company's annual meeting and will not be making any public appearances "for the time being." Page, who co-founded Google with Sergey Brin, recently stated that he had lost his voice and, as a result, would not appear at several previously scheduled events. In addition to his absence from public events, Page, who is normally active on his Google+ account, has not posted anything new since May 25th.
While there are many rumors concerning Page's mysterious absence, Eric Schmidt recently reassured Google stakeholders that Page "will be involved in all the strategic business decisions we make — just like today." Page recently sent an email to Google employees that said, "There is nothing seriously wrong with me."
Brin, who is the co-founder of Google and Larry Page's longtime friend joked:
"This problem will make Larry a better CEO because he's going to have to choose his words very carefully."
Doug Anmuth, a JPMorgan stock analyst, wrote the following to his clients:
"We have no specific reason to think there is anything more to Larry's condition, but we find it odd that the company would already rule him out of the 2Q call, which is likely still a few weeks away. We think this could raise some questions among investors."
Rick Devine, who is the head of a boutique investing firm in California, stated that he believes it may be a serious problem:
"It's hard to imagine a CEO missing that much stuff and not have a serious problem."
After the death of Apple co-founder and CEO Steve Jobs, investors are paying close attention to the health of company leadership. As a result of Apple not providing much information related to Steve Job's struggle with pancreatic cancer, Silicon Valley investors are naturally skeptical about Google's claims that Page is healthy.
Sources Include: The Wall Street Journal, USA Today, & Washington Post
Image used under Creative Commons by Joi