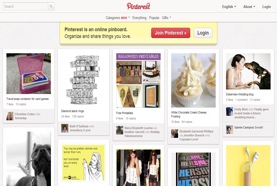 If you're wondering why your Pinterest follower count is low, there's now a third-party app from Innovatty that lets you monitor the users who unfollow your account. Followers on Pinterest is an iOS application which lets you find out who is not following you back and who unfollowed you. It also enables you to track new followers, mutual friends, fans and more.
Getting and Keeping Your Pinterest Followers
Although you can now track who unfollowed you on Pinterest, as well as those who never followed you back, that doesn't mean that you can just let your number of followers decrease. Good thing, there are helpful and simple tips that you can use to get and keep your Pinterest followers.
Connect Your Existing Social Networks
One of the best ways to generate hundreds of followers on Pinterest is to connect your account to your other social networks. That's because any content you post on this online pinboard will be shared on your other account. In turn, a lot of your existing followers and fans will see this, and they will have an easy link to your Pinterest account.
Optimize Your Pinterest Boards and Content
Another way to expose your Pinterest account and content is to optimize it. As much as possible, incorporate your primary keywords on your Pinterest board label, file name and description. That way, it has a chance of ranking on search engine result pages that could give your content the exposure it deserves.
Follow Other Users
Of course, you cannot expand your brand or content's online presence on Pinterest if you don't follow other users. After all, this virtual pinboard is also considered as a social networking site. This means that you have to connect with other people if you want to garner followers.
Pin Regularly
When you are a content provider, it's important that you post content regularly. The same thing goes with Pinterest. Posting regularly will keep your followers engaged, as well as it will give them a reason to check your account from time to time.
Provide Pin-worthy Content
What makes a Pinterest user follow-worthy is the fact that he or she provides pin-worthy content. After all, this online pinboard is designed for users to share various and high-quality content on the World Wide Web.
As of the moment, it is the only Pinterest app that offers this service. Followers on Pinterest is available for download on iTunes for $1.99.
Source: Pinterest Home Page