Before content marketing became the thing to do for marketers of all shapes and sizes, brands already had blogs with established readerships, businesses created how-to guides and manuals to help users, and email marketing has been around for nearly two decades now.
What has changed is all the various activities brands did other than advertising to promote their products and services, got clubbed under the umbrella term "content marketing". Brands slowly began their shift from push based marketing strategies (as embodied by traditional advertising) and moved towards more pull based strategies – the foundation of content marketing.
Today the smallest of businesses and newest startups owe their success to smart pull marketing that costs little in terms of production and promotion costs, but works much better than traditional marketing methods. According to this interesting infographic by DemandMetric, content marketing costs 62% less than traditional marketing, while generating three times as many leads.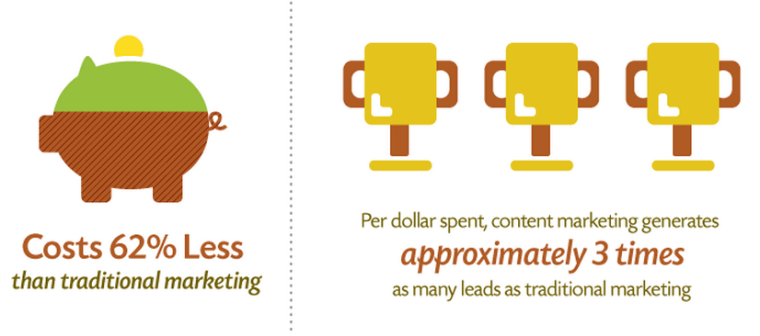 So what are these scrappy startup businesses doing that give them an edge over established brands? Let's take a look.
Lauren Luke: Awesomeness Through Video Content
Lots of people sell stuff on eBay to earn some extra cash on the side. Some even pursue their eBay stores with a passion and build full-fledged careers selling on eBay. Lauren Luke is one such online seller who became a YouTube phenomenon.
From re-selling other brands on eBay and Amazon, Luke has created her own cosmetics label – By Lauren Luke – which was sold exclusively by Sephora for a while, and is now available for sale across various beauty and fashion sites.
Long before content marketing caught on as the mother of all catchphrases in marketing, Lauren had her own YouTube channel with wildly popular videos on makeup, grooming, and fashion tutorials. With over half a million subscribers and over 100 million views, Luke has carved a niche for herself in the world of video marketing.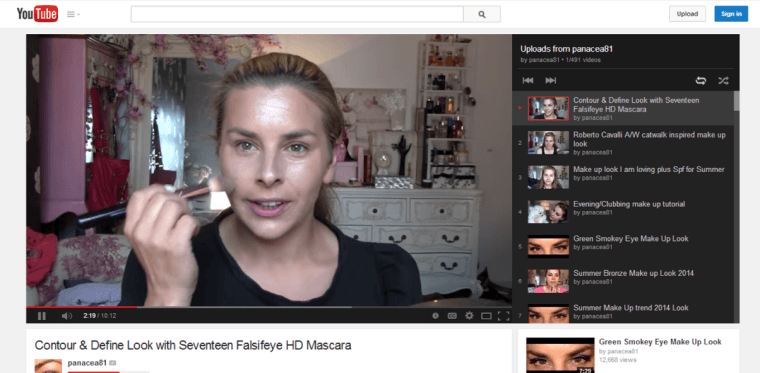 For over a year and half, Luke had her own fashion column on the Guardian where she reached out to the well-respected newspaper's readers through her how-to guides and video tutorials. She also released a popular set of "look books" on makeup and fashion targeting teenagers called Lauren Luke Looks.
It gets even better. This YouTube sensation's popularity has now propelled her into the movies! Luke is a part of the upcoming romantic comedy starring Keira Knightley called Laggies.
Lessons:
Educate your audience. If there's one thing you are an authority on, it's your own industry, product, or service. Create in-depth technical content around your core competency and people will seek out your content.
More than reading text or looking at pictures, people learn best with audio-visual content. In other words, videos work great for educating about new topics. Embrace YouTube and post high quality videos on the world's second largest search engine to get discovered.
You don't have to be a big business to do content marketing. If an eBay reseller can launch her own label on the success of her content marketing, what's keeping your business back?
You don't need a platform of your own to churn out great content. You can go to where the people are (social media) and market to them in your own unique way.
Content doesn't just mean blog posts; it isn't synonymous with text. I cannot emphasize this enough. Never stop experimenting with content formats. You'll eventually find the right one that works best for you.
Brichbox: Play on Users' Fear of Missing Out
Birchbox is a discovery shopping website that works on a subscription model. Subscribers are treated to "mystery boxes" each month full of cosmetics and fashion goodies whose value often adds up to a lot more than the monthly subscription amount – $10. It also sells beauty products online in a more traditional e-commerce format, but the major chunk of its revenues – about 70% – come from its subscription model.
With a valuation of $485 million, Birchbox raised $60 million in Series B funding recently. The best part? Since its launch in 2010, Birchbox has relied purely on content and digital marketing to achieve its stupendous success. Their first TV ad released only in May 2014.
So what is it doing with its content strategy to generate those numbers? For one, Birchbox has a strong and extremely active presence across major social media platforms – Facebook, Twitter, Instagram, Pinterest, the works. It is quick, it is conversational, and it posts content that users can put to immediate use.
Birchbox's website hosts its monthly style magazine for women and men where they publish feature-length articles and fashion magazine style layouts and content.
The running theme of their content is the awesomeness they share in their monthly mystery boxes. Every other post talks about what product was featured in last month's box, how to use it better, how the product was super effective and more. They also build up suspense and anticipation for the next month's box by giving out clues to its contents. Their simple content marketing formula is: Anticipation + Suspense = Need to Subscribe!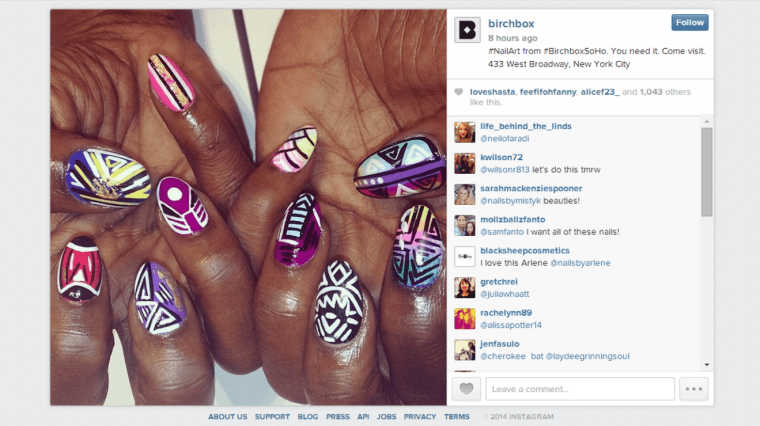 Birchbox recently launched its first physical store in Manhattan with the aim of using it as its "marketing laboratory". It intends to gain insights from user behavior and preferences in store to strengthen its content marketing strategies and improve online sales. Talk about turning established practices on their head!
Lessons:
Play on users' minds by building up eagerness for your products. Take a leaf out of Apple or Birchbox's book for building mystery and anticipation for new products.
Straddle every relevant platform to reach out to your users. More than other content marketing methods, Birchbox aggressively taps social media armed with the insight that women are far more active on social media than men and spend an average of one hour more on social networking everyday. It especially focuses on female heavy networks like Facebook and Pinterest to draw in numbers.
Collect data in every interaction with your users to augment your content marketing – what users like to buy, how often they walk in, how much time they spend on making a purchase decision, and so on. While Birchbox opened a million dollar store in Manhattan to assist in its user analytics, you can always begin small and start with your website and social media properties.
Tap into non-digital channels too. Birchbox leveraged TV and a physical store to market itself. Again, you could start small here by providing content for a local print magazine.
Final Thoughts
Evaluating all the lessons we learned from these brands, we can safely conclude content marketing does not need large budgets, an established brand, or even a full-fledged team to be successful.
These startups have shown us how small, scrappy – yet resourceful – teams can build multi-million dollar brands with some simple ideas and great execution. Don't worry about the Goliaths in your industry, just dig in your heels and bring all hands on board to develop and execute your own content marketing success story.
Image Credits
Featured Image: Ellagrin via Shutterstock
Image #1: Infographic by DemandMetric
All screenshot taken September 2014