What a novel approach! A startup developing the right tool for a highly focused and important demographic – parents with little kids.
Unbelievably, I started this article 3 days ago, and have revised or rewritten it 6 times. The reason it has been so difficult is the intent I suppose. I originally intended, with Loren's consent, to plug a very nice startup called KIDO'Z, a web browser and operating system for kids. With all the things superb and viable about this service in mind, I could not help but associate the niche targeted model of KIDO'Z with all that is wrong with so many other Internet ventures. An ethical and philosophical dilemma born out of giving a damn I suppose.
Great Expectations
Part of the problem with what was supposed to be Web 2.0, is something that many of us warned about some years ago. In one fearful (but inevitable) scenario, traditional business practices would eventually superimposed old methodologies atop what nearly all tech journalists evangelized as a paradigm shift. Web 2.0, the coming of "the discussion", a sort of socially euphoric space where people really go forward, or for lack of better imagery – users (people) as the center of a new universe -these were the ideas we had for this tool called the Web. Quite obviously, an exact replica of physical world mediocrity now obscures any idea of rosy wonderment we may have envisioned back when.
I Wanted on the one hand to simply reveal something of worth, while at the same time looking back on thousands of instances where "worth" became a buzz word, a door to door salesman methodology for marketing. If you are ever frustrated, late at night, wondering why your Twitter marketing campaign just isn't bearing the fruit you wanted – well, maybe you got the idea already. In case you have not, consider the case of Facebook. Five years, half a billion dollars and 200 million users later – add people, shake well, and POOF – nothing happens – it may never happen.
Enter KIDO'Z and the Re-emergence of Software
Digressing is not always a bad thing. Take software for instance. Low cost to mass produce, effective, feature laden and only limited by the systems at which it is leveled. In short, digitalized tools that compared to puffy "cloud" variants, seem almost tangible, touchable and real. KIDO'Z, the children's OS and companion to the Internet, is but one of several superb examples of software that has come out under the shroud of "cloudy" propaganda lately. Let me illustrate why this fairly obscure (so far) development can perhaps refocus development, marketing, advertising, and ultimately the progress of the greater tool – our Internet.
KIDO'Z, though a complex development internally, is a fairly simple business proposition – it resolves a point of pain for a narrow but crucially important niche – parents and their children between the ages of 3 and 7. The issues there are; safety, refined content for children, parental guidance and control, age specific usability and universal (global) individualization.
I will not go into the minute specifics of features, nor microanalyses of the platform here. For the sake of this argument, please accept that this Tel Aviv company is leaving no stone unturned for KIDO'Z success as a superb product for kids. The reader can easily download and test the application, and you absolutely should, especially if you have small children. Here are a couple of screen and a brief rundown of some KIDO'Z aspects.
KIDO'Z – A Kid's Browser, Filtered Search and Operating System
The following list of aspects of the KIDO'Z platform are very general, but the reader can glean a good idea of the impact of this tool if they imagine a 4 year old, who cannot yet read, learning to browse the Internet as it was really meant to be – as a fascinating, educational and entertaining data base – an interactive library – with content tailored for the individual. What KIDO'Z has really done is created an operating system, browser and filtered search platform in one fell swoop.
With KIDO'Z, children can send and receive richly designed e-mails, manage photo albums, diaries and blogs, create content and share it with friends. They can also view personal video channels, browse safe websites, learn about buying virtual products and send them as gifts, personalize their own virtual environment. Kids can and also do the things resident on other children's websites, such as play games and color pages.
KIDO'Z is constructed as a Web Operating System (WebOS) which is continuously renewed with innovative tools, features and possibilities, keeping the product fresh and interesting and ensuring long-term user commitment.
KIDO'Z sets the safety of children as its primary concern and is centered on an active protection system enabling parents full control and tracking capabilities. This multiple redundant system allows for an unparalleled degree of security. In addition, a statistical system provides parents with reports on the child's use of the system, tracking his/her pattern of use of KIDOZ, and eventually this aspect will allow for much more advanced organization and presentation of content to children..
KIDO'Z is a new concept for a rich and safe internet experience for children. It allows children to perform activities that had previously been impossible for them to do, and provides a personal environment in which every child can express himself and find his own path on the internet.
KIDO'Z is already available in 20 languages. Not only that, but the platform distributes content based on any number of demographic criteria. In example, kids in China receive entirely different and more relevant content for their needs, while other demographic/geographic user bases receive content based on their particular set variables.
KIDO'Z is also community centric. Community can be derived from any number of shared interests, as we know. The KIDO'Z interface, tools and content support systems are geared to embrace community from many perspectives including; friends, regions, hobbies, brands, languages, education streams, location, nationality and of course family. No other service or system we know if is so directed at engaging users (especially children and their parents) in such a refined and well thought out way.
Of all the startups our firm, or our partners as individual Web analysts have worked with, KIDO'Z is the first to have not only built the right tool and targeted it, but to have localized it for the world, refined it technically and flexibility wise, and captured the essence of a powerful future market.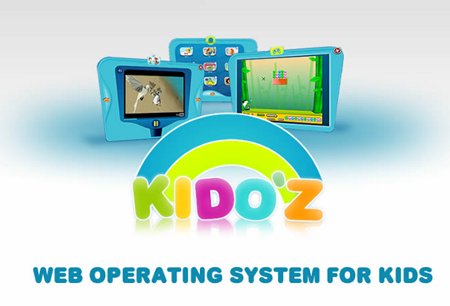 With the upcoming Version 1.0 release, KIDO'Z will actually provide a tool for the Web that has no equal. Kidzui is the only remotely similar platform of good quality, but its demographic is far older. As a first time tool for pre-school and even early elementary children, KIDO'Z will stand along. This does not often happen for early stage developments, and given their transparent and viable business model (free services underneath premium ones), I think marketers, developers, and the Web tech community might capture a glimpse of one viable path to success where so many are obviously failing miserably.
If Not Now, When?
Targeted products and inherent narrowly targeted marketing are the holy grail of every company. Except apparently, most large scale Internet startups. Even those that are narrowly focused fall short for any number of reasons. Facebook, MySpace, Twitter, Digg, FriendFeed, none of social media or networking, no bookmarking or aggregation entity, none save one of 100 search startups, Wikipedia (Jimmy never monetized it), Wikia, nor any but one video startup has turned the proverbial dime of substantial profit for their investors. Digest this fact for a minute. Maybe $2 billion or more invested in 1500 startups, and no return in sight.
So what's the big deal about KIDO'Z? From one standpoint, the inherent value of making nice things for children is far greater intrinsically than some college bozos making tools that appeal to narcissism. Secondly, from a business standpoint, engaging parents with refined services or even products that enhance their children's lives is, well, a no brainer.
The example however, runs much deeper than this. The bottom line for us as either marketers, communicators, developers or investors is directing development toward something people are willing to pay for in the first place. It is called making a valuable, needed or wanted product. When the investment gravy train runs out for all these "puffy cloud", glorified chat rooms runs out, perhaps better thought out ones will arise, or people will write more blogs etc.
Conclusion
Not every niche is as well defined or supported as the one KIDO'Z is targeting. Also, the argument for localized and controlled computing represented by this development, or even another recent one I wrote about in FileRide, will grow geometrically when and if these "cloud" entertainment networks begin to crumble. The social Web really has little need in most cases other than connectivity between desktops any way. As for detractors of "walled garden" or compartmentalized content, if we all admit it, we would love a degree of segregation from undesirable content. Instead of trying to make the Internet into a vast TV network, which it will never be, we should be focused on "grown up" commodities. It is ironic that the most adult startup in some time is a cute but wonderful kids tool.