We were all happy when Google released their bulk editing back in November of 2011. Google stepped up the game even more yesterday when they made it possible to do keyword bulk uploads. Talk about a total time saver.
Many AdWords users wanted to be able to make account changes without having to upload the report via another tool or go back to AdWords and run a new search. This new feature will allow you the ability to delete, add, pause, edit, unpause keywords and have it all be uploaded straight into your AdWords account.
To access this new Google feature, simple log into your AdWords account and go to the downloaded keyword reports section. Notice the new 'editable' button: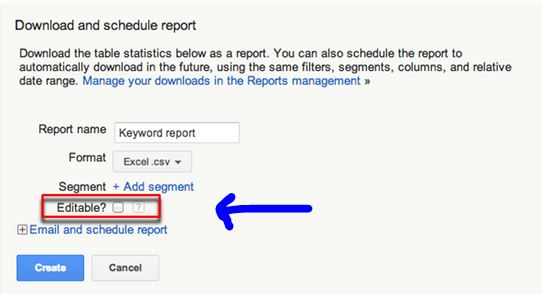 After you've made changes to the report, simply save changes and upload. There is, however, one drawback. Once you've uploaded the new and improved report, there's no way to undo your changes. I would suggest saving a copy of the report to your hard drive and referring back to previous changes.
I believe it will be a major time saver. What do you think?