The Google+ for Media: ATL Summit brought some big news today, as Google announced its launch of Google Media Tools, a website designed to help journalists find all the available Google tools they can use for research, organizing stories, and even getting found online. Google mentions the following services they provide that are useful to journalists: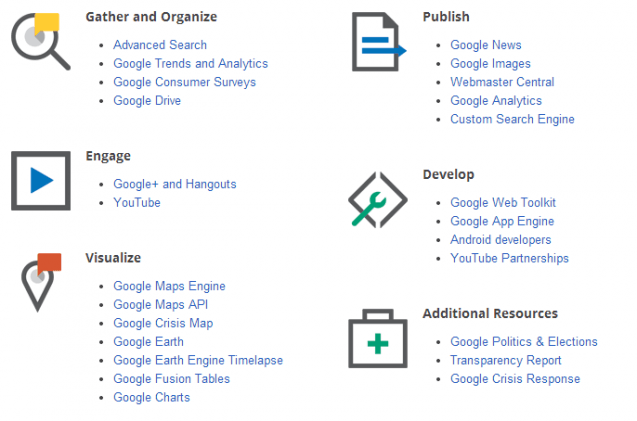 The tools are organized into six sections: Gather and Organize, Publish, Engage, Develop, Visualize, and Additional Resources.
In addition to showcasing its sections that feature current event information (such as Google Crisis Map and Google News), Google Media Tools states that journalists should "consider this your starting point to tap into Google's suite of digital tools that can enhance newsgathering and exposure across television, radio, print and online."
Besides finding information needed for story research, Google reminds journalists that they can also utilize Google+, Hangouts, and YouTube to connect with their readers and target audience.
This public announcement and tools suite built for journalists further showcases Google's dedication to better news reporting through easy to use tools that are free for everyone to use. By offering free tools that are up-to-date, Google is guaranteeing greater involvement in its products by journalists and researchers alike.