Judging by the new faces that have started to work at Twitter this week, there is a possibility that the microblogging site may be setting the stage to go public. On Monday, Nicole Wong, former Vice President and and Deputy General Counsel at Google, started work at Twitter.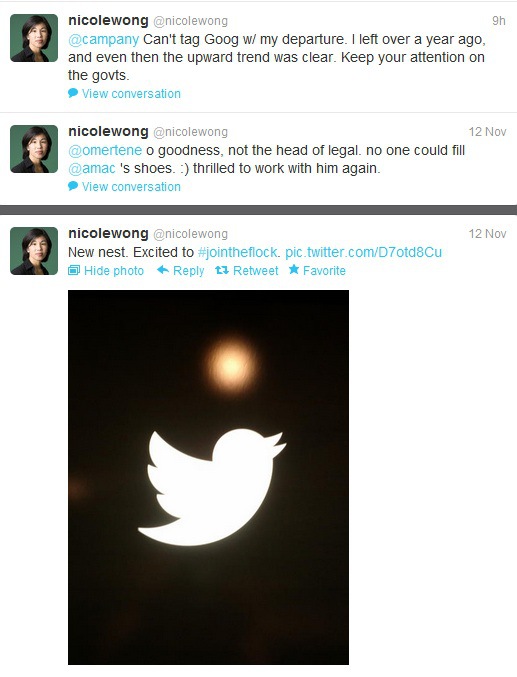 Wong joins the team as Legal Director under Twitter General Counsel, Alex Macgillivray. TheNextWeb noted, "As Twitter has grown, it has taken on a reputation as a platform for communication during emergencies like Hurricane Sandy. But it has also ended up being a platform for discussions around political events like the Arab Spring uprising. As it becomes a larger pulpit and driver of discussion, governments and agencies will no doubt begin to exert more pressure on the company to censor itself or its users. Wong's expertise in this arena will no doubt come in handy."
Yesterday another former Google Exec. joined the Twitter flock. Aliza Knox, formerly Managing Director of Commerce for Google in Asia Pacific, has become the first exec in Twitter's Singapore-based pan-Asia office.

According to TechCrunch, "This signals a few things for Twitter, including an interest in international expansion for partnerships and ad sales. Knox spent a bit over five years at Google in her current role. Previous to that, she was managing director of online sales for Asia Pacific for four years."
Adding legal talent and solidifying international executive positions, is Twitter looking to public investment in its future? On the heels of Facebook's less than stellar IPO, will you be more or less interested in Twitter stock?