Mobile Metrics firm Admob's February report is showing some interesting trend in the mobile market today. Specifically, Admob's report indicates that smartphone's worldwide traffic is rising with February's market share growing to 48% in February 2010 as compared to 35% in the same month last year. In addition and perhaps more interestingly, worldwide traffic of the iPhone OS and Android phones is quite significant not to take notice of.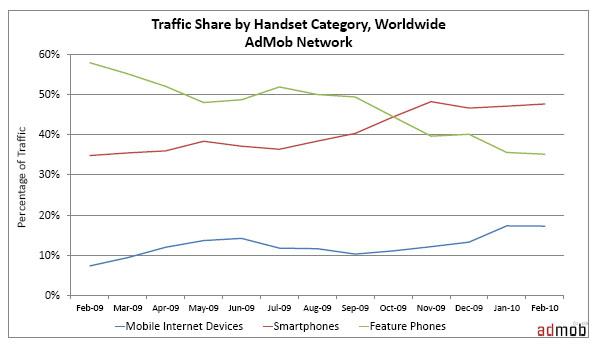 iPhone's share of request in February 2010 increased to 50% from 33% last year. Quite significantly, the Android's share of traffic all of a sudden jumped to as much as 24% from its mere 2% share in February 2009. The bad news fell on Symbian OS as its worldwide traffic decrease from 43% to 18%.
For feature phones, or those regular phones that don't fall under the smartphone category, the trend was also decreasing – from 58% to 35%.
While this may show that both the iPhone OS and Android devices are gaining grounds and may seem the new black in the smartphone industry, this does not however reflect market shares of these smartphones. Hence, it's no indication of the smartphone's market success.
Still, the fact remains that both these smartphones are showing positive signs of eventually capturing the smartphone market. And if Symbian wants to retain its previous clout in the industry, it must introduced some drastic changes to what it can offer to users.