Are you currently advertising using Google AdWords? Looking for ways to get your ads seen by more people while still ensuring that your traffic is highly targetted? If the answer to both of these questions is yes, then one of Google's more recent AdWords feature updates, 'Similar Audiences', may be perfect for you!
What is the AdWords 'Similar Audiences' feature?
'Similar Audiences' is a new AdWords feature released by Google that allows advertisers to further expand on their current display remarketing efforts by choosing to display their AdWords ads not only to previous visitors of their site, but also users who show a similar browsing behaviour to your visitors. For example, if another internet user has visited all of the same websites that people on your remarketing list have visited, then there is a chance that this user will also see your remarketing adverts, simply due to the fact that they fall under the same user category as the people within your remarketing list.
In the case studies that the team over at Google have recorded so far, the following findings have been made:
Some clients have found 30% more new customers using the feature.
On average, 'Similar Audiences' finds new users who click-through 71% as often as users who have already visited the site (i.e. your regular remarketing list).
An average of 3 times the clicks and conversions are generated using 'Similar Audiences' compared to a regular remarketing list.
So as an advertiser, why should I use this new feature?
As with almost any display advertising campaign, this feature should be seen primarily as a branding exercise; your adverts will be getting huge exposure across a new audience that may have never even heard of your brand previously – and on top of that, these new users you're targetting are still very likely to be highly relevant due to the fact that they share similar browsing behaviour to people that have already visited your site!
I'm sold! How do I roll this out across my remarketing campaigns?
Implementation of this new feature is very straightforward. Below are some step-by-step instructions
Under the Campaigns tab, click the Display Network tab.
Select the ad group you'd like to add the similar audiences to, then click the Interests & Remarketing tab.
Below, click the Change display targeting button. If you haven't selected an ad group yet, you'll need to select one now.
In the "Interests and Remarketing" area, click the Remarketing lists link. Then, select the "Show similar audiences" checkbox. Right below each remarketing list that qualifies for similar audiences, you'll see a new list that you can add to your ad group, as well as an estimate of the number of users on that list.
Click the add link next to each similar audience you want to add. Your audiences will appear in the "Selected audiences" column.
When you're finished, click 'close' and then 'save'.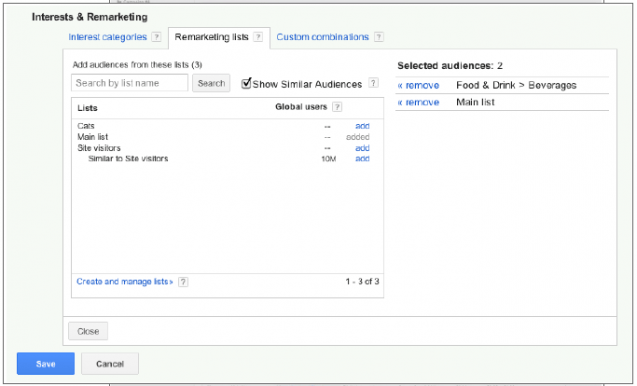 Personally, the only concern I would have with this sort of advertising is that conversion rates may not be as strong using 'Similar Audiences' compared to a regular remarketing campaign, so to ensure you don't get any nasty surprises using this feature, here are some quick tips to keep in mind after implementation:
Keep budget limits fairly tight at first to ensure that you aren't spending more money than you can afford on this new type of untested traffic.
Ensure that AdWords conversion tracking has been implemented on your account so that you can see exactly how well your Similar Audience is converting.
Set bids slightly lower than you would on a normal remarketing campaign. Although your new traffic has similar browsing behaviour to that of your remarketing list users, performance may vary greatly so you don't want to pay too much for these users at first.
And that's it! Happy testing.