I love Twitter for putting me into contact with really outstanding people (well, since I don't have time for conferences, Twitter is my major source of valuable contacts). Today I am happy to feature the interview with one of the marketers who has always been someone I've looked up to.
Geno Prussakov is a well-known affiliate marketing expert, author and contributor to 3 books (including his bestselling "A Practical Guide to Affiliate Marketing") and a number of industry's magazines and journals, international speaker (most frequently appearing at Affiliate Summits), blogger, educator, and award-winning affiliate program manager.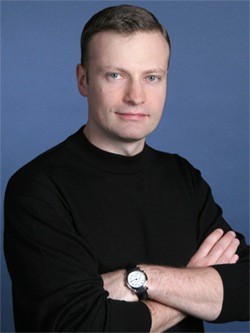 1. Please tell us a few words about yourself. What brought you to the affiliate marketing?
I was born and raised in Eastern Europe — in the southwest of the former Soviet Union, now a country of its own, Moldova. I lived there until the age of 21, which was when I travelled abroad for the first time. The first Western country I travelled to was England. I studied psychology, psychology, modern and classical languages at the University of Oxford, while completing the Master's leg of my 5-year linguistics degree in Moldova. It was a fun time of travelling between two countries, and studying at two universities at the same time.
After that I travelled to the U.S. where I studied counseling psychology for two years. After that, I went to Cambridge (yes, back to England) to get my Master's degree in international relations. At the same time I started my first online business, a Russian gifts and collectibles store. After playing with paid search marketing, banner advertising, and other available types of advertising/marketing I discovered affiliate marketing, and started my first affiliate program. It was initially run on an in-house platform, but in 2004 I moved it to ShareASale (an affiliate network I've worked with for over 6 years already). As that affiliate program developed, I was approached by another merchant who asked me if I would manage their affiliate program too. I agreed.
In 2006 I bade RussianLegacy.com farewell, and turned into a full-time online marketing consultant and affiliate program manager. In 2007 I published my very first book (must of which was based on my own affiliate program management experience), "A Practical Guide to Affiliate Marketing". To date it is one of the bestselling affiliate marketing books out there… At present time I am actively involved in the affiliate marketing industry, working on a doctorate degree along the way.
2. I remember I first got to know you from Abestweb forum. It was like three or four years ago. You were on each and every thread helping people with your answers. Can describe the place? Are you still active there?
ABestWeb.com is by far the largest and most active affiliate marketing forum out there. It brings together affiliate marketers operating across the whole spectrum of the industry: affiliates/publishers, merchants/advertisers, affiliate network reps and owners, in-house and outsourced affiliate program managers, representatives of other vendors and agencies that work in the affiliate marketing channel. It's a busy place, and one that affiliate marketers trust, and come there to voice out their questions, concerns, and share ideas.
Many people that I now call friends were met by me through ABW. At this time I am not as active in that forum as I used to be (too much going on in my life, and I must prioritize), but devote more time to research, blogging, and my writing efforts.
3. When did you start blogging and why?
I wrote my very first blog post on November 18, 2007. Yes, I came to the world of blogging much later than most online marketers out there. Initially, I blogged to keep affiliates posted on the news about the affiliate programs I managed at that time.
With time, and especially after starting my doctorate studies in early 2008, the topics of blog posts changed from broadcasting the news to writing on the practical topics (and issues) that all affiliate marketers can relate to (e.g.: marketing methods to use and "how-tos", best practices for affiliate program managers to adhere to, digital marketing statistics, mobile commerce and marketing, etc).
Today I am a firm believer that any blogger who wants to be really successful at it should forget about broadcasting. It worked a few years back, but no longer. You can't take any more from the online space than what you yourself have contributed.
4. Which niches (in your experience) are more profitable when it comes to make money being an affiliate?
This is a very popular question, and naturally so. My answer to affiliates is always twofold: (i) focus on the niche of (a) your passion and (b) knowledge/expertise, and (ii) pick your partners carefully. While the first point is self-explanatory (don't pretend you know something that you really don't — it'll show), by the second one I mean partnering with affiliate networks and advertisers that have a solid reputation and track record in the industry.
It is also crucial to underscore that "profitable niches" should never be measured by the commission levels that are being paid by advertiser/merchant. Always look at the broader picture. Remember to look at such metrics as conversion, average order value, reversal rate, cookie life. For example, hosting companies have historically had high commission payouts (anywhere from $50 to $150 a sale, with select ones paying as much as $300-400/sale). Sounds attractive, doesn't?
Well, hold your horses before you spend all of your money on those paid search ads, or advertising on other types of properties! Hosting affiliate programs are also known to have some of the highest reversal rates in affiliate marketing history. While many affiliate networks will not disclose this piece of information to you, it is not unusual for a hosting company to reverse between 50% and 80% of all affiliate transactions…
Do your due diligence before you dive into any niche. And once you've made up your mind to focus on something, take it easy, building up on previous successes, and avoiding previously-made mistakes.
5. You've been in the affiliate marketing for ages. Do you consider yourself a pioneer? How did the affiliate marketing evolve since you first got into it?
I came into affiliate marketing some 7 years ago, whereas the industry itself is some 14-15 years old already. I wouldn't call myself a pioneer of the industry; maybe one of the pioneers in systematizing the knowledge, and bridging the gap between traditional management science, principles of leadership and affiliate program management. These are the areas that I've been closely working in for the past few years, making parallels and translations (must be my linguistic background moving me) between theories and theorems of traditional business contexts and digital marketing industry.
Much has changed since I've originally gotten into this industry. Google has become smarter, online consumers have gotten shaper and pickier, Social Media evolved, mobile marketing is quickly gaining power, FTC and federal governments around the world have acknowledged digital marketing (and affiliate marketing in particular) as an integral part of strategies that businesses now use, affiliate marketing professional organizations have evolved… I see all of these as positive trends. We're getting more organized, while the market is pointing us towards the path of ongoing education and improvement; and this means we're growing.
6. Social media changed the world of SEO dramatically. Is it the same with affiliate marketing? How do you leverage social media?
Yes, social media is definitely changing the world of affiliate marketing too. Numerous affiliates are actively utilizing Twitter, Facebook and other platforms to engage consumers. The ones that are using more creative approaches succeed. Be it something as basic as a Facebook game or comparison shopping app, or as advanced as a social shopping network, affiliates that develop something that really adds value leverage any new trend better than the rest of the crowd.
7. Do you remember the best (affiliate marketing related) advice someone has ever given to you?
The best advice I have ever received, and one that I keep on going back to (on a daily basis) comes from a quote that belongs to Henri-Frédéric Amiel, a Swiss poet and philosopher. I have it hanging over my desk.
Amiel wrote: "Work while you have the light. You are responsible for the talent that has been entrusted to you." Any time laziness, which I believe to be one of the most widely-spread obstacles, comes through, I re-read these lines. Talent doesn't have to be of worldwide significance. Do what you do best, and do it passionately and self-sacrificingly. It'll pay off.
8. What are the best places for the newbie to learn affiliate marketing?
Forums (like the www.ABestWeb.com that we've mentioned), blogs (on a daily basis I personally read www.AffiliateTip.com, www.AffiliateAdvocacy.com, www.AffBook.com, www.ReveNews.com, and follow a number of other industry-specific blogs), podcasts (most of affiliate marketing ones can be found at www.GeekCast.fm), and certainly books and resources on other related fields. Affiliate marketing — especially when it comes to the marketing part — does not exist separately from the rest of digital marketing. It is closely intertwined with search marketing, web development, web analytics and CRO (conversion rate optimization), and is dependent on all the online marketing trends that shape the broader digital market (including mobile).
Therefore, you want to be constantly learning, implementing, testing, perfecting, and never give up (even when you burn yourself).