Instagram is more than Facebook's jet-setting younger sibling or Twitter's ultra-trendy cousin.
With more than 800 million monthly users (and growing), Instagram is the place to document life's moments, big and small, in beautiful little snapshots.
Instagram has also rapidly become one of the hottest marketplaces in the world. By 2018, the app is projected to generate $6.8 billion in mobile ad revenue.
Instagram has a discerning millennial audience – 59 percent of 18-29 year-olds are active Instagram users. This demographic turns their nose up at traditional marketing tactics and steering clear of old-school advertising mediums like cable TV, which makes it hard for businesses to find a way in.
On Instagram, users actively invite the brand into their feed – 80 percent of Instagram users follow at least one brand.
E-commerce brands are particularly well-suited to thrive on Instagram, with 14 percent of users likely to make a purchase directly on the app, not to mention view-through conversion opportunities.
If you run an e-commerce store, how can you use Instagram to your advantage?
Let's explore seven tactics to power your Instagram sales funnel to steady success.
Tactic 1: Add a Call to Action in Your Bio
Instagram doesn't have a lot of real estate for text or links, so you have to use what's available to your advantage.
One simple tactic is to add a call-to-action (CTA) in your bio directing your followers back to your e-commerce store.
If you have a current product special, new featured line, or anything else you'd like to promote, use your bio to direct followers where to find out more.
Here's a good example of how to invite followers to "Shop our Instagram" directly from the bio: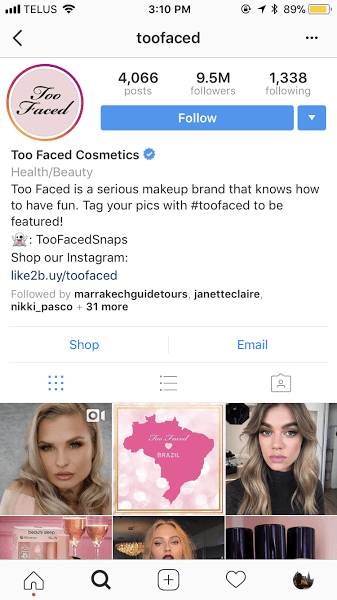 With Instagram's default functionality for accounts with fewer than 10,000 followers, that's the only link opportunity you have. Use it wisely.
You can use a paid tool like Link in Profile to have multiple links in your bio.
Check out this example below, where each photo is linked back to your site:
Tactic 2: Link in Story
This feature is only available to accounts with more than 10,000 followers – all the more reason to prioritize Instagram and start building that audience.
Eligible accounts can include links in Instagram stories.
Instagram stories, added last year, allow users to combine photos and videos into a temporary slideshow that disappears after 24 hours.
Elite users can now put a CTA in the Instagram story for people to swipe up to read more.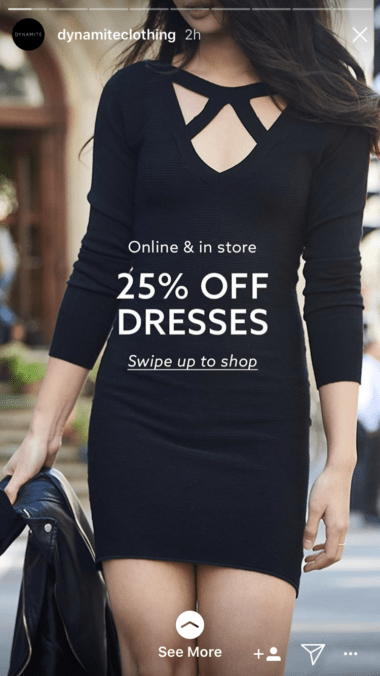 You can direct followers to your website, a specific product, collection, blog post, and more.
You can even hide hashtags in your photo, using the photo match tool on the left side, next to the color swatch. Use the dropper to match the background of your photo.
By adding hashtags to your Insta-story, you're giving a new audience an opportunity to find you and navigate to your e-commerce store using the CTA feature.
If you choose this option, make sure to use hashtags relevant to your brand.
While niche hashtags don't have massive search volume, you are more likely to find a converting customer, so get very familiar with the key hashtags in your space.
Want to use popular hashtags? The sweet spot seems to be between 100,000 to 500,000 uses. More popular, and there's no way your brand will have visibility in all the noise.
Tactic 3: Collaborate With Influencers
Brands spend an estimated $1 billion annually on Instagram influencer marketing.
Influencers, who range from local fitness trainers or photographers with small followings to A-list celebrities, have turned social media marketing into an art form.
While top influencers like Beyoncé can earn more than $1 million per post, the average sponsored post costs about $300.
With the right strategy, your brand can strike up a strategic partnership with influencers that generates great return on investment in terms of conversions and brand awareness.
In working with influencers, you're able to leverage their network and brand to bring awareness to your e-commerce offerings.
It doesn't feel like an advertisement because the message is coming from the influencer's personal and authentic voice.
Even with tightening restrictions on sponsored content transparency, followers continue to welcome endorsements from trusted Insta-stars.
Daniel Wellington does a great job of working with influencers and has made a big footprint on Instagram with their watches.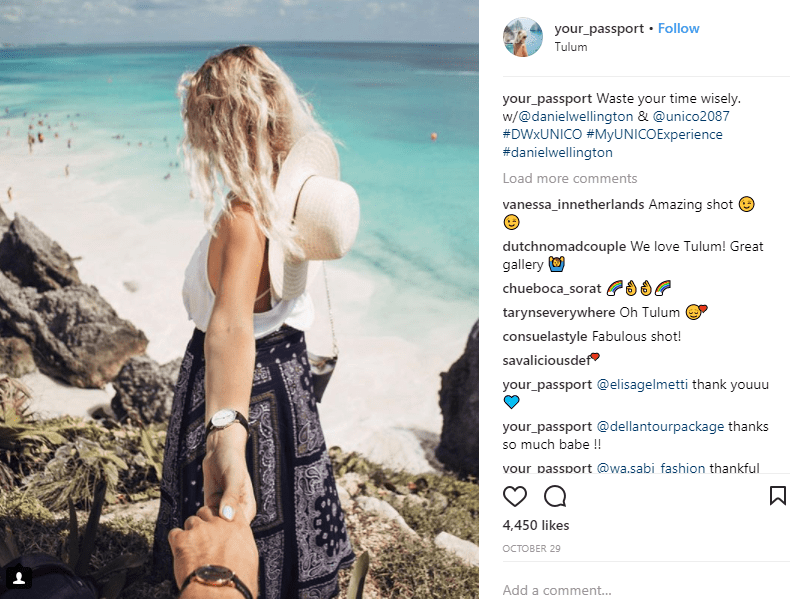 If you are dipping your toes into influencers waters, be vigilant. Just because they have a high follower count or charge a heavy price doesn't make it a good fit or guarantee success.
To start, make sure that their audience is real. Type their username into Social Blade and you can see some of their Instagram Analytics. If they have a real following they should generally have a gradual increase. If their following has a lot of peaks and declines, they most likely bought followers.
Real Followers:

Fake Followers:

You can also ask for their demographics/media kit to ensure they are the right fit for your campaign. The higher the following, the higher the price per collaboration so micro-influencers are becoming more popular. These influencers have a modest but engaged following and often have a niche which helps to target your marketing.
Tactic 4: Free Product, Just Pay Shipping
Many watch and sunglass companies are popping up with paid ads on Instagram with an irresistible offer: get a free product, just pay for shipping.
This can be a great approach to get your product out there and into the hands of consumers, especially if it is a product people are likely to buy more than once.
This strategy can draw a lot of attention, but you have to make sure it is executed properly.
Be wary about viewing these buyers as guaranteed future customers.
People might accept a free item, but that doesn't mean they need or want to pay full price for an equivalent product in the future.
Just like social contests bring a lot of attention but rarely result in sustained success, this tactic has the same downside.
Additionally, you have to make sure you have enough inventory to follow through.
There have been a few scams using this tactic where people never received the product, and you don't want your brand to be given a bad reputation due to inventory issues.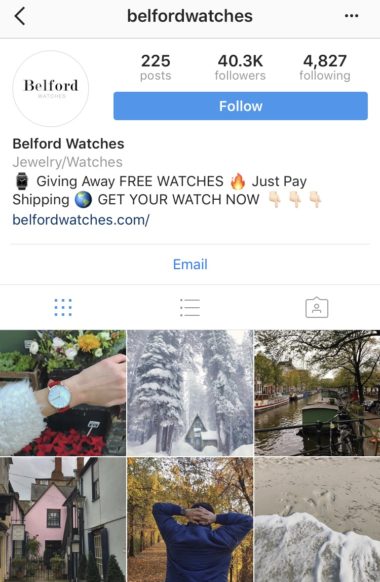 Tactic 5: Shopify Integration
Shopify is currently in the testing phase of shoppable Instagram posts.
This integration allows e-commerce stores to sell to buyers directly through the Instagram app, without ever having to navigate to a website or outside platform.
This feature is now available to some accounts as a beta release.
If you would like the option for shoppable posts ahead of the full Shopify/Instagram rollout, LIKEtoKNOW.it is a good alternative. This app allows you to take a screenshot on Instagram and shop directly in the app.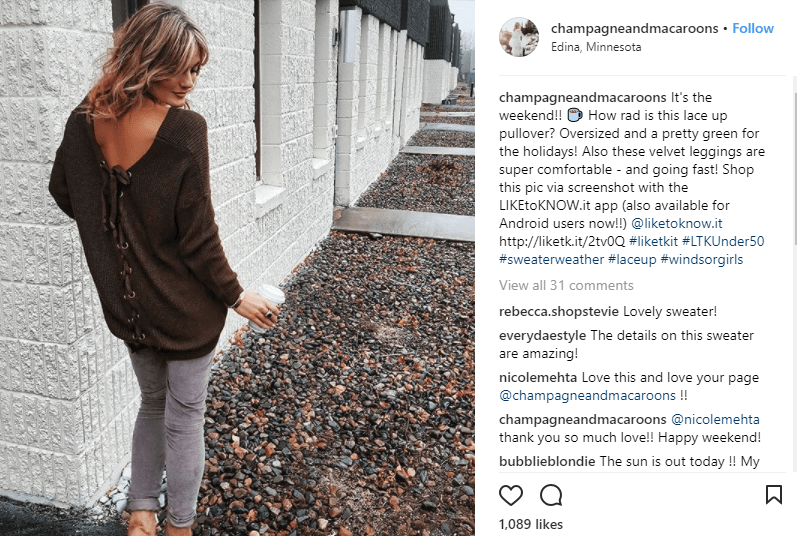 Tactic 6: User-generated Content
E-commerce products work exceptionally well with user-generated content.
Encourage followers to repost photos of your product in use, tagging your account or using your branded hashtag.
This practice creates a culture/community around your brand and helps to promote awareness.
One great example is Spivo, a company that has a selfie stick as its primary product. They do an awesome job with encouraging customers to share both video and image content that was produced using their product. They then re-post the content and tag the customer in it, increasing their visibility and engagement.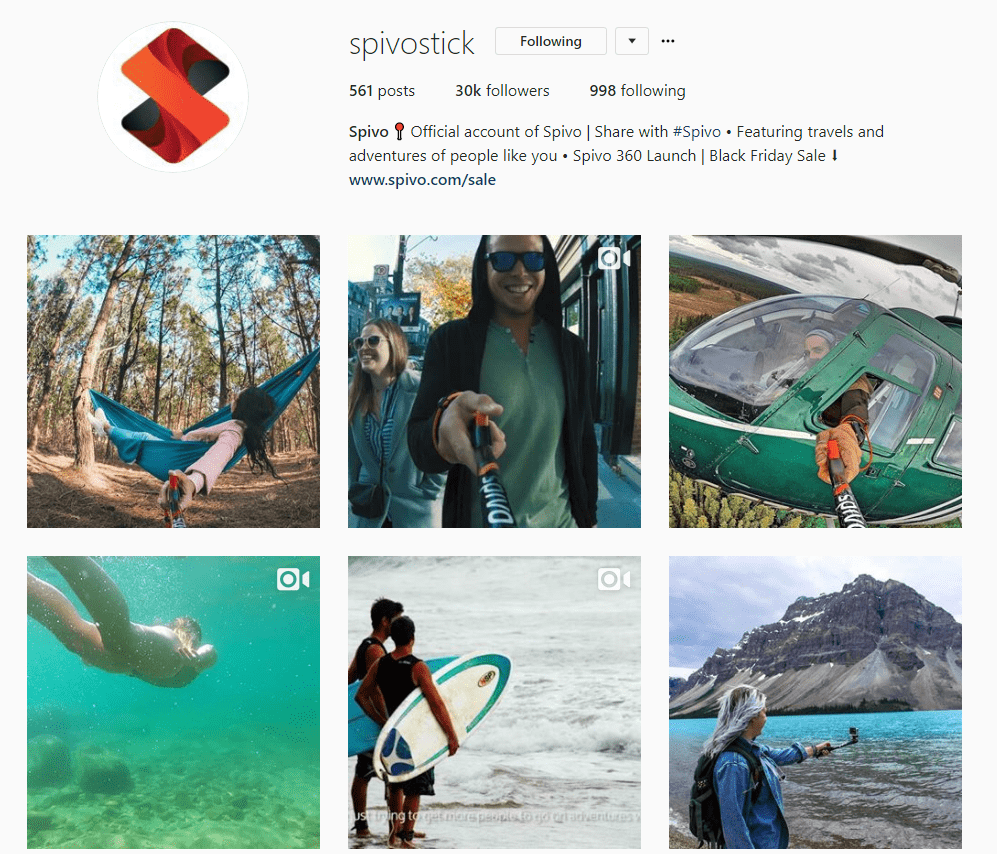 Tactic 7: Instagram Ads
Instagram Ads are managed through the Facebook Ads Manager dashboard, which makes it easy to sync with your paid efforts on Facebook and take advantage of the wide range of targeting options that allow you to zero in on specific buyer personas.
The key with Instagram is cost per acquisition.
If you can get this into a comfortable range where you make a profit on every transaction, you can scale the campaign by upping the budget and find even more success.
Instagram Stories
Make sure it goes with your target audiences preferred aesthetic and not an over the top advertisement so that it slips into the feed easily instead of standing out as an ad.
Thoughtful imagery is essential, and may need to be dramatically different from the visual assets that work on Google AdWords or Facebook.
In the Feed
Target your ads to people with similar interests.
Make sure your ads are visually appealing and go with their preferred theme aesthetic, whether that's a foodie shot, flatlay, or specific filter choice.
Feed ads are great for e-commerce brands, as you can include a "learn more" button and link directly to your product or collection.
Conclusion
Instagram is more than a social media platform; it's an e-commerce store owner's paradise.
These tactics can help set up and streamline an Instagram sales funnel that opens the door to a new world of sales success and brand loyalty.
From simple, free tactics like adding a CTA to your bio, to comprehensive paid ad strategies that sync with your larger marketing efforts, you can find an approach that works.
---
Image Credits
Featured Image: Shutterstock with edits by Brock Murray, November 2017
All Screenshots taken by Brock Murray, November 2017
Instagram credit: @toofaced, @pinchofyum, @dynamiteclothing, @your_passport, @belfordwatches, @champagneandmacaroons, @spivostick