Does your email open rate disappoint you? Are you looking for ways to improve?
These days, blogs are placing a spotlight on email marketing by converting traffic received into subscribers. This is a very positive trend, as a study by McKinsey & Company found that email converts nearly 40 times better than Facebook and Twitter together.
It's becoming very clear that, in order to survive as an online business, you need to start building your email list.
But in their quest to generate more subscribers, businesses are making one colossal mistake—focusing on just one number — the subscriber count. Instead, you should also be looking at another crucial number — the open rate.
Here's why:
Which would you prefer: 10,000 email subscribers with an open rate of 10% or 5,000 subscribers with an open rate of 30%? While a lot of people tend to chase that monster subscriber list, the answer is indisputably the latter. More opens leads to more clicks, which in turn will result in more traffic and sales.
Even if you only have a small mailing list, as long as you have a strong, engaged audience with a high open rate, you'll be able to build a community that helps support and grow your business!
With that in mind, today I'm going to share with you some tips on how to increase your email open rate.
1. Write Long Subject Lines
After analyzing more than 375,000,000 emails, Get Response found emails containing 61+ characters in their subject lines have the highest open rates at 12.38%. While it may seem like a short and sweet grabber is the way to go, you should probably be beefing up your subject lines.
How long is too long? To determine the right answer for your audience, the best option is to conduct a split test with subject lines of varying lengths. You can keep one just above 61 characters, one around 100 and another around 130 to see which will result in the highest number of opens. Carry out this experiment for a few weeks and settle on the subject line that excels.
Bonus Tip: Writing long subject lines will also boost your click rate (CR). The same study by Get Response found that emails with long subject lines have a high CR at 2.08%.
2. Generate Curiosity
Have you ever implemented the open loop technique while writing your email subject line?
If you haven't, you should start now. Joanna Wiebe of Copy Hackers used this technique in the first email of Neil Patel's Quicksprout drip campaign. It resulted in an open rate of 102%. That's not a typo, the open rate was higher than 100%, as it readers opened it more than once. Here is the exact subject line she used…
BOOM! This is how you get traffic…and convert it
In the above subject line, Joanna only tells people who the email contains tips on how to raise traffic. She doesn't mention if it is through SEO, social media, content marketing, or some other technique. So you click on the email to find out. This is exactly what open loop is. You provide just enough information to get your audience interested and then they are compelled to click and read to close the loop.
You too can use this method to increase your open rate. All you have to do is modify your subject line to restrict the amount of information it displays while still providing enough to be persuasive. But be warned about using a subject that is too clickbaity. It's a deal with the devil. If your subject line impresses and your body copy disappoints, it will only lead to a lot of un-subscribers.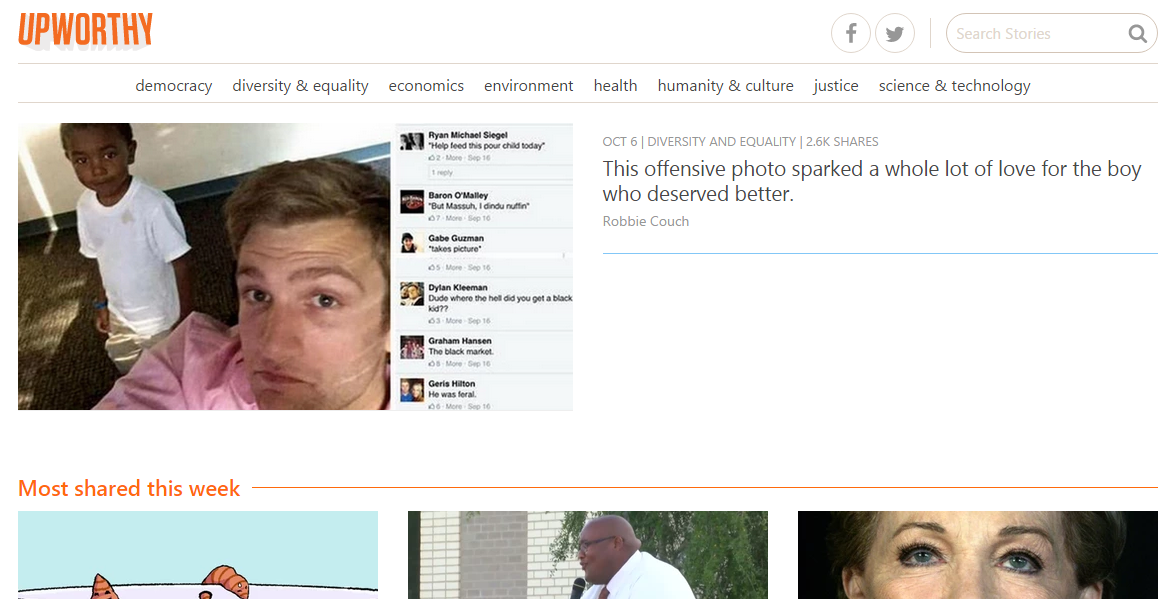 To get a better idea on how to use the open loop, read websites like Upworthy, Buzzfeed and ViralNova. They frequently use this technique in their headlines to drive more traffic.
3. Use Lowercase Letters
Most businesses use uppercase characters in the first letter of every word in their subject line, because they get used to doing this in every headline they write. But that's not what people are used to when reading email subject lines.
When relatives, friends and other people you know email you, they use lowercase letters in their subject line. You are more inclined to open these emails because you already know and trust that person, and it's clearly coming from a real person with a real message for you. You can take advantage of this in your marketing by writing your entire subject line using lowercase letters. Your email subject line will not only appear more genuine and trustworthy, but will also stand out from competitors who use uppercase letters.
Neville Medhora uses this technique in his email marketing on a regular basis. As you can see in the above screenshot, almost all the words in his subject line are lowercase, but he occasionally likes to mix it up with all-caps words and special characters. This mixes in a bit of excitement.
Even the subject line for Quicksprout mentioned in point #2 implements this technique. Only the first word and the first letter of the second are uppercase letters. The rest are lowercase. There's also an exclamation mark and an ellipsis.
4. Send Emails Regularly
Most businesses and bloggers don't email their subscribers often enough. This is another one that might contradict your expectations, as we tend to be afraid to mail to our subscribers for fear that they will unsubscribe. But if you send an email once every month or two, there is no guarantee that they will remember you, and they won't open your emails. If you want to increase the open rate you should email them more frequently.
Start off by sending them an email the instant they sign up. In the first email send them the free e-book, white paper, or tutorial they signed up for and inform them on what to expect now that they are a subscriber.
Continue sending them emails over the next two to six days, as Dan Zarrella found engagement rate is highest during the first three to seven days. You should send your best content in these first few emails in order to engrave a positive impression and get them to eagerly look forward to your future emails.
After that, send out an email every three days to stay at the top of your audience's mind. Regularly staying in touch will also help you generate some customers, as LeadPages found that 50% of conversions from stranger, to website visitor, to customer, happen in the first four weeks. While 75% of conversions occur in the first three months.
5. Use Double Opt-In
The simplest way to get more people to open your emails is by using a double opt-in.
MailChimp analyzed emails of 30,000 users and found that lists with double opt-ins see a 72.2% increase in unique opens and 75.6% in total opens. This is because it keeps bots and spammers at bay.
If you want to avoid using the double opt-in, you must at least give your list a good cleanup. Most email marketing software will let you find inactive subscribers. So look for people who haven't opened your emails in the past six months and delete them. Perform this task every six months to keep your list clean. You can also transfer inactive people to another list instead of deleting them. This will boost open rate instantly.
There you have it. Remember, getting subscribers is only half the battle. If they aren't reading your emails, all your hard work will just slip through your fingers. Implementing these 5 tips will help increase your email open rate, which will lead to an increase in your click rate, thereby getting you more traffic and more sales.
What steps do you take to increase your email open rate? Please leave your comments below.
Image Credits
Featured Image: Melpomene/Shutterstock.com
All screenshots by Nathan Chan. Taken November 2015.