Links were, are, and will continue to be the lifeblood of search engine optimization (SEO) for many years to come.
That's why SEO professionals invest in some form of link building — whether it's blog posts, guest posts, social sharing, outreach campaigns, or paid links.
The sad truth is that even if you successfully earn lots of relevant and natural inbound links, there's no guarantee you'll get high search engine ranking positions.
Here are four key reasons why.
1. Your Inbound Links Are Low Quality
If your link building efforts are focused on driving multiple low-quality, spammy links, it won't do you much good. Not only will your site never rank in the top 10 on Google, but also you risk getting it penalized.
By now, most SEO professionals know the dangers of bad links (e.g. links from link farms, spun articles, spammy blog comments, etc.).
But here's the thing:
You can never know with 100 percent certainty how Google will interpret a link.
Obviously, you want to build links from sites that are:
Authoritative.
Trustworthy.
Relevant to your industry.
Linked to by other authoritative, trustworthy, and relevant sites.
But what if I earn a backlink to my digital marketing agency website from a New York Times or Forbes article about leasing a car or baking an apple pie? Will this link push up my site's SERPs?
Well, it depends. This link could help my site rank higher in search results because these sites are also authoritative and trustworthy (plus, it's unlikely that their editors would allow a non-relevant link in the first place). Or it could have no impact
But what if we aren't talking the New York Times or Forbes? What if an unknown casual food blogger links to my site just because she found it helpful? Will it help my rankings?
The truth is, nobody knows.
You can never be entirely sure if this link is good or bad for your search visibility because Google can easily interpret this non-relevant but natural link as paid.
Basically, you risk receiving a penalty on your site.
It's the same story with backlinks earned through blog comments. Sometimes these links work just fine, but in some cases they are labeled as spam. The example below demonstrates a natural backlink pointing to one of my client's sites: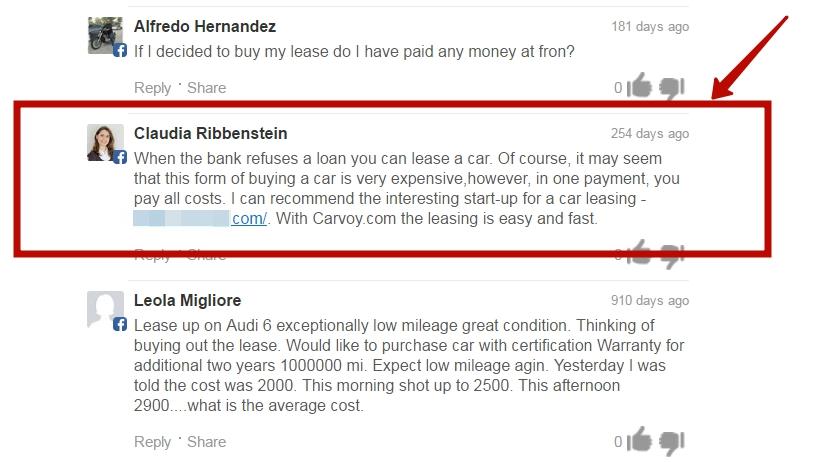 And here are some stats from Google Analytics:

This link helped increase this site's rankings. But it doesn't mean that any blog comment link will produce similar results.
Plus, you should never build links using unnatural, cheaty methods. Don't create fake accounts to copy and paste comments.
Basically, the whole "low-quality vs. high-quality backlinks" story comes down to this:
You have to convince Google that the links to your site are editorial, naturally placed links, not paid links. If this is the case, even link profiles with low-domain diversity will work for the sake of your site's rankings.
2. Your Inbound Links Point to Pages with Poor Content
Content quality plays a crucial role in how sites rank on Google.
Here are seven key features of high-quality content:
Original
Useful
Accurate
Engaging
Actionable
User-friendly
Search-friendly
Alternatively, here is how Rand Fishkin identifies modern criteria for content: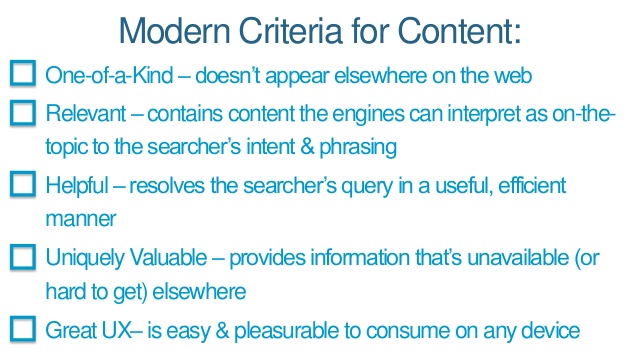 Before you try to create a linkable asset, review these features of high-quality content, then ask yourself: Is this page really worth linking to?
Answer this one honestly.
But let's imagine that you do the opposite — choose to link to a page with low-quality content.
Say, the food blogger I mentioned earlier agrees to link to one of your low-quality pages. You're satisfied because you need to increase the visibility of this page in Google. But will this link really make much of a difference to your rankings – even if it's 100 percent natural?
Users from the food blog will click the link to quickly figure out that the page provides zero value and immediately bounce back. You will end up with a high bounce rate in Google Analytics, which clearly indicates two things:
Users from the food blog aren't your target audience.
Your content is useless to them.
Simply put, even if you win an editorial link to a certain page but the content isn't useful and engaging enough, it won't add anything to your bottom line. You might drive some traffic to your site, but none of it is likely to convert.
There's another problem.
Nobody places links to low-quality pages for free. Google understands this pretty well. If Google sees that a page with a high bounce rate and low CTR, earns a link from a trustworthy site (or a large amount of links from low- or mid-level sites), chances are it will interpret them as paid.
This is why content quality is one of the most important link building factors.
Bottom line: don't build links. Earn them through content.
If your site has lots of top-notch content, you will create a natural flow of editorial links. Building links through content takes a lot of time and money, but it's absolutely worth the investment.
3. Your Site Has a Spammy Anchor List
Google loves links, specifically high-quality editorial links that help identify websites and webpages that bring most value to users. And Google hates link schemes.
Google upgrades its algorithms that distinguish editorial links from paid ones on a regular basis by analyzing link patterns. Here are three examples:
You've been in the cleaning business for years, but your site got zero reviews. Suddenly, Google comes across dozens of reviews about your company. All of them feature a link to your site, specifically one single inner page that describes services you provide.
Your site's backlink profile has been stable for years, but suddenly it receives 100+ inbound links. A massive spike like this, especially if you haven't posted any content, suggests to Google that something fishy is going on.
You're smart about links and consistently earn them through guest posts. Unfortunately, all of your articles are published in the sponsored section. This is a clear sign to Google that you paid to be published and, consequently, paid for the link.
A spammy anchor list raises a big red flag to Google, too. Actually, it's one of the easiest ways for Google to identify spam.
If 100 percent of your site's inbound links feature one single anchor text, it suggests to Google that:
You do everything you can to rank for this phrase.
You build links artificially (i.e., purchase them).
This is why you need to diversify your anchors. Links pointing from similar anchor phrases, even if they truly are the best editorial links, will harm your site rankings. Don't let this happen – perform regular link profile audits.
Don't use any SEO practices that might suggest to Google that you rely on paid links rather than editorial, naturally-acquired ones. Even if your links are good, and Google thinks that they are bad, no matter what you do, your site is in a real danger zone.
4. Your Competitors Do Better than You
This is one factor that's easy to overlook. You can easily rank lower in search results than your competitors because their SEO efforts are better than yours. Put simply, your links may be good, but their links are even better.
That's why you should run regular backlink profile audits of competitor sites. This won't take much time, but will provide enough details to adjust your link building strategy.
To analyze backlink profiles of competitor sites, you can use tools like:
Ahrefs
Majestic SEO
Moz
SEMrush
SEO Spyglass
Raven Tools
Specifically, you should dig deeper into the number of external backlinks, referring domains, referring pages, referring IPs, referring subnets, types of links (dofollow, nofollow, text, image, etc.), backlink history, and so on.
This way you will:
Learn more about the industry.
Sift out sites that are major link providers.
Understand your competitors and their strategies better.
You will also identify why they rank higher than you. Maybe their links are of higher quality. Maybe they craft the best content in the niche, and Google naturally loves it. Maybe it is a combination of factors like user experience, site speed, technical issues, etc. But you will get the answer.
If your links aren't boosting your organic search rankings, then your competitors may be to blame. Never start revising your entire link building strategy before you run a detailed analysis of competitor sites.
Conclusion
Link building, when done in a legitimate and honest fashion, can give your search rankings a much needed boost. Actual link building isn't about cheating or gaming Google; it's about creating content that worthy of being linked to and acquiring those links organically.
If your website has hit an SEO plateau or your site can't reach a coveted Position 1 on Google, then take a close look at your backlinks. They may be the culprits.
Invest the time to find out why you aren't earning greater search engine visibility. After you locate and fix any issues you uncover, your website will start rising in the SERPs.
---
Image Credits
Screenshots taken by Sergey Grybniak, July 2017