As many of you know, earlier this week Google released Fan pages for their Google + Network. Google has opened up the ability to setup a Google + Fan Page, much like a Facebook Fan page to all businesses. Google made this option available today. I currently have a Virtual Tour company called Pixloo that I set up their fan page which you can view here. It's a very easy process and shouldn't take longer than 5 minutes to complete everything.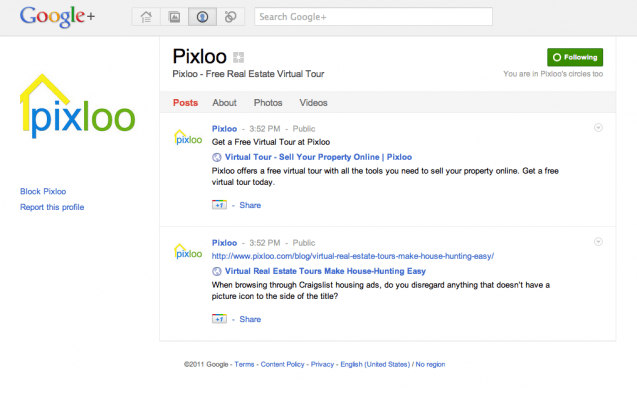 To setup a Google + Company Fan Page you will start by going to https://plus.google.com/pages/create where you will be able to choose from the following categories.
Different Google Plus Fan Page Categories
Local Business or Place
Product of Brand
Company, Institution or Organization
Arts, Entertainment or Sports
Other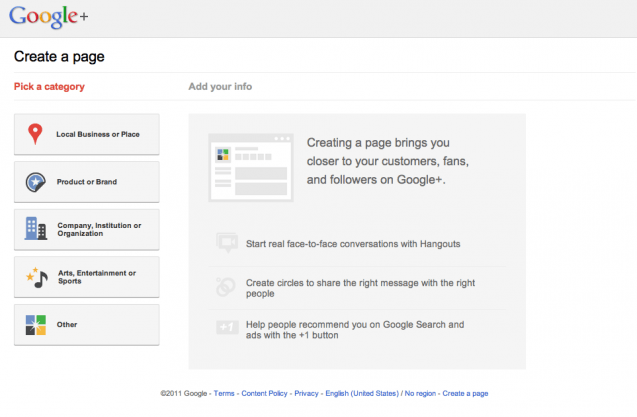 After selecting which category your fan page will be, you will be prompted to enter your Page name, Website (optional), select a category, and who you would like to be able to see your fan page. You can now limit what age group can see your fan page and limit if the content is not appropriate for certain age groups or users. After filling out this information Google will create your page.
Next you will be prompted to choose a Tagline for your business. In the Tagline section you will have 10 words to describe your page the best. On this page you will also be able to add a profile photo to your Google + Fan Page.
After setting up your Google + Fan Page you can share the new fan page with all your circles. Make sure after you setup your fan page that you post a couple things on there to not make your brand or local business look like they haven't done anything. If you are on the cutting edge of technology, you should always be posting about the things that you're doing on your site. Give yourself like, push it out to all your circles.
Right now Google has only allowed people to setup Google + Fan Pages and not allowed them to customize it like Facebook does. They also haven't given anyone the ability to customize the URL or give your Business a username like http://www.plus.google.com/business name. They haven't announced if or when this will become available but I would imagine it will happen soon.