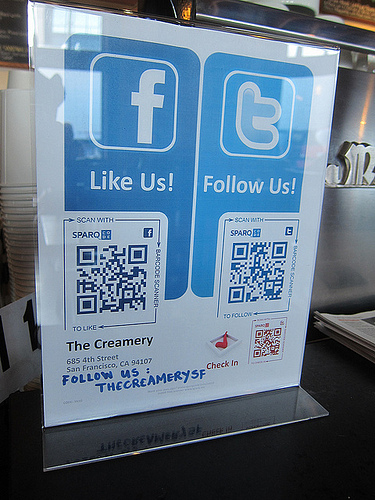 The Web changes quickly. Only a couple of years ago, most people googled a restaurant at home before going out for dinner, while now you can just stop in the middle of the city, log in to Foursquare, find a place nearby, and perhaps even get a discount on your meal for checking in.
Three things revolutionized the Internet in a major way: social, mobile and local (or SoLoMo for short). The Web has gotten bigger (a lot of people use the mobile Internet not instead of, but along with more conventional options) and more diverse, with many new advertising opportunities available to digital marketers.
Marketers can now go real granular with their efforts, catching the customer here and now, and offering them a more personalized experience. In this post, I'd like to talk about how small business owners can leverage the triple power of social, mobile and local to effectively promote their venues among local Web audiences.
Begin with a Website
First thing to do is to create a website for your local biz, which you will later use to:
Provide a URL when registering in online directories;
Tie it to your social media accounts;
Create a Google Places and a Bing Local listing;
Provide for potential scaling of your small business in the future.
For unambiguous identification purposes include a crawlable company name – address – phone number somewhere on your website (for example, in the footer), so that it can be correctly associated with your other business profiles in the future.
Befriend Local Data Providers
The next step is to develop a presence on location-based networks like Foursquare and others. But, before you do it, you have to make sure they can associate your business name with an address and a phone number (what local optimizers refer to as NAP). For that you need to get listed in major local business directories.
I'm talking about such guys as Localeze (would probably be your priority), InfoGroup, Acxiom, SuperPages, YellowPages new and Insider Pages. These are pretty much a must.
They provide local business data for Facebook, Twitter, Foursquare, Google Places, Siri and a number of other services you can use to expose your local biz to online audiences. It is important to start with these directories first since they are the bottom line.
I have a friend in New York who owns several Italian food restaurants in different parts of the city. As he is keen on renaming and re-structuring his various venues (for example, splitting one business into two, or vice versa), I told him to pay attention to what versions of his businesses are listed in these data aggregators, since, even if he goes ahead and changes his contacts on, say, Google Places, his owner-submitted data may get overridden by his old directory data.
Again, while verifying/creating those listings, make sure your business information is the same in all databases. Do not use tracking phone numbers to see which directory performs best and avoid using toll-free numbers that could be associated with any location in the U.S., you'll want to be more specific than that.
Go Social
Then create Facebook, Twitter, Foursquare and Google+ pages for your business. Now, promoting your business in these online venues is a whole different story. To get followers, you can offer points to your customers, encourage them to stay updated on deals and specials, and whatnot – just use your imagination.
To facilitate the act of following you on social networks, use QR codes in a manner they're used in the image accompanying this post, so that your customers can just scan them and connect with you on Facebook, Twitter, etc.
Also, here are some great posts of how to engage with your customers via Facebook and Twitter:
How to Promote Your Facebook Fan Page and Get Lots of Fans
What Can You Learn from These 6 Companies That Thrive On Twitter?
Also, for smarter posting, I recommend using the now hot Buffer app, which allows you to schedule your Tweets and Facebook posts. This way, you can post with intervals and at peak times.
And, don't forget about your brand's integrity. Being a small biz, you may not have a marketing department to take care of your branding. So, just ask yourself what your brand's core values are and interact with your social media accordingly.
Deals and coupons
What's awesome about the above mentioned social networks is that users can check in to actual venues using their Foursquare, Facebook and other IDs. Upon checking-in, they can also leave tips (a-la reviews on Foursquare) and rate places.
Many vendors use coupons, specials and other ways to reward clients for checking in, and a lot of users search specifically for places that have special offers at a given moment. Groupon is probably the most popular local-friendly coupon service. Groupon offers also appear on Foursquare, and one can share Groupon deals on Facebook or Twitter.
Get rated and reviewed
Besides the main social media players, there are tons of review sites and comparison sites that your potential clients may turn to get an opinion on your business. For example, everyone knows Zagat (a famous restaurant guide) and TripAdvisor (mainly used for hotels search), but there are also tons of others.
So, how do you find review sites that apply to your niche? Well, it's quite simple. Just search for your main niche keywords on Google Places or Bing Local and see where your competitors got their reviews from.
The relatively new kid on the block to pay attention to is Google's Hotpot that's built on top of Google Places, Google+ and Google Maps, including Google's My Places, which allows one to create custom maps of places they've been to or are planning to visit.
Also, services like Foursquare, Google Places, InfoGroup and others let users leave feedback as well. So pay attention to that one too.
Get into Google Places and Bing Local results
Now, the tip of the iceberg. It could be hard to rank highly for certain competitive keywords on Google Places or Bing Local where the top is often dominated by big brands. However, you can aim to show up in the top ten for some less popular and thus not hugely competitive keywords, for example, for longer keyword phrases (also known as long tail keywords).
Hence, get listed on Google Places and Bing Local as well.
Important things to remember in this respect:
Uniform NAP
Remember to provide the same name/address/phone number you've been providing for your other virtual venues this whole time.
Keywords
While creating your listings, use your niche keywords in the Description field and choose appropriate categories, which is very important. Creating a custom category for your business and stuffing it with keywords will not help (unless justified). It's also important to use keywords in the title of the website associated with your business and somewhere in your webpage copy/ image alt text.
Citations
The more directory listings and various mentions from across the Web can be associated with your business, the higher it will show up in Google's local search results.
Reviews and Ratings
The more reviews and ratings your business gets, the better it performs on Google Places or Bing Local. Google also estimates the general sentiment in those reviews and ratings, and takes it into account. However, I wouldn't worry about that rankings-wise, but I would worry about it reputation-wise. Crappy reviews can turn potential customers off your biz.
*Note: If your business has more than one location, use Google's bulk location upload instead of creating one listing.
To develop a detailed strategy on how to rank your listing higher on Google Places, give this awesome Local SEO blog by David Mihm a read.
Conclusion
To sum it up, Solomo does a lot of work for you these days. It lets you laser-target your promotional efforts. Plus the fact that clients can find your store on Facebook, Foursquare or other extremely mobile-friendly platforms largely spares you the need to optimize your site for mobile or develop a separate app for mobile users.
At the same time, the challenge here is to appropriately manage campaigns for multiple virtual representation of your biz online and to scale them by attracting new audiences from areas other than your own.
Post Flickr image by Tantek Çelik