Too many SEO's and marketers worry about getting that #1 ranking in Google for their primary keyword/phrase. Of course, if that query is being highly searched and you rank first, you are going to receive some good traffic. However, it may take an enormous amount of effort to achieve those rankings. It may be worth your time to try and gain traffic from other sources.
By applying the long-tail concept to driving website traffic, you can achieve greater traffic by leveraging multiple sites, instead of just the 3 major search engines. Here is a great place to start to find the most important and highly visited sites on the web.
From these extensive lists, I have chosen just a few that you can use to leverage traffic. Of course there are hundreds more you can use to create a strategy for driving traffic to your site.
E-Commerce

For companies that sell products online, why limit yourself to only your selling on your website? Of course there may be a cost associated with promoting your products on other sites (flat fee, percentage), however it is probably still worth it. By leveraging highly visiting shopping sites, it could be a way to put your brand and products in front of NEW customers. Once a new customer visits your site and hopefully purchases, you can use things like e-mail marketing and social media to keep them coming back.
There are also 3rd party services that will help manage your product feeds to various sites. I would recommend Vendio, but there are others that do the same thing.
Social Media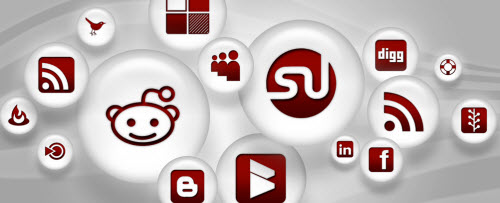 Building relationships through social media is becoming a main source of building brand recognition, promoting new products, and driving site traffic. With hundreds of millions of people engaging in some form of social media every day, it is important to be apart of this fundamental shift in communication.
Facebook: Create, Manage, and Participate in a Facebook Group or Create a Facebook PPC Campaign, Add a Facebook Widget on your Blog
YouTube: Create and Promote a YouTube Channel
Twitter: Auto Tweet Your Latest Blog Posts, Join Twitter Lists, Monitor Keywords and Respond Appropriately, and Promote Offers.
Flickr.com: Upload & Share Photos, Join Groups, and Link Back to your Site
StumbleUpon, Digg, Reddit: Social Bookmark Your Content
Local

Localized marketing is so important for brick and mortar stores trying to find local users searching for their products and services. Even though online shopping is increasing, people still do the majority of their shopping within 10-15 minutes of their house. This is why showing up in the local 7-pack, local directories, and local review sites, are so important.
For a number of these localized PPC campaigns I have found that they yield the same or better return, compared to Google Adwords. You will normally see a smaller CPC because the competition is not as fierce. However clicks do vary depending on the industry.
There are a number of local marketing services that will submit all of your sites so you don't have to. I prefer UniversalBusinessListing.org, which will submit your listing to over 30 local directories. You can also use a service called GetListed.org to manage your Local Business Listings.
Content Focused
Content and content promotion is what will really help drive traffic to your site. There are a number of high authority content sharing sites, which allow you to submit an article, post, press release, etc… Many of these sites put a nofollow on your links, but the value is really in the traffic it will bring. Many of these sites receive lots of traffic and tend to rank well in the search engines. So while you are not necessarily getting direct traffic from the search engines, you are leveraging their domain authority to gain more exposure.
Depending on what type of site you are looking to market on, you will have to tailor your content and strategy towards that demographic. For example, users on MySpace are relatively younger and are not as business savvy as a user on LinkedIn. So it is important to understand the target audience, before you start engaging in these sites. Start by seeing what others have done to market themselves. See what content is getting shared a lot with other community members.
Just remember, there are numerous ways you can generate traffic besides the search engines. Spend some time on the top 500 list and see if there are ways you can expose your products and services on these sites. You may find that you can get some good visibility with relatively little effort, compared to trying to increase your organic rankings in Google.
Mark is the President of Search Creatively, an Internet Marketing & Consulting Company. He also is the creator of StayOnSearch, a search marketing blog dedicated to SEO's and Internet Marketing professionals. Follow Mark on Twitter (@m_thompson)