Content curation should play a significant role in your content marketing strategy. Social media platforms provide powerful stages for community building, using your brand voice as a draw. A big part of this draw is seeing the great content you share.
A lot of companies use their various earned, owned and paid marketing channels to simply share links to their website content assets and blog posts – without considering the quality, the relevancy, or the purpose of why they are sharing it. This can be a major turn-off to audience members.
Data from Argyle Social indicates that posts linking to third-party sites generate 33% more clicks than posts linking to owned sites. The same study found that overall, companies that post third-party content 75% of the time or more produce three times as many clicks per post on average. Argyle's study concludes that the companies driving the most traffic to their sites via social media only include links to themselves in 40% of their posts.
Even if just 25% of your social posts are curated, and even if you're involved in relatively few social platforms, this can still make for a high volume of curated posts. Once you've invested in scouring your feeds for the best stuff and determined that an item published by someone else is likely to be of interest to your audience, why would you limit its use to a handful of social posts at most? Scalability and efficiency via repurposing are the way to go here.
Social media is, after all, just one part of a savvy marketing strategy. As a marketer, you want to advance your strategy and truly use curated content to impact the bottom line, and to do that, you need to work with a multi-channel distribution strategy for your curated content.
What are the best ways to use curated content to build community, trust and brand awareness while still driving relevant traffic to your website? Here are a few.
Publish Roundups of Others' Content on Your Blog
When you produce roundups of content, quotes, news, etc., you can link to and tag several of the companies and people who created the content. This will immediately increase your inbound links, social audience reach and clicks per post.
Here at SEJ, a multi-author publication, writer Debbie Miller taps into the power of this tactic every few weeks with her roundups of internal links, packaged as "This Month in Social Media" series, which dependably drives hundreds of shares and often thousands of reads.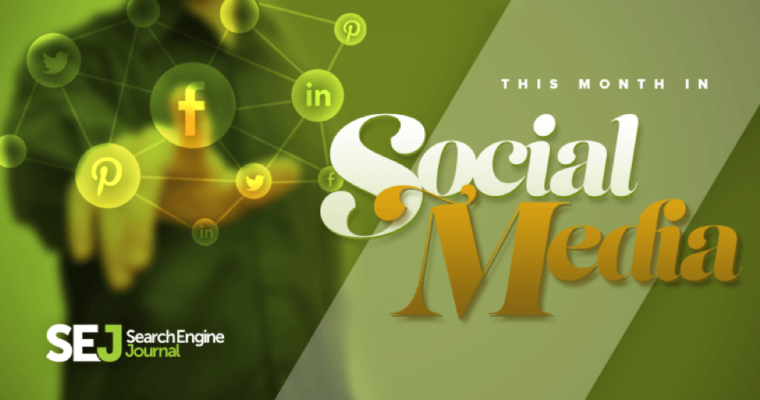 The more people who are connected to your content the better. You can drive shares and traffic to your blog simply by sharing and appreciating the work of others. This is how you build community, but for compounded impact, you can also do this with influencers. Find thought leaders on topics relevant to your brand and ask them for original comments (or simply take quotes from their published assets) and create a roundup.
When you do this, they will likely share your page with their followers, and you will be able to reach their audience through a medium that these people trust.
Compile Curated Newsletters
Curated newsletters have been rising in popularity over the last few years. When you repackage the content you curate as a briefing that you regularly dispatch to your audience; you are essentially making interaction with your brand a part of people's routines.
There are great tools like Goodbits and Curated that make producing a newsletter like this extremely easy, allowing curators to add links to their next dispatches as they go about their usual browsing activities.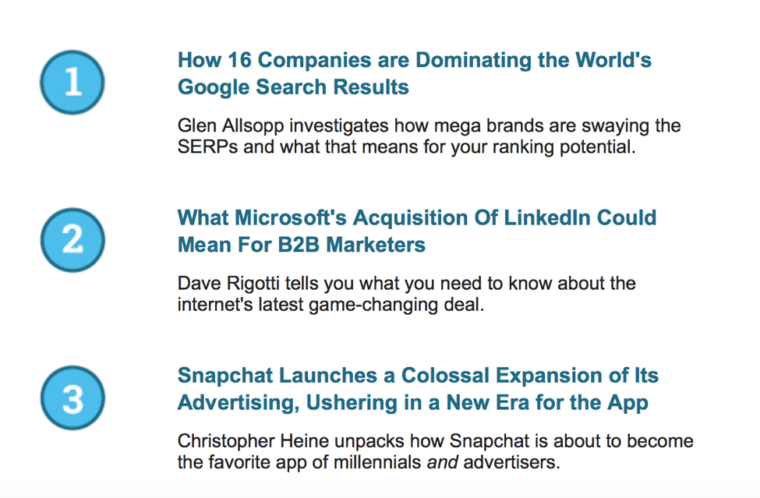 Companies like Moz have proven that brands can benefit from curated newsletters. The company's monthly email provides what they call the "Moz Top 10," which includes great content about SEO and online marketing, some of which happens to be published by them. Moz has created a huge mailing list this way. I subscribe and read their promotional branded content as much as I read their curated content. I do this simply because they send me what I am interested in from many sources. I trust them.
Curate Customer Images and Reviews
Social media has crossed into every aspect of our businesses and our lives. It is important to show potential buyers that people are not only using your stuff, but they like it. Curating customer-submitted images, testimonials, and reviews for use as marketing assets on your website adds authenticity to your site's shopping experience, shows your current customers that you appreciate them, and increases your site's search engine footprint.
If you are marketing a larger company or an e-commerce platform, the chances are that you have a lot of customers sharing and discussing your product. Using tools like Yotpo allows you to automate post-purchase interactions with your customers, asking them to submit verified reviews, ratings, and images that you can then curate into collections. You can then use your curated customer-submitted content assets to create social media ads and shoppable galleries.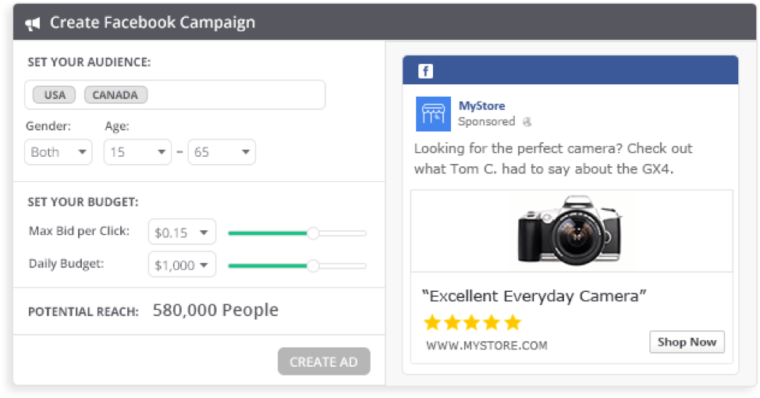 Yotpo's newly released curation tool opens up sellers' options even further, as it allows you to automate the entire process of asking people on social media for permission to use their content in your marketing materials.
Add a Badge to Your Content Recommendations
One of the biggest pain points associated with sharing content published by other people is that you end up losing the traffic. When you link to someone else's pages, you're essentially telling your audience that they ought to click away from your messaging to look at a third party's messaging instead.
In the last one or two years, we've seen the rise of URL shorteners that circumvent this pitfall by superimposing the sharer's branded content elements on top of the original page. One particularly powerful one is Start A Fire, which allows us to add a badge to the content with custom links to additional content suggestions. This is a great way to capture additional traffic and clicks without compromising on your third-party content shares.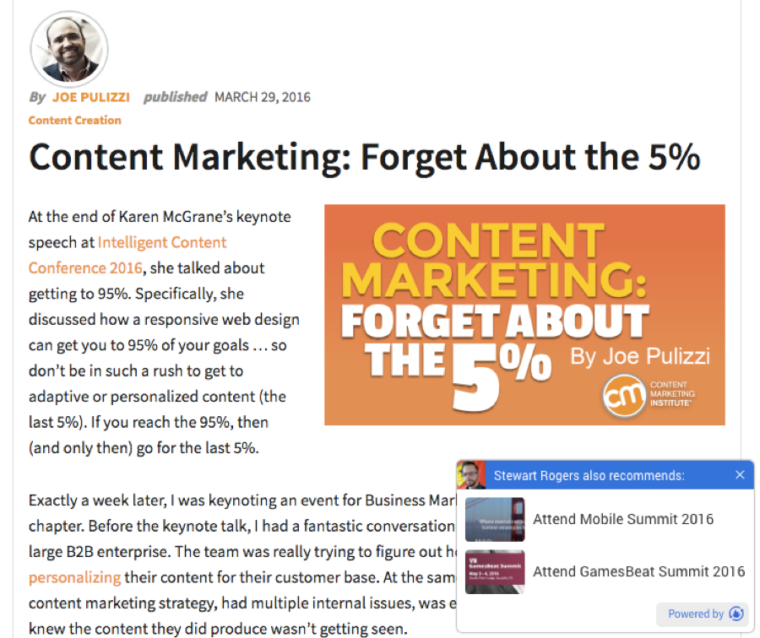 You can use this when sharing content on your social channels, on your blog, or on your newsletters to bring the traffic you sent to another site back to yours. Start A Fire integrates with many leading CMS platforms, social media scheduling dashboards, and email marketing tools so that your Start A Fire URLs seamlessly and automatically go out via these channels.
Aggregate Your Curations to a Hub
A "content hub" is like a next-generation blog. Here, you can aggregate shared items by others, hosted content items, and additional promotions in one handy interface. It's all packaged as a branded experience, giving your audience a trusted destination for discovering content from numerous sources, all on your site.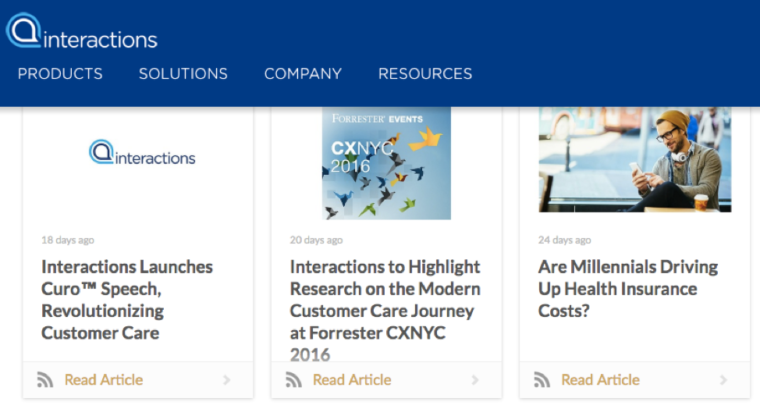 Using tags and smart division of labor across your team, it's easy to create custom streams within your hub that target specific personas, topics, and influencers. You can even add your own call-to-action buttons and links within each of your content pieces. This is great for giving your team a structured destination for sharing content with various audience segments as well as each other.
You can use tools like UberFlip aggregate content, including blogs, videos, ebooks, and social media posts, all in one place.
Curating Across Channels
Take the time to properly research and set up content curation tools, distribution methods, and relationships with influencers. If you do this, your curated content will be more than just a way to increase engagement – it will be able to drive loyalty, traffic, and revenue back into your business.
Image Credits
Featured Image: StartupStockPhotos/Pixabay.com
In-post Photo: Image by Paulo Bobita
All Screenshots by Cynthia Johnson. Taken July 2016.