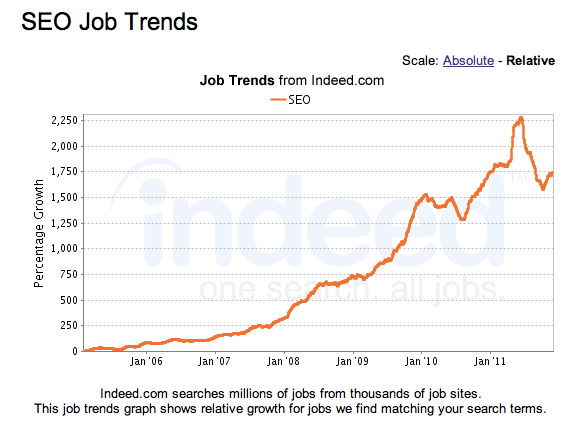 The image from Indeed.com shows how companies have finally figured out that having a well planned SEO strategy is a vital part to their companies success. To fill the demand of these companies, SEO agencies are always on the look out to recruit the best talent out there. As a person wanting to work for a top SEO agency, I find myself asking questions like:
What are the top SEO agencies looking for when hiring people?
What skills do i need to have?
What interview questions will they ask?
What should I not do in an interview?
Instead of just sitting around and wondering the answers, I sought out and asked five people from top SEO agencies to answer these questions. To start we'll see what the main thing these agencies look for when hiring an SEO.
Intellectual curiosity. I need folks who are capable of, and interested in, learning something new every day. SEO is really marketing at this point. The field expands infinitely: If you're a fantastic technical SEO, you'll need to expand your content marketing smarts. If you're a great offsite SEO, you're going to want to learn more about crawling and using tools like Excel. So a strong desire to learn and an ability to do so are both key.
First and foremost I'm looking for the right person to put on the (Distilled) bus. This is a concept talked about in Good to Great which is a book I refer to constantly, it's been extremely helpful to me in growing Distilled and the idea is that you shouldn't work too hard to fit a specific role, rather just hire the very best people you can and figure out exactly what to do with them after. Most often we're hiring for SEO consultants and we typically look for a combination of: communication skills (both internal and with clients), smart and boatloads of hustle.
Experience. I actually prefer someone with in-house experience at a medium sized company over agency, unless they come from a very reputable agency. But at a medium sized company, the in-house SEO has responsibility over all aspects of SEO, they are judged on success, and they have experience working with tight budgets.
When Hiring, what I look for is endless curiosity but the ability to focus. See as SEO's we all have a little ADD, but what I have learned more and more about hiring search professionals is that so many are fiercely smart, but without the ability to focus, hit deadlines, set goals and manage expectations, it almost doesn't matter how good you are at SEO clients won't be happy.
It's never one thing we look for when hiring an SEO. There are so many diverse skills required in this field from entrepreneurship to marketing to analytics to technical Internet understanding. Everything we do requires a critical thinking and writing. Communication is a must. Starting a website, writing content and performing SEO is always a plus when you're thinking about getting into any marketing job right now.
Your Thoughts?
What are you looking for when hiring someone for a SEO position? What would you add to what was already said?
Coming Up Next in Part 2 – What skills most people are lacking who interview for SEO positions.