Anchor text is a major ranking factor – it is hard to manipulate (at least it is getting harder now after Google started its anti-paid-links war and got really good at spotting link schemes). Thus by exploring the anchor text of the site backlinks, you will:
get an idea of the competitors' link building strategy;
understand what people think of your site;
get help with your keyword research (webmasters usually focus on their most important keywords when building links).

As usual, here is a short overview of four backlink checkers followed by the screenshots:
Options/Tools
BacklinkWatch
Smart
backlinks
Analyze
Back Links
Link
Diagnosis
Anchor Text
Y E S
PR
–
+
–
+
Linking page outbound links
+
–
inaccurate
+
Nofollow highlight
inaccurate
+
–
+
Firefox Extension
–
+
–
+
Sorting options
–
–
–
+
Interface
messed up
user-friendly
simple
user-frindly
Set Preferences
–
+
+
–

1. BacklinkWatch is a bit stuffed with advertisements and slow but it's free but it will take time visiting each page linking to your site and find the anchor text.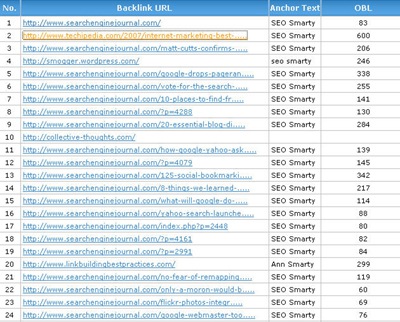 2. Smart backlinks tool offers a handy FireFox extension and viewing options (anchor text on/off; nofollow on/off) speeding up the checking process.

3. Analyze Back Links – a very new but promising tool also allowing for a number of useful settings (anchor text being one of them). Some figures however (total backlinks, for examples) seems inaccurate (or I didn't understand what they stand for).

4. Link Diagnosis tool takes a lot of time but that's worth it. The utility offers the widest variety of sorting options (anchor text is one of them) enabling you to quickly find any page you need.