A couple of weeks ago I took a look at some examples of how brands collect and leverage Tweeted feedback – which has a positive effect:
This creates favorable social media context around the brand (and thus makes it "friendlier");
This engages users to promote the company social media profiles (by adding them to friends, sharing, etc)
This makes the brand more trust-worthy (as Twitter testimonials are easier confirmed and verified).
One of the best scenarios you may want to apply (in case you decide to take advantage of social media reviews) is a semi-controlled ones:
You track Twitter mentions and add them to your Twitter favorites (by "starring them")
You grab your Twitter favorites RSS feed and make it public at your site.
This way you have the full control over what is being shared with your visitors.
Fortunately, it's all even easier to do than it may sound.
When collecting examples for my BlueGlass post I have linked to above, I stumbled across this nice WordPress plugin that does exactly what I have described above. The smart idea and simplicity of implementation appealed to me so much that I decided to share it at SEJ.
I am sure many of the readers will love it as much as I have.
It's really that fast and easy as it sounds: just install and activate plugin and you are almost done.
Now, navigate to your "Widgets" control panel in your WordPress dashboard, find the "Tweet-stimonials" widget, drag it to the place in your sidebar where you want to display Twitter testimonials and configure the widget:
Provide your Twitter handle (the plugin will be using this Twitter account's favorites RSS)
Select how many entries you want to display in the sidebar;
Provide the widget name to be displayed in the sidebar;
Select if you want users' Twitter avatar displayed;
Select if you want to link to "More testimonials" (will be linked to your Twitter favorites page)
Select if you want to invite users to follow you on Twitter.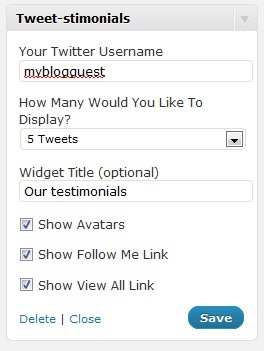 You are done! Now check your blog sidebar – as easy as it sounds!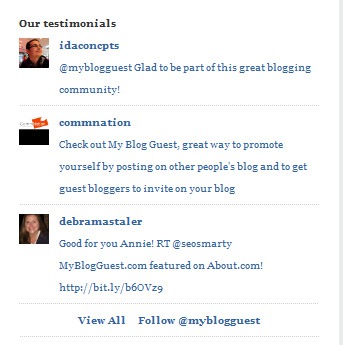 So Why Can Running Tweet-stimonials Be a Good Idea?
The plugin provides for an easy way to:
Personalize your testimonials (display photos of real people who were using your product or service and liked it)
Grow your (official account) Twitter following
Decide what exactly you want to display there (you are the one who selects testimonials by starring them).
What should you be aware of?
The plugin requires PHP5 (so one of my really old blogs couldn't run it)
The plugin is compatible with the latest WordPress version.
I'd love to hear your thoughts! Isn't it a bright idea?