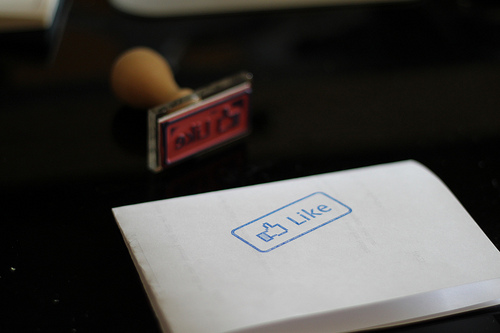 Are you wondering how you would expand your Facebook community organically? Think outside the box and make your Facebook posts pop.
Facebook evolved to accommodate business' needs that are more than just connecting people and posting "what's on your mind." People do not just flock to your wall to read updates about your product; they also want to be involved personally. As a brand, you should consider the fact that not all posts are created equal. And while you certainly shouldn't forget the cry, "Content is King," you can leverage creative Facebook posts to gain greater influence and foster stronger engagement within your community.
Here are seven effective ways to build high-levels of engagement via Facebook posts:
1. Grab Attention with Photos
Sharing photos is overrated? Think again. Posting a picture or an image is one of the surefire ways to catch people's attention. In fact, it is rather popular with fans because it is more visually appealing than an average post.
In addition to helping you stand out in the News Feed, pictures can also establish emotional connection, stimulate reaction, and incite ideas. Need a proof? With 27 million fans to date, Oreo set the Web ablaze when it posted the picture below. It garnered nearly 300,000 likes, 90,000 shares, and 60,000 comments. Numbers don't lie.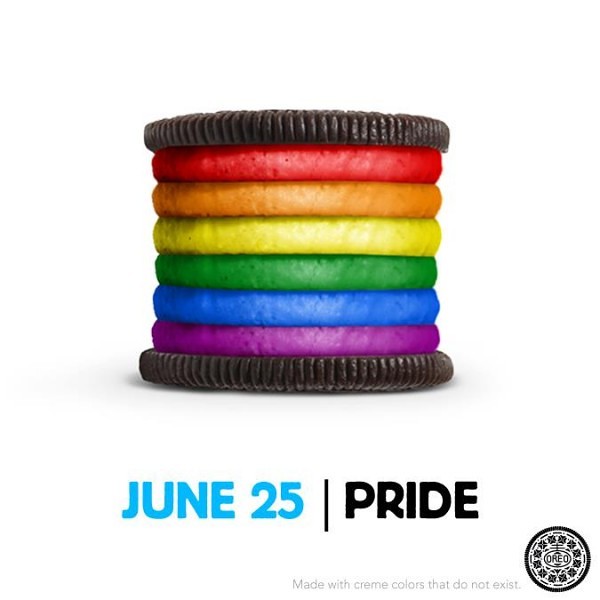 2. Let Your Audience Fill in the Blanks
Nothing can be more personal and fun than a clever fill-in-the-blanks post. It allows your audience to share their own perspective and creativity while having more fun. It lets them interact with other people within the community, too. You never know how a simple fill-in-the blank post can generate a lot of likes and comments.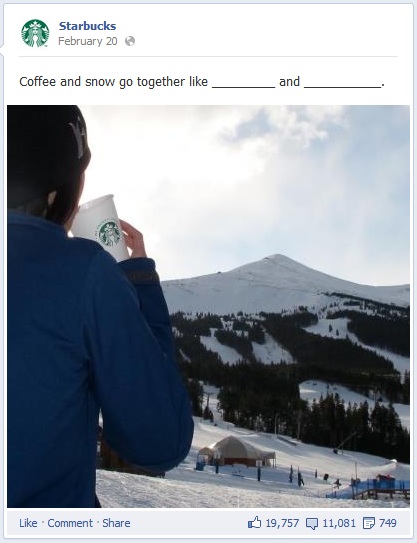 3. Ask Questions to Spark Dialogue
Leave thought-provoking message to your audience by asking questions. Let them think. Let them share their views and opinions. Get the discussion rolling. As simple as either/or questions like "Round or Square" can be surprisingly effective. See the example below and notice how the comments outnumber the likes.
4. Share Great Ideas and Helpful Tips
Providing your audience with helpful tips will keep them coming back. By offering useful information, you let your audience feel valued and therefore encourage them more likely to react.
5. Wish Your Fans Happy Holidays
Greeting your fans during holidays proves that you're not a faceless brand. Show them you care, too. Be creative when wishing them happy holidays, and you'll surely reap an overwhelming response.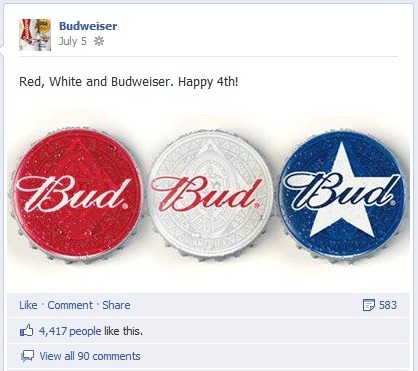 6. Challenge Your Audience
If you want to drive large number of likes and comments, ask your audience! "Call to Action" posts nudge your readers to respond to a certain way you want them to. Learn from Coca-Cola who, by the way, has over 45 million fans and counting. One of Coke's most engaging Facebook posts, the challenge (see below) garnered a whopping, more than 49,000 likes and nearly 12,000 comments. It actually surpassed what was being asked.

7. Inspire Your Audience with Quotes
Sounds cheesy, right? But mind you, it works. Don't be shy tugging the heartstrings. While quotes are often inspirational, some are funny, cute, ironic, or clever. Sharing quotes, especially the ones related to your product, can remarkably generate likes and shares.
And whatever you do, keep your posts simple and add a personal touch. There isn't a "one size fits all" formula, so try every resource and parameter you have to determine which clicks best. Are you ready? It's time to step up your game!
Image Source: Courtesy of Denis Dervisevic via Flickr