As much as I love guest blogging, I think it's important to diversify your back link portfolio. Focusing on just one type of back link creates a very contrived backlink profile which, if there's ever a manual review to your site, can show ample proof of "Unearned Links".
Say Hello to Giveaways. Not only can you earn links, you can generate social engagement and buzz, and increasing those coveted social signals.
Giveaways are a great way to create organic links because they naturally lead to social shares, increasing exposure and the possibility for variety of links. Someone sees a great new opportunity and they share it with a few people, but this happening hundreds of times, means your reach just expanded greatly.
The following are the steps you can take to create a successful giveaway from start to finish. Follow these faithfully and the number of links and interactions you have will quickly turn into profit.
Step 1: Create Your Giveaway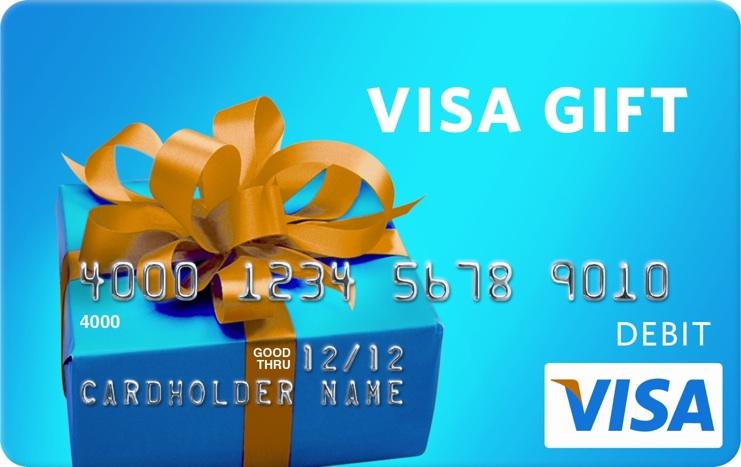 First you need to decide what it is that you're giving away. If the product or service you sell is one that is too expensive or in some way difficult to giveaway, what you can do is give away a gift card. Everyone loves cash, and a $100 Visa gift card is something that many people will want and be willing to earn entries for.
Once you've decided what it is you'll be giving away you need to do three things:
1. Set a Budget
You don't want to spend money you don't have, so take a moment to consider your financial situation. If you are giving away a gift card, how much should it be worth? How many sites are you hoping to promote on, and how much are you going to be willing to pay each?
Many sites will promote your giveaway for a fee, so this has to be part of your budget.
2. Create a Rafflecopter entry form.

Above is an example of a giveaway, so you can take a look at the code and how it works.
Why Rafflecopter?
It's so easy my grandma can set it up.
It creates an exportable "embed" code that you can place on your site.
Give this code to the sites that are promoting your Giveaway and it's a simple copy and paste.
You can easily add in various entries that increase the potential for social engagement.
You can customize your entries, but always start off with an email capture. Oh yes, and did I forget to mention that you can gain "Opt-in" emails from this method?
Add in entries like:
1 "Tweet about this giveaway to your friends"
2 "Share this giveaway on Facebook"
3 "Like our page on Facebook"
And my very favorite:
Place a link to this Giveaway on your site for extra bonus points.

3. Add the Giveaway to an Existing Page
Most people create a new page for the giveaway. But what happens when the giveaway ends? The page is stale and irrelevant.
What if you added the Giveaway to one of your category pages, perhaps the product you are promoting? Then, after the giveaway ends, you remove the code and all social signals and links generated will remain, pointing to that high value page.
Step 2: Find Promoters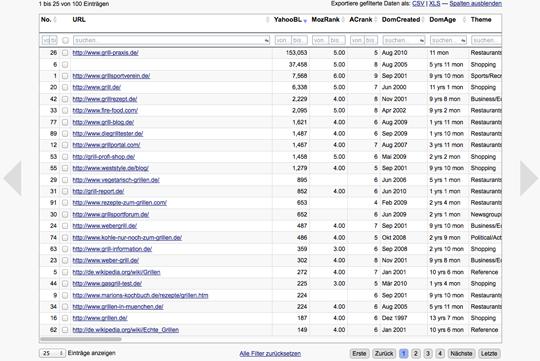 Do Your Homework
Now that your giveaway is set up and ready to go, it's time to find blogs that will promote it to help you build all those valuable links and social interactions. The first thing you should do is search for giveaway inventories. These are a goldmine because they are literally lists of people who host and promote giveaways.
As some sites will charge to promote the giveaway, you will want to asses their statistics to determine value. High mozrank, domain authority, Alexa, and unique C class links are all indicators of value. I also focus heavily on site age and social shares.
Study Your Notes
This is going to be your guide in deciding who to contact. Find the PR and Alexa columns and move them over to the beginning of the sheet so you can easily see the URL, PR, and Alexa. Next you'll want to sort the sheet so that the PR column is organized from highest to lowest.
Go ahead and delete all of the rows with PR 0's and 1's. I suggest keeping the two's as padding for when you have $15 left in your budget for one more link.
Now that everything is sorted, you have a clear picture of which sites are the most valuable and who you'd like to set your sights on to promote your giveaway. Keep in mind that the higher the PR the higher the cost of placing a link, because giveaway or not, bloggers are savvy to SEO types and they know there's money to be made off promoting your giveaway.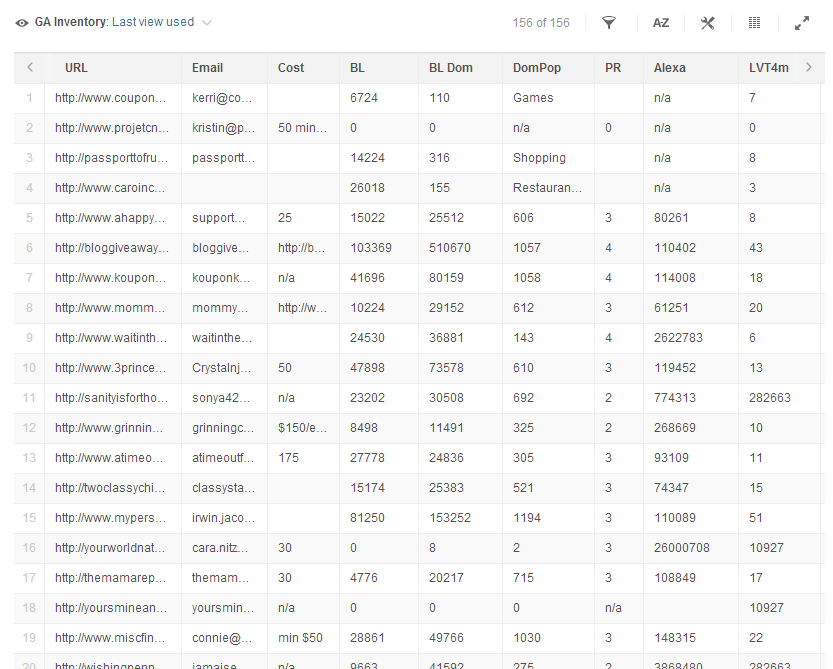 NOTE: If your using a product management program like Podio for example, make sure to create an app where you can store the information you just spent the time compiling. You'll be able to access it readily, but more importantly make notes about each site, if they were responsive or not, how much they cost, was the price worth it, etc.
Step 3: Contact
The next step in your giveaway promotion is to contact each of the sites that you've decided you'd like to promote on using a service like MailChimp for example. Some places will have contact pages with a form, others will provide you with the email somewhere on the blog.
While contacting, you need to make sure you have two things:
1 A place in the new app you created to save contact information
2 A blanket email that you are sending to everyone so that you don't waste time writing a new email for each site.
The email should contain the following information on the giveaway:
who's hosting it
what is being given away
how long it will last
when does it begin
Make sure to include the embed code for the Rafflecopter form because there will be some people who will promote at no charge, otherwise will charge a nominal fee of $30 and will have the post up before you even finish sending the emails.
Also, this is VERY important, you want to make sure to ask for the following:
current and valid PayPal address to send payment
cost
Without a PayPal address you can't pay them, and many people will forget to include, even after you've asked a few times.
Without knowing what they charge you could get into an uncomfortable situation if you spend time getting the post up and then suddenly they're asking for $300.
As far as cost is concerned you'll want to make sure that you are paying a fair price. A PR 3 for example with an Alexa of over 1 million, shouldn't cost more the $35 – $50. You want to take into consideration a sites social following. If they have 50,000 likes on their Facebook page, make sure that they are going to be sharing the giveaway regularly on that page to increase exposure, in that case $50 is really a deal.
Step 4: Wrap it With a Bow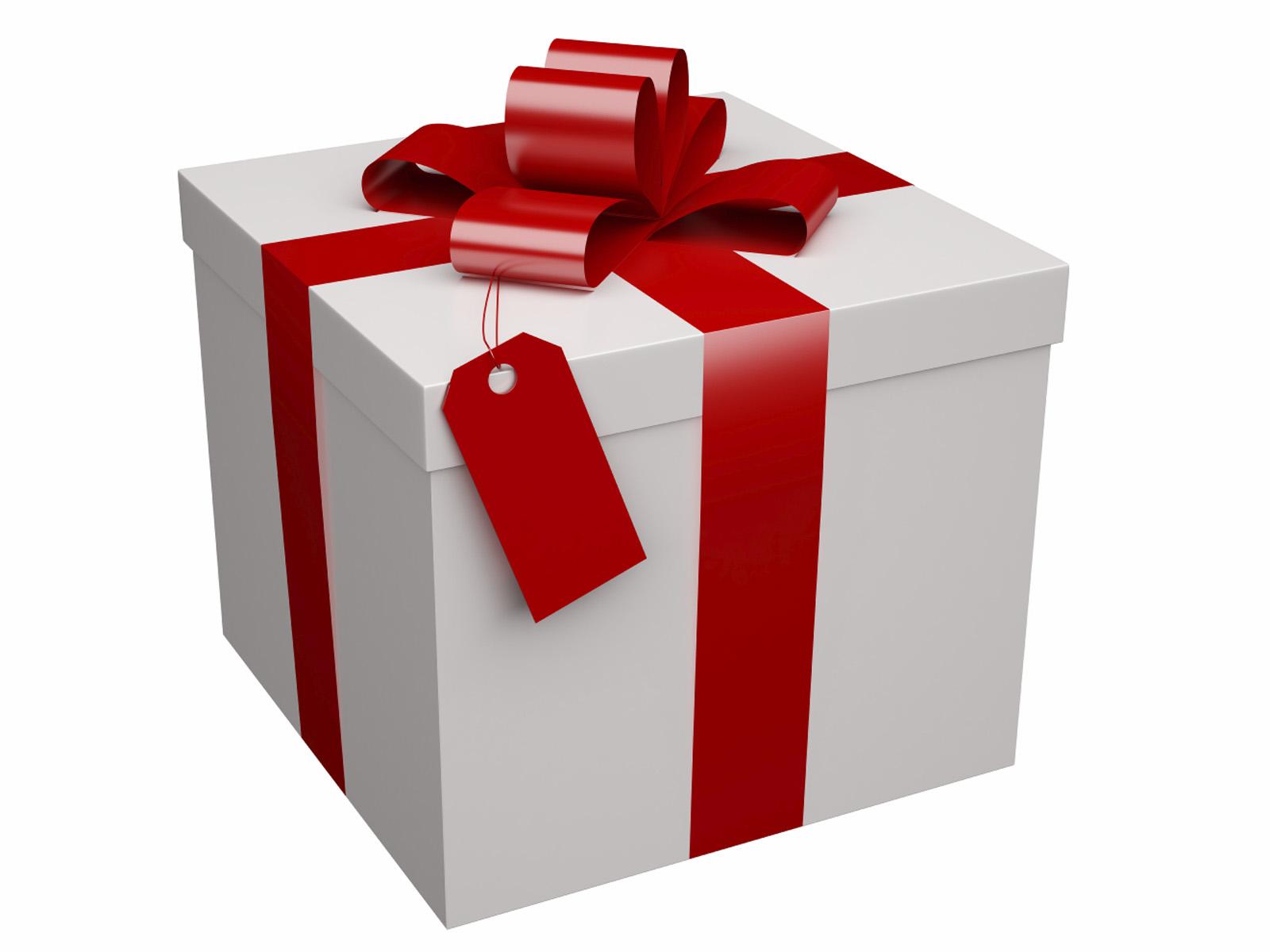 Once all the posts are up, the payments have been sent out, and you've made notes about everyone in your app make sure to do some social sharing of your own.
If you already have a substantial number of followers online, or send out a regular newsletter, don't forget to promote your giveaway on those channels. You should also submit it to those inventories you used to find all the sites you contacted.
Linkies are a great way to gain free exposure. Spend some time every day submitting to the linkies, and reach out to new people on a daily basis to increase exposure. If you don't have a Virtual Assistant to help with these tasks, why not consider using Amazon Mechanical Turk to Crowdsource these tasks?
Once the giveaway is over, give contact the winner and give them a maximum of three days to reply with with their shipping information. Let them know that if they don't respond in a timely manner they default and another winner is selected.
Make sure to send out the prize on time, but also remember to download the copy of all the emails used to enter into the giveaway and send out a mass email with a "Thank You" as well as a discount coupon. This is just another opportunity to create customers and sales so don't be shy. A 20% coupon is worth the time to visit a site and spend some money, a 10% coupon isn't.
Final Touches
It's always a good idea to send a thank you email to anyone who promoted your giveaway just to be polite. This will help to establish the relationship and give you the opportunity to work with them again in the future on something else, or even give you the chance of being introduced to their circle of friends.
Bloggers talk, especially mom bloggers, and they form networks where they band together. You want to make sure you're on everyone's good side to maximize your opportunities. You may even want to offer promoters a coupon to get them shopping for your product.
There's a great deal of value to hosting a giveaway, and by following these steps you'll be able to maximize and monetize on the experience.
Giveaways really DO work, I promise! We've run hundreds of these and have always been amazed by the results, especially when we find unearned links or viral social shares.
Have you used Giveaways as part of your link building arsenal? Do you have any tips or suggestions to improve this process? Please do share!