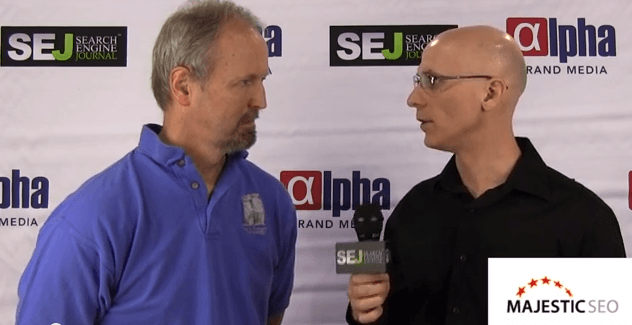 Sponsored by Majestic SEO, "Bigger, Better, Faster."
In an interview conducted at Pubcon 2013 in Las Vegas, Eric Enge of Stone Temple Consulting discusses how social signals work to enhance online authority for your website.
I began the interview by asking Eric when does he feel social signals will start to become even more relevant as a true search engine ranking factor. Does he feel like they already are? Hear what he has to say about this in the video below:
Here are some key takeaways from the video:
Eric has found through thorough testing that web pages get crawled within 6 minutes of being shared on Google+ without any other ranking signals pointing at them. The pages then got indexed in 10 days and Eric started to see some influence in search ranking after 20 days, but not much. Eric explains this study in great detail in the video.
If you want your content to be discovered by Google, Eric says there is no better way than sharing it on Google+.
Sharing links on Google+ creates a do-follow backlink.
While social signals are important, Eric says they are not weighted the same as getting a link back to your site.
No matter what signal Google is using to rank content, if you have built a powerful social channel then you have the ability to drive engagement that will generate the SEO signals you want.
The authority of the influencer sharing your content matters more than the total amount of people sharing your links.
Number of followers doesn't matter as much as the amount of engagement you're creating.
If you have any questions after watching the video, for either myself or Eric, ask them in the comments section and we will do our best to respond to everyone! Please visit SEJ's YouTube page for more video interviews from Pubcon 2013.