You may already know that about 3 months ago I launched my newest project uniting blog owners with guest contributors – MyBlogGuest. The site is being still constantly developed and the feature set is being continuously thought over and updated. Therefore I've been trying various usability tools and services that could give me some insight into how visitors may be using the site.
One of such usability testing services appealed so much to me that I went ahead and contacted the owner offering her to cover the service on SEJ. The tool is affordable but still it is paid (and you may have noticed that I prefer sharing free tools), so I suggested running a contest to give one of our readers an opportunity to try the service for free!
So, before I go into details, here's the Tweet, by tweeting the following text you are entering the contest (I'll then choose and announce the winner):
RT @sejournal Testing website usability with UserTesting http://bit.ly/cuby8D

Update: congrats to Joshua Titsworth who won the free test!
So, now a few words about my experience. The service is called UserTesting. On landing on the site home page (thanks a lot to @webnauts for sharing it with me), I instantly decided to give it a try because it looked fun and really cheap.
So I promptly went to the order page and completed the order in no more than 2 minutes. The form asked me to:
Give my page URL;
Provide the scenario (the mindset that the user testers should have);
List the tasks (what you want the testers to find on your site and the actions you want them to perform);
List any questions I would like to ask the testers;
Select the number of testers (which directly impacts the price);
Define my target audience.
I provided the URL of a working copy of my website (which does have a few bugs unlike the main version) and asked the tester to find guest posting opportunities in SEO niche. For targeted audience I only asked it to be "Intermediate" level of web expertise (since a person is blogging he is at least moderately knowledgeable about the Internet).
I chose the cheapest option (one tester = $39) and completed the order.
I was pleasantly surprised to get the task competed the same day just a couple of hours later. I got the tester's video screencast and his written conclusions which I honestly sharing below:
Conclusions: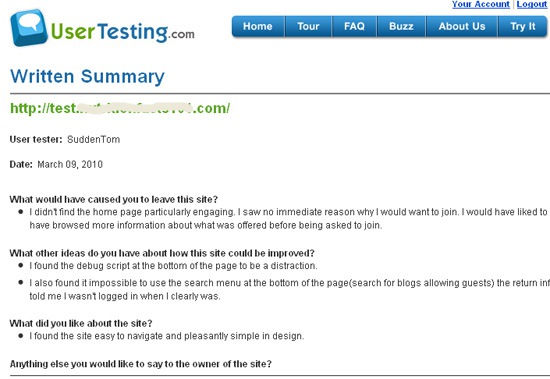 Looks good, doesn't it?
The service owner agreed to my contest idea and is giving away a free test with 5 users – a $195 value. Again, all you need to enter is to Tweet the following:
RT @sejournal Testing website usability with UserTesting http://bit.ly/cuby8D
Good luck!