Most of us are already using social media in our personal lives. You could even say we've come to rely on it as a primary method of communication for keeping us in touch with a wider network of friends, family, and acquaintances that would be possible without it.
While you might not be able to go an entire day, or even a few hours, without checking in on your social accounts, there's an untapped potential of social media that you might not be aware of.
We're talking about the potential of social media to help you land the job of your dreams or at least one that will move you out of your current career rut.
It's estimated that 92 percent of recruiters turn to social media to discover new talent.
But, there's a little bit of preparation that needs to be done on your part if you want to be one of the people they discover.
To help you out, we've put together five tips to help you use social media to get the job you want and deserve.
1. Position Yourself to Be the Candidate Recruiters are Looking For
Before going too much into strategy, let's take a step back and touch on the basics, like optimizing your profile for job hunting success.
While statistics tell us that the majority of companies are using social media for employee recruitment, the other side of this is that 70 percent of employers are also using social media to weed out prospects and 54 percent of them have decided to reject candidates based on what they find on personal social profiles.
So, what's a job-seeking social media user to do?
Clean yourself up, the same way you would for an interview.
Google Yourself
First, Google yourself to find out how much digital dirt you've left around the Internet (it might surprise you!).
Clean up as many of those incriminating photos and grumpy status updates as you can.
Don't forget, hiring managers can't view what you don't give them access to. Make sure that you have your profile set to friends only, and this includes the remaining posts and images that might be several years old.
Add the Right Details
A friendly heads up, 41 percent of job recruiters will judge your online photo before ever meeting you. So, prime what they can see for success.
Add important details that are key to appearing professional like:
A professional looking profile picture.
A mention that you're currently seeking a career opportunity in your profile description.
A link to your resume on your about page is key to appearing professional.
Also, pay attention to those parts of your profile that are often visible to the general public:
Your activity in public groups.
Reviews that you leave for businesses.
Etc.
A prospective employer is going to pay attention to every bit of information that they can access.
Don't Lose Control Over Who Sees Your Content
Additionally, be wary of "friending" co-workers of any type. More importantly, before friending a co-worker, check to see what other coworkers they might have in their network.
It can be easy to forget about that one quiet, random coworker on social media when you have hundreds of friends.
Just because they're out of sight and out of mind doesn't mean that they're not paying attention and reporting what they see.
2. Investigate Employers' Pages
Social media is an expansive playing field, and if you want to land a job that you're going to be great at then it's necessary to narrow it down – by a lot.
Step one is recognizing the companies in your industry that have a major presence on social media. Do this even you have your sights set on a local, smaller business culture.
The reason is that many smaller businesses also connect on social media with the big players in their industry, so doing this serves as a starting point for putting yourself out there and networking.
Something else that's important to recognize at this point is which social platforms employers in your industry or niche are using themselves.
For example, if you're searching for a career in visual design, it won't do you much good to put all of your efforts into Twitter or LinkedIn if hiring companies in the industry are taking advantage of highly visual platforms such as Instagram – like this guy.
Once you've discovered where businesses in your industry or niche are and have started following them, then it's time to shine, and this is all about engagement.
3. Shine & Get Noticed
While plenty of companies advertise available positions on social media, many times there's a recruiter just lurking in the background and looking for the perfect candidate to emerge from the masses.
Next, we're going to talk about how you can be the one that stands out in the crowd.
The first rule of the game is to engage.
It can be intimidating approaching a job search through social media, especially if you're starting with a nonexistent professional network.
However, the audience on social media is so large that you can't just polish your profile and hope for the best.
Job seekers need to be proactive. This means you must amp up your engagement (and your creativity).
Twitter Is a Gold Mine
There are countless stories of hungry job-seekers who found their dream job through Twitter. And it makes sense.
Twitter's advanced search allows you to dig deep into hashtags like #jobs or #hiring and align those tweets with specifics around your field (writer, SEO, etc) and location (Manhattan, San Diego, etc).
Did I mention there are also Twitter handles dedicated to helping job seekers? From @CareerBuilder to @UndercoverRec there are countless job experts, recruiters and job search handles to follow.
Create Your Own Hashtag
Sometimes a little creativity goes a long way.
One job-seeker was focused on combining his love for travel with his newly acquired master's degree in marketing.
So, he created his own hashtag #hire_tom and began reaching out to businesses that aligned with his goals.
I'm not interested in marketing. I'm passionate about it. #hire_tom http://t.co/HPdJbUCwor #tedx

— Tomas Bagdonas (@Tomas_Bagdonas) July 15, 2015
The result? A marketing job at Booking.com.
Ditch the Paper Resume Altogether
Like this guy …
Don't Forget About Facebook
While not as widely used as Twitter and LinkedIn, if you're spending time on Facebook why not give the job portal a try?
This should default to your local area, but can be adjusted as needed.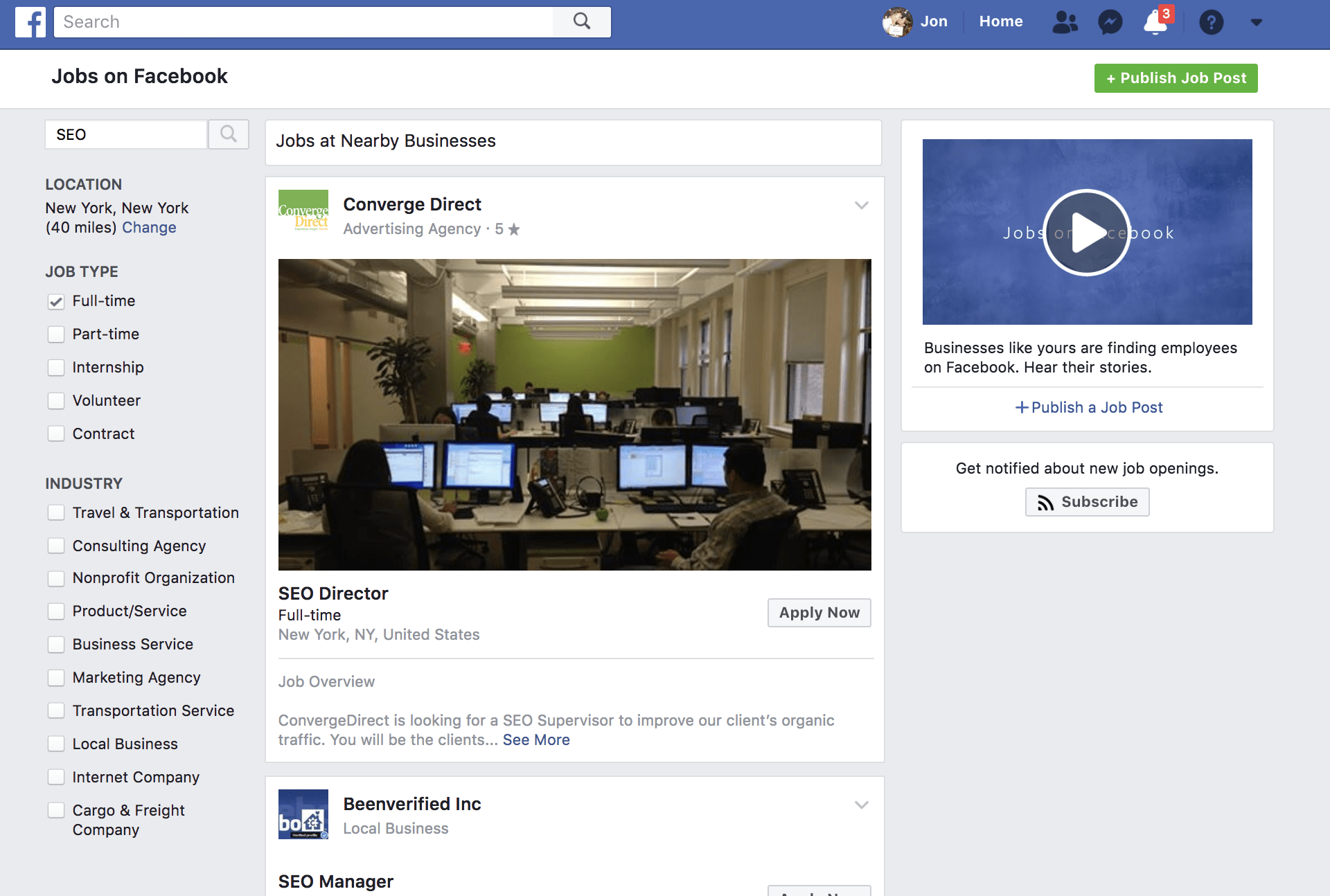 And, should you find that dream drop, you can apply directly through Facebook – though only the basics of your personal information are shared.
Join Groups
Commenting regularly, though not obsessively, on a company's posts is a good place to start but joining and becoming active in relevant groups is even better.
If you have your heart set on working for a specific company, you can start by seeking out any groups that may focus on them or the service they provide.
Otherwise, start with industry related groups including those specifically targeted for job seekers that recruiters might see as a smorgasbord of prospects.
Then don't be shy. Put yourself out there and engage. Introduce yourself, ask questions, be responsive and – most importantly – be helpful.
When you're consistently responding in an insightful and helpful way you're going to catch the eye of recruiters looking to add value to their team.
4. Get Some Endorsements
You know how reviews are one of the first things you look at when checking out a new brand online?
Recruiters looking to connect with new talent really aren't that different.
While it's true that if they're really interested they'll put in the work to connect and learn more about you, but with such a competitive pool for them to choose from, the easier you make it for them to learn how great you are the better.
Professional networking social media sites like LinkedIn let you include endorsements on your profile.
Whether you think they're dumb or not, the majority of recruiters do look at them as a signal that can influence or reinforce a close decision.
What's great about endorsements or reviews is that interested parties can usually easily check their sources, so that gleaming recommendation by the head of HR from the last company you worked for stands out as a legit testimony of the quality of your work and contributions to the company.
What to do if you're new to the game and haven't earned any endorsements yet?
Go out and ask for them!
This includes contacting past clients, employers, professors or anyone that you've had a positive professional experience with.
It's best if they're mostly industry or niche focused, but if you're trying to break into a new career it's completely acceptable to showcase a little praise from other areas of your professional expertise.
Here's a great email template from HubSpot that will help with those requests:

Hi [first name],

I hope all is well with you. I recently came across this ebook on [topic they care about] that I thought would interest you:

[link to content asset]

You'll find section X particularly valuable.

I really enjoyed working with you on/at [project/company], and I was wondering if you would write a brief LinkedIn recommendation of my work. I'd love it if you could touch on Y initiative and our collaboration on Z. Just three to five sentences is all I'm after.

I know a recommendation from you will significantly elevate my profile. I greatly appreciate your time, and hope to hear from you soon.

Thank you,

[your name]
5. Remember Your Etiquette
The digital age has drastically changed how we communicate with each other, even in business.
Considering this, it's easy to slip up on a few of the rules of modern business etiquette, especially the unwritten ones.
For example, networking to put yourself in front of a potential employer or client is great.
Flat out asking them for a job? Not so much.
Approach job inquiries in much the same way you would if you were meeting them face to face.
Introduce yourself and express interest but avoid "hounding" or obsessively inquiring about opportunities.
Instead, once you've introduced yourself just continue to engage and present yourself as a knowledgeable and valuable resource to their customer base without going over the top.
Likewise, keep business-related communications away from social media as much as possible.
For example, a social media direct message isn't the place to drop your CV unless the company has specifically asked you to do so.
Often times, the people managing social media communications aren't the ones in charge of recruiting so not only can employment-related messages be seen as inappropriate, it's also likely that you're creating a longer process of getting your message to the right person.
Start Preparing for the Job of Your Dreams
One of the greatest things about social media is that it connects you to an ever-expanding network of people.
All it takes is one of those people to help you find your next great job.
You never know when an opportunity might knock, so now is the time to make sure you're prepared when it does.
Using these five tips can help put you in a position of authority when recruiters come looking.
There's an incredible world of career opportunities out there waiting for you, and social media is the tool that can help connect you to it.
More Resources:
---
Image Credits
Screenshots taken by Jon Clark, September 2018