Despite claims to the contrary, email is not dead. According to a February 2012 survey from ExactTarget, 91 percent of U.S. consumers report checking their email at least once per day, compared to 57 percent for Facebook, and 14 percent for Twitter.
When asked the more pointed question of which channel they prefer for receiving promotional messages, 77 percent of the respondents said email. The next choice, direct mail, came in at 9 percent.
If done well, email marketing can help drive qualified traffic to your site and boost sales, but it all starts with building a list. If you are a small, brick-and-mortar business with limited resources, collecting your customers' email addresses can be particularly challenging, so here's a quick case study of how our small bagel and donut bakery in Florida was able to grow its list from 3 emails to over 300.
In-Store Sweepstakes
At the end of last year, we opened a second location in a neighboring city, roughly 45 minutes away from our main bakery. To celebrate the opening day, we invited all first-time visitors to enter sweepstakes for four $50 VISA gift cards.
To participate, the customers had to fill out a pre-printed notecard with their name, phone number, and email address; the slips were dropped into a plastic container that sat between our two registers on the front counter. Some people chose to forgo putting down their phone number or email address, but this initiative alone yielded 40 email addresses.
Facebook Coupons
February 9, 2012 was National Bagel Day, and we decided to celebrate with a free bagel for all customers who brought in a coupon that was available for download via our Facebook page.
The coupon was fan-gated, i.e. in order to request it, one had to "like" our page and enter a valid email address. We advertised the promotion on the homepage of our website as well as our Twitter and Facebook profiles.
Additionally, we wrote and submitted a press release that was picked up by several local newspaper outlets. We ended up collecting over 100 email addresses, and increased our fan page count by more than 50.
If you are looking to run a similar promotion for your own business, I recommend that you give Woobox a look. It is reasonably priced and its coupons module has all of the features that I outlined above, i.e. fan gating, requiring an email address, etc.
Website First-Time Visitor Coupon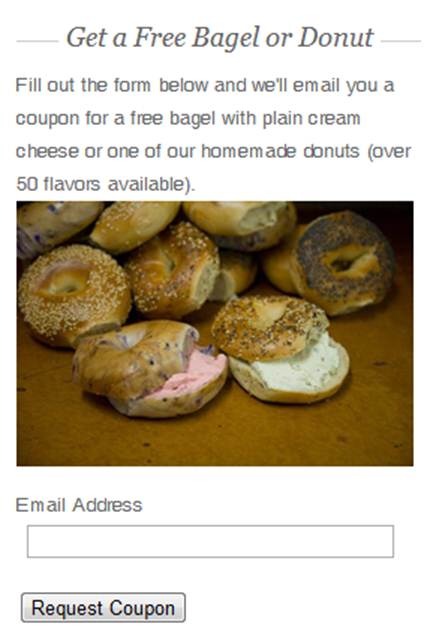 We wanted to give people who stumbled onto our website a little extra incentive to actually visit one of our storefronts, so we installed a WordPress plugin to allow potential visitors to download a coupon for a free bagel or donut. To get the coupon, the individual simply had to enter a valid email address. The campaign is ongoing, having yielded more than 160 addresses so far.
Tech-wise, we've been using the Email Before Download plugin, which we hooked up with our Google Analytics account to monitor conversions. This system's worked out relatively well, but Email Before Download wasn't set up to be a coupon distribution system, so all of the coupons are the same, i.e. there is no unique tracking number, and no mechanisms to prevent individuals from requesting multiple coupons.
We are now looking to installed VoucherPress, which seems to be a full-fledged coupon system.
Is email a part of your marketing mix? What strategies have you utilized to build a mailing list? Share your thoughts and experiences in the comments below.