Good news, social media managers! Sharing content via HootSuite just got a whole lot easier.
Today, the social media management platform integrated Dropbox, Microsoft OneDrive, Box, Google Drive, and other content sources into its publishing platform.
What does this mean? The integration will allow users to access photos, gifs, and other digital assets directly from their cloud content repositories from within Hootsuite, making it simple to access and publish engaging and dynamic content.
"Hundreds of millions of people across the globe use Dropbox to work and collaborate with their teams, from anywhere on any device.

With this integration, our customers can access their Dropbox files directly from Hootsuite, allowing them to enhance their social posts with content they already have saved in Dropbox.

In today's competitive market, companies using both Hootsuite and Dropbox can act faster and be more agile with their marketing and social efforts.

– Billy Blau, head of technology partnerships at Dropbox.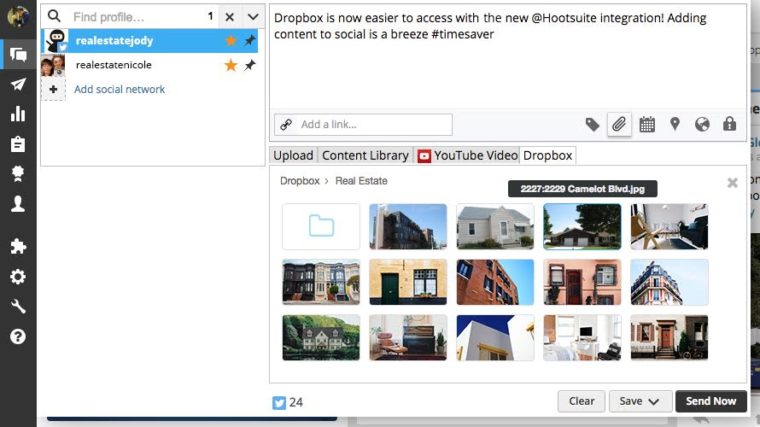 With an open ecosystem of 200+ best of breed partner applications, Hootsuite enables customers to utilize the solutions that best fit their needs.
"These new integrations solves a major customer pain point — The ability to access approved assets for social quickly and seamlessly within the Hootsuite platform from content repositories and sources our customers already use."

– Omar Kaywan, Sr. Global Partner Marketing Manager, Hootsuite
Hootsuite's integration with leading content source partners – whether they're digital asset management platforms or content repositories – makes it seamless for users to access their digital assets, anywhere and at any time.
This integration will allow users to:
Add a content source they already use into their Hootsuite dashboard
Search and organize digital assets directly within their content sources
Access assets from content sources within the compose message box of Hootsuite Publisher
"Hootsuite's integration with OneDrive enables joint customers to access their assets seamlessly and securely before they publish on social media.

Team members across organizations also enjoy improved productivity as they get to collaborate on social content in the cloud from any device."

– Rob Howard, Director, Office 365 Ecosystem, Microsoft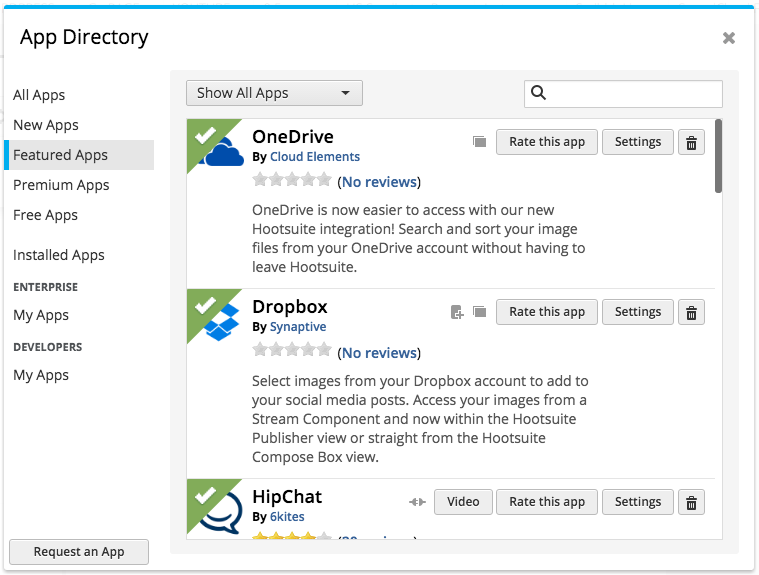 "As social media becomes a primary channel for businesses of all sizes to connect with customers, the ability to manage digital assets intelligently and create engaging social content is critical.

Box helps marketers to securely manage content of all kinds, everything from images to ad and social copy.

By leveraging strategic platforms like Hootsuite and Box, teams can work faster and smarter, delivering more successful digital campaigns."

– Roger Murff, Vice President of Business Development and Technology Partnerships, Box
In addition to Dropbox, Microsoft OneDrive, Box, and Google Drive, Hootsuite users can access other content sources such as:
UpContent: A content discovery tool that curates social feeds with more meaningful content
MediaValet: A cloud-based digital asset management system
Flashstock: An on-demand photo service that connects photographers to organizations for custom visual content
WebDAM: A digital asset management system
With easier access to content, organizations can better engage with customers, quickly implement social marketing campaigns, or offer improved customer support.
What do you think of Hootsuite's new integrations? Share your thoughts in the comments!
All images provided by Hootsuite PR.