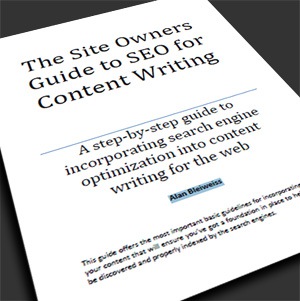 One of our most awesome columnists you are most likely to be following, Alan Bleiweiss, has written an awesome eBook I have gone through and can absolutely open-heartedly recommend to our readers. The eBook is called The Site Owner's Guide to SEO for Content Writing and you can grab your copy here.
Many of the recommendations found in the eBook come from a combination of SEO best practices and User Experience best practices:
Where a recommendation carries less value for SEO, it carries that much more value for usability.
Describing the Process
The guide clearly outlines the whole keyword selection and content creation processes:
Keyword research:

Start by creating a seed list (be sure to consider the different segments of your audience);
Expand the list with help of keyword research tools;

Creating a clear content structure:

Breaking content into categories;
Creating consistent title tag structure
Creating clear meta tag structure;
Building the organized subheading structure, etc

(Internal) Content linking strategies and approaches:

Linking back to your own content;
Giving outbound links to trusted sources.

Enriching content with additional phrases, media content as well as re-packaging content in other formats.
Going in-Depth

Apart from outlining the step-by-step process the guide also provides some very actionable and in-depth advice on very questionable issues:
Which are preferred title-tag separators and why;
How to link from main navigation or footer;
How to identify your brand through your content;
Which keyword frequency to stick to when creating content, as well as many other interesting points content creators always need help with.
Most importantly, the guide encourages you to get creative and write content for your users because…
SEO in 2011 is an art form as much as it is a science.
The eBook costs just $9.95 and you can buy it here.