Content marketing has become one of the most powerful strategies that digital marketers can employ, as quality content becomes increasingly important to the success of SEO campaigns. While content marketing campaigns were historically used only by large brands and agencies, the tactics are now more accessible to entrepreneurs and small businesses. In many ways, content marketing has been democratized, giving small businesses the ability to compete with their larger rivals.
In fact, local businesses have a unique advantage in content marketing, as their audiences can be hyper-targeted geographically, while big brands must scale back and use broader targeting. Local businesses don't need to rely on broad appeal and viral potential, but instead can drill down into their local markets to deliver resources, news, and information that offers utility to their community.
If you haven't attempted a local content marketing campaign for your business or your clients, now is the time to give it a shot. The internet is wholly oversaturated with content, and it is only getting worse. Here is a mind blowing statistic: from the beginning of time until 2003, 5 exabytes of online content was produced. As of 2013, 5 exabytes of online content is created each day! Content marketing gets exponentially more difficult every year, as more publishers realize that content is a highly effective way to reach potential customers.
What is the Goal of Local Content Marketing?
There are several reasons why you might be interested in implementing a local content marketing strategy, but there are generally four goals that can be achieved through the process:
Attract qualified traffic to your website
Generate links to your website
Generate social shares
Increase brand awareness
These goals are not mutually exclusive, and a good campaign might hit all four of the marks, but knowing what your end goal is will better help you define where your campaign should start. For example, if you are just looking to increase your following on social media, you will want to create highly shareable content with viral potential. But, if you are looking for links to benefit your SEO, you might have better success publishing a local resource or guide.
Here are the different types of content that best align with each content marketing goal:
Attracting qualified traffic to your website: Any content with local information that will interest people in your geographic area.
Generating links to your website: The key is to give utility to other webmasters. You want to be cited as a resource by other blogs and articles, so the best content pieces include resources, statistics and studies, "ultimate" guides, useful lists (tools, tactics, ideas), and infographics.
Generating social shares: To get the most out of social, your content needs built-in shareability. These will typically be shorter content pieces like Top 10 lists, "best of" lists, "you won't believe this" lists, pop culture references, videos, and interviews.
Increasing Brand Awareness: Any local content works well, just make sure to keep your branding at the forefront of your content.
Finding Content Ideas
Sometimes, finding inspiration for a good content piece comes from your own ideas, but other marketers have also done lots of the work for you. With so many articles released daily, we have access to thousands and thousands of pages of data to see what has worked (gone viral) and what has not.
One of the best tools to find content ideas that will spark your imagination is the Content Explorer tool from ahrefs.com. The tool aggregates the top performing posts based on a variety of metrics like social shares and inbound links, and is searchable by keyword.
For example, if you're a realtor in Austin TX, you might use the tool to search "Austin real estate" which will return 1,935 results. After removing some big sites that don't fit the bill, I found a great, simple content piece about castles in Texas that received over seven thousand Facebook likes & shares, and 65 Pinterest pins! This is a highly shareable content piece that is outside of the box and easy to replicate and improve upon. You could take this idea, build a new blog about it, and produce an even better article than the first. I call this tactic "one-upping"—I find a successful article online then try to trump the original. This works very well for Top 10 lists (you can do a Top 50 list and get even more attention!)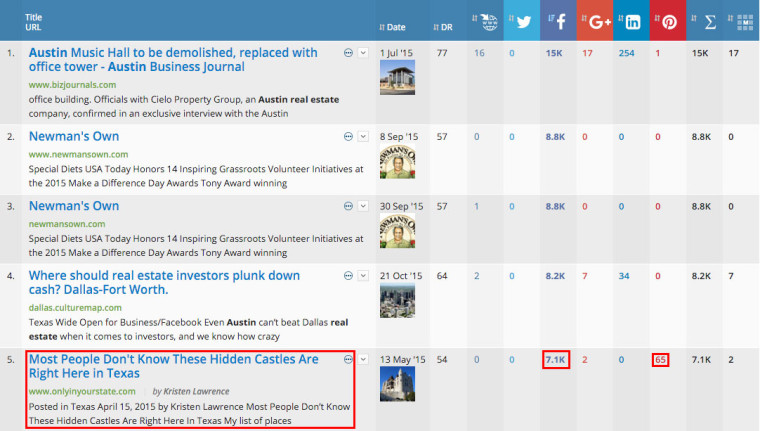 In the Content Explorer Tool, you can use a variety of keywords and filtering options to get new ideas and find top performing articles in different verticals.
Once you have your content topic nailed down, you will need to decide whether this is a content piece you want to publish on your own website (to attract links, perhaps) or if you want to find a local blog or website with high traffic to publish it on instead. Both methods have their pros and cons:
Publish on your own website:
If you publish a great piece of content on your website and it really takes off, you will get new visitors coming to your site and you might generate some links pointing to your article which is excellent for your SEO. However, you might not have a strong network of readers and social followers built, and in this case it will be harder for you to get eyes on your content.
Publish on another website:
This is a great option if you want to reach an audience you don't usually have access to. You can find local blogs and websites that will publish your story for free, but, oftentimes, high-traffic sites will ask for payment for your "sponsored blog". Remember, you should not be writing sponsored blogs just to inject anchor text links, but instead to attract real traffic (and potential leads!) to your site.
Finding Local Websites to Publish Your Content
By far, the best resource to find powerful local websites to publish your content is Google. By using a combination of Google search operators and just one Chrome plugin, you can quickly and easily identify high authority local sites that will publish your articles.
Before you begin your search, use Google Chrome and install the Moz Bar tool which will overlay SEO statistics into the Google SERP. Inside the SERPs you will be able to identify which websites are strong (high Domain Authority) and which to avoid (low Domain Authority or low link counts.) The plugin is free and very easy to use.
In this example, you can quickly see that this website, Austin Culture Map, has a strong Domain Authority and Page Authority. Getting your content featured on their website would be great.

Using Google Search Operators
Search operators allow you to narrow down a Google search to best find websites that match your query. You can think of them as shortcuts to an "advanced search" in Google (you can use the advanced search provided by Google, but search operators are usually faster). You can find a full list of search operators here, but some of the most useful ones include:
inurl:
This will limit the search results to documents that have your search term in the url of the website. For example, to find websites that publish guest posts relevant to Austin, try searching [austin inurl:guest post] and you will get pages that mention "austin" and have "guest post" in the url. Other variations could include [sponsored post inurl:austin] or [guest contributor inurl:austin]
intitle:
This operator is similar to inurl, but will return documents that contain your search term in the title tag of the page. Try [austin tx intitle:infographic] for websites that are posting infographics about Austin.
inanchor:
This search operator will restrict the search results to pages containing your keywords in the anchor text or links that point to the page. For example, [austin tx inanchor:infographic] will return pages in which the anchor text of links pointing to the pages contain the word "infographic" and the page contains the words "austin" and "tx".
Measuring the Success of a Campaign
Once you've published your content, you will want to measure your results so you can report the good news to your client, and so you can set benchmarks to improve your next campaign.
Google Analytics
Whether you published on your own blog or on another publisher's website, you will want to monitor your Google Analytics account to measure how much traffic and how many conversions are being driven from your efforts. Make sure any links inside your content piece are tagged with the Google URL builder so you can easily identify the source of new traffic. You will also want to add an annotation to your account so that you can identify on the graphs the date which the content was launched.

Social Shares
Most content publishers will include some kind of social measuring tool on the content piece which will show how many times your content has been shared. There are other tools you can use to measure the social reach of a content piece, but usually the built-in tool is enough. Do note that Twitter no longer supports most share count tools, so you may need to deep dive a bit to get that info. For a rough estimate you can usually subtract the other channels' counts from the total to get the Twitter count. In this example we can assume that our Twitter share count was roughly 369.
(Total Shares) – (Facebook + Google Plus + Pinterest) = Twitter Count

Local Content Marketing Moves the Needle
Local content marketing is a great way to generate traffic, links, and leads. Though time consuming initially, you will find that you are building relationships with different publishers that you will be able to utilize in the future. There are several websites I've personally been able to turn one guest post into a regular contributor role, so I now can publish whenever I want. These relationships give you the opportunity to turn other websites' audiences into your own. I've also had one particular guest post turn into a published book, which was very rewarding!
The bottom line is local content marketing works if you can produce content that will cut through all of the noise online. Write useful content, get it in front of the right audience, and you will see improvement in your SEO and website traffic.
Image Credits
Featured Image: Image by John Leo Weber
All screenshots by John Leo Weber. Taken February 2016.