As link building tactics get shot down by the Big G, online marketers are left wondering what's left. Guest blogging has been devalued, alongside every other known scalable method to build links, including comments, forums, article marketing, and directories. These almost sound like dirty words in today's marketing environment, but years ago, they were the way to rank. So what now? What can you do to get your site to rank?
Everyone is now touting the benefit of Content Marketing as the only safe tactic left. But what happens when EVERYONE starts doing it? Mark Shaeffer from BusinessesGrow coined a term called Content Shock. There's simply too much content being produced. So is content marketing a sustainable model for every businesses wanting to improve their presence in Google organic?
Safe Link Building Strategies
Let's start by changing the paradigm. "Link building" is over, done, kaput. Any of the known methods used to build links are now on Google's radar to penalize. They really, really, really don't want anyone "Building" links. They want everyone Building content that THEY can monetize on. Think about it. All those great long tail articles that you are creating will help improve relevancy which in turn helps them improve their bottom line. If link building is out, what can you do?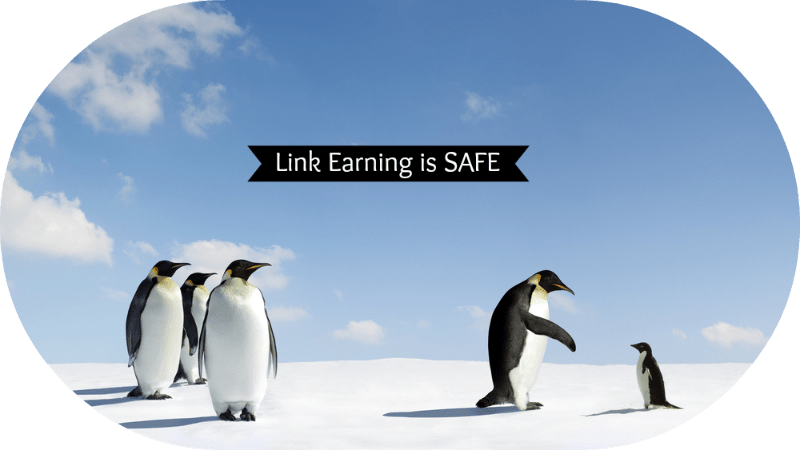 Image Courtesy of Shutterstock
Forget Link Building, think Link Earning
The concept of link earning is one we've all heard about, but have difficulty turning into a scalable methodology. Great content can't assure links. But great content CAN be the foundation for which you implement other methods to EARN links. The best way to achieve this is using integrated online marketing.
How to Use Integrated Content Marketing to Earn Links & Social Signals
Before you think links you HAVE to think content. Content Marketing is the foundation for an integrated marketing strategy. Your social, paid, and organic promotions depend on highly authoritative, quality content.
Once you've created amazing resources, get your content in front of people with Social Media. Create community by building an engaged audience ready to share and like your content.
Amplify your content using paid social channels as well as Direct Outreach to increase the visibility of your content. Marty Weintraub, who coined "Paid Organic Amplifcation" has been teaching marketers how to amplify content using Facebook for years.
The combination of content, social media, and paid social leads to visibility which in turn links to those Coveted Links and Social Signals that help you rank organically.
Continued Psychographic, Semantic, Persona and Keyword Research will drive the content creation strategy which in turn will bring in more users from different stages of the sales funnel.
The Goal:
Build high quality content assets that can be placed in front of a socially engaged and psychographically targeted audience which then shares and links to your content – naturally. No byline, no manufactured links profiles…just genuine shares and attribution to great content.
Scaling Link Earning
Once you have great content, how do you guarantee visibility for this content?
Let's start by discussing some of the different types of content that can have traction in this over-saturated environment.
Vanity Bait & Round-up Articles
Have you been emailed a question by bloggers as part of a round-up where your answer gets aggregated with that of other influencers? These posts tend to be extensive, chock-full of knowledge, and a genuine resource. And guess what happens when it's published? You email the influencers who are published in the content piece and announce that the content is live. What will 9 out of 10 people do? Share it socially – why not show off this mention? So you generated content and social signals with a little bit of high-end, targeted outreach.
Interviews
Influencers have to promote themselves, too and generally love to share their knowledge. Build connections with high-profile industry influencers and ask them if they're willing to be interviewed. Google Hangouts are a great way to create video content that is highly shareable. I recently interviewed Jesse Wojdylo on a Hangout, and his share of our interview generated some nice social activity for us both.
Surveys
Using SurveyMonkey to create surveys can generate a plethora of content pieces that contain both statistical data as well as many other potential content pieces. Instead of just regurgitating what everyone else is talking about, why not get some actual HARD data that you can turn into blog posts, infographics, white papers and case studies?
Infographics
I know this is an old practice that has been abused, but there's still massive value in creating infograhics. People love visual content, and infographics are a great way to convey a message without boring people with a lot of text. People's attention span just keeps getting shorter, so engage them with gorgeous visuals that are also informative. Combining infographics with direct outreach, even offering to write custom intros for those infographics, can generate great results for earned links.
Amplify your content with paid social ads
Now that you've created all these content pieces, how can you guarantee eyeballs? Place that content in front of the people who are most likely to share and link to it. Using Facebook ads is the most precise method due to the highly advanced targeting capabilities. In a groundbreaking post dating back to 2012, Marty Weintraub outlines a precise method to amplify content using Facebook. You can use other social promotions channels as well, including Twitter, Reddit, and Stumbleupon.
And Pretty Please…don't Forget Google Plus
Even though this isn't a link building tactic, you really can't ignore Google Plus. Google has stated that they WILL be using social signals in the future, and the only signals that they fully control are those from their own social platform. We're already seeing more Plus pages ranking in Google, and the trend will only continue. In the same way you use links to build authority, now you have to build connections to build social authority, which is in turn connected to your site and persona as you publish across the web.
Direct Outreach is a Crucial Component
Even when you place content in front of people, the most effective way to generate links and mentions is via direct outreach. This outreach is what leads to the connections made for interviews and round-up posts. When promoting an infographic, finding people who have shared contextual infographics and telling them about yours WILL lead to links. Perhaps they didn't see your post on Facebook promoting your infographic, but if you reach out to them via email, Facebook, or Twitter then its possible they'll share the infographic. Direct outreach is the jelly in a PB&J sandwich – you really can't practice Link Earning without outreach.
Don't forget to Track!
Before you start your integrated marketing campaign, make sure you have clear goals with associated Key Performance Indicators (KPI's). Tracking these KPI's will help you identify what content pieces are working best, movement in both social and organic results, and of course conversions. It'll help drive the content creation strategy.
Guest Blogging is NOT Dead
Who am I to contradict Google's head of web spam? What I will say, from someone who spends 80% of her time doing link audits, analyzing link profiles, and doing competitive analysis – is that most of the links that Matt has pronounced as "dead" are really NOT. What's dead is "Footprint Link Building". If ALL of your links are guest posts, then yes, this will cause your site to be penalized. If you have money terms in your anchor, Penguin will likely catch you at one point or another. If too many of your link ratios create a footprint, then your link building is not safe and will lead to manual or algorithmic penalties. If I believed guest posting was dead, I wouldn't be writing here, would I? SEJ is a valuable site and most of us who deeply understand the industry will continue to share our voice and ideas through this and other high-quality industry sites.
As many have said before, use high quality guest posting as a small part of your internet marketing campaign and you won't have any problems. Just make sure to vary your link profile and use many different types of link earning sources and you'll stay safe from Google's dangerous animals.
Featured Image Credit: Shutterstock