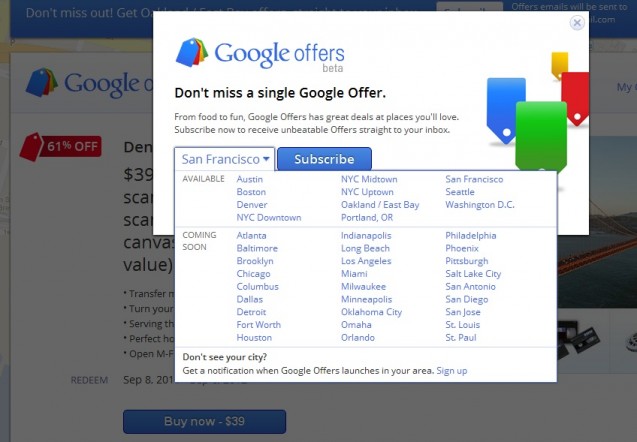 Less than a year ago, Google reportedly offered to buy Groupon for around $6 Billion. After Groupon declined the serious multi-billion dollar offer, Google decided to enter the daily deal marketplace by developing Google Offers. Earlier today, the Google commerce blog announced the launch of Google offers in Austin, Boston, Denver, Seattle, and Washington D.C. Despite the recent closure of many Google products and projects, the rollout of these cities indicates a continued commitment to the Google Offers program.
The current landscape of the daily deal marketplace has been rapidly changing. Due to recent market turmoil and amidst SEC complications, Groupon recently decided to delay the company's IPO. According to Experian's Hitwise, Groupon's traffic has fallen by 50% (compared to the peak) and LivingSocial's traffic increased by 27% during the same time period. It will be interesting to watch the impact both LivingSocial and Google Offers have on the Groupon IPO.
Google Offers has the luxury of being funded by Google, receiving promotion across all of Google's channels, and anticipating the incorporation of the Google Wallet. The Google Wallet, which was announced in May of this year, could be one of the biggest factors in the long-term success of Google Offers. Google Wallet has partnered with finance and telecommunication providers to develop an app that will allow its users to store credit cards, gift cards, loyalty programs, and offers on mobile devices. Merchants will be equipped with either a barcode scanner or a SingleTap™ device allowing them to easily redeem Google Offers and simultaneously reduce fraudulent multiple uses of certificates. Google Wallet will provide a combination of security and convenience that will be appealing to consumers and merchants alike.
If you have used Google Offers, I would be interested to read your comments below on how it compares to LivingSocial and Groupon.
[Sources Include: Google Commerce Blog, Google Wallet, WSJ, & Experian Hitwise]