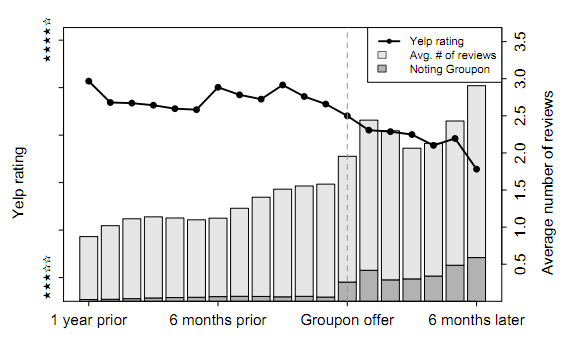 Recently, a study was conducted to determine if a Groupon offer correlates with lower Yelp ratings. The study, which was conducted by three computer scientists who attend Harvard University and Boston University, analyzed an extensive dataset to provide insight into the daily deal business.
The researchers studied over 16,000 deals in 20 cities and collected data at ten-minute intervals while the each deal was active. In addition to collecting data directly related to Groupon deals, the researchers also analyzed over 56,000 Yelp reviews for 2,332 of the merchants who ran daily deals. The data from this study, which is bad news for both the $1 billion dollar daily deal business and merchants, indicates the following findings: Groupon offers correlate with a higher number of total Yelp reviews, but lower overall Yelp ratings, for a merchant who features a daily deal.
While the study did not directly examine the cause of lower Yelp rankings, two possible reasons include the merchant being swamped with new customers that were generated by the daily deal and a business review phenomenon known as adverse selection.
Adverse selection, which is the increased likelihood of people to post negative reviews compared to neutral reviews, could be directly related to the business being inundated with new customers. For example, a person may receive horrible service at a restaurant that is overwhelmed with new business from the Groupon offer and as a result post a negative review. However, individuals who receive average or good service will be less likely to post positive reviews.
While the study did determine that a Groupon offer correlates with lower Yelp rankings, it did not conclude whether the total impact of the deal produced positive or negative ROI for the merchant. If Groupon and other daily deal sites can produce positive long-term ROI for merchants, then businesses will most likely be willing to accept slightly lower Yelp rankings and continue to offer Groupon deals.
[Sources Include: Technology Review by MIT, The Independent, and Business Insider]