Last year was very thrilling for Google as the company updated many of their products. We've seen some tools like Google Reader being shut-down and we've seen many improvements made to the existing ones. Most of Google's income comes from the search engine, so it wasn't a surprise that many of those updates concerned Google's foremost product.
Google Updates
Penguin 2.1
Google revealed search algorithm updates aimed at eliminating spam from the results page and minimizing its impact on provided results. As search engines became more competitive, many companies adopted a strategy based on gaming search engine algorithms and used techniques forbidden by Google webmaster guidelines. They quickly felt the consequences. Penguin Update 2.1 resulted in a significant drop in rankings for business who bought links or acquired them using spammy techniques.
Although Google released a disavow tool, which was supposed to help those marketers who were hit by the update, there are hardly any examples available which show the tool actually works.
(Not Provided)
Lately, Google hit marketers around the world with another update. This time it concerned their web analytics product – Google Analytics. More and more organic keyword data became unavailable for site owners, as 'not provided' count was growing.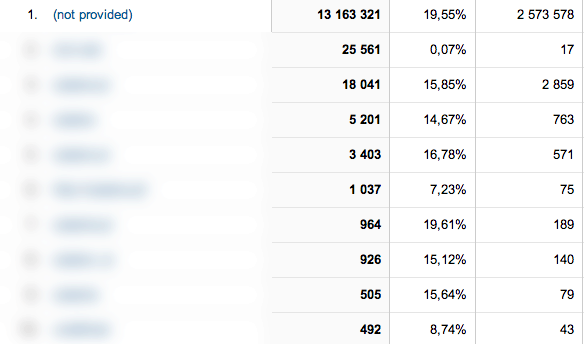 Screenshot taken 16/12/2013 of Google Analytics owned account
Encrypted Google searches don't pass the keyword data to websites. When someone performs a search on Google, it's always done as SSL encrypted search. The moment Google moved entirely to the secure search, website owners, marketers and SEO experts were cut off their organics keyword data for good.
From a privacy perspective, it's good that Google made the change. On the other hand, website owners and marketers, despite the fact that the SEO community publish many articles about how to deal with not provided issue, became disoriented without the organic keyword data.
Historical Keyword Data – The Next Feature that Google Could Kill
Despite the fact that most of the new organic traffic that website receives is marked as "not provided," marketers still have access to their historical data. But, it may not last for long. If all the keywords are not available in the nearest future, there will be no point of keeping organic keywords tab in Google Analytics. The next logical that Google could take, would be switching off the organic keywords tab as well.
Brace Yourself – Grab Your Keyword Data While You Still Can
In the situation where less and less data is being available, every piece of information could be crucial. The ability to check an archived data and analyze the previous organic keyword performance is essential for any marketer or SEO professional.
How to Backup Organic Keywords Data
My company, Positionly provides a small organic keyword backup tool. It will help you download your entire organic keyword data history within seconds and back it up in clean spreadsheet file.
You can also export your organic keywords historical data from/within your Google Analytics account. Bear in mind that the data you can export is limited which, in turn, can be troublesome for anyone who has a lot of keywords used for ranking.
Final Thoughts
Although Google provides it's users with great products, the updates they introduce have a big impact on the business landscape. The impact is not always positive. This is especially true for the SEO industry. For Google, these changes are a win-win situation. SERPs will provide better results with less spam. Companies who have been hit by the search algorithm update will go towards AdWords as a natural source to compensate for their traffic loss.
Unfortunately, we are obliged to play by Google's rules if we want to succeed online. If your business rely heavily on Google, being an agile marketer means having eyes wide open for it's next moves.