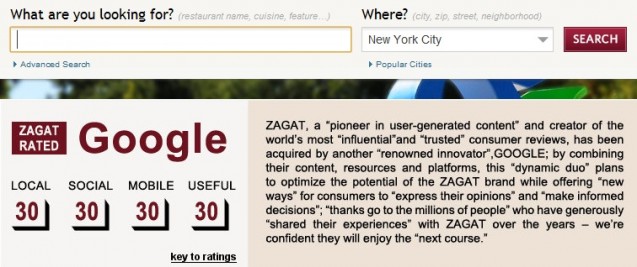 A recent SEC report revealed that Google has already acquired more companies this year than in any previous year. Although Google purchased 48 companies in 2010, the search giant has already acquired 57 companies so far this year. The report indicated that Google has spent a total of $1.4 billion in acquisitions made during the first nine months of the year.
Google's recent quarterly SEC report specifically revealed that the search giant purchased restaurant review company Zagat Survey, LLC for $151 million, a figure that exceeded original speculation that had estimated the purchase price to be between $66 million and $125 million. The $151 million purchase price places Zagat among the top ten most expensive purchases Google has made in its 13 year history.
Although the full extent of Google's use of Zagat is not yet known, the search giant is integrating the recently acquired data with Google Maps in order to beef up its restaurant reviews. In addition, Google is expected to use Zagat data in other ways that will attract Web users to Google reviews instead of visiting sites such as Yelp.
Although Google reportedly reached an agreement to purchase Motorola Mobility, Inc. in August, the deal has not yet closed due to investigations from the U.S. Justice Department. Should the Motorola acquisition close, the $12.5 billion price tag would represent Google's largest acquisition. However, until the Motorola deal closes, Google's $3.2 billion acquisition of online advertising service DoubleClick in 2008 continues to be the search giant's largest purchase.
In addition to purchasing Zagat during the third quarter of the year, Google also acquired 27 other companies including European online discount service Daily Deals.
Sources Include: [TechCrunch, Washington Post, & VentureBeat]