On May 5th during the long-awaited Google AdWords LiveStream, Google's VP of Product Management Jerry Dischler took the stage to reveal some exciting and mix-reviewed innovations the team has released (or plans to release) with hopes of improving the search experience for users and advertisers.
One of the most exciting updates? The new mobile ad units! Google revealed that mobile searches have finally surpassed desktop, so naturally they've been pushing mobile optimization for advertisers through product innovations.
But, there's one headache inducing problem with mobile advertising – we kind of suck at it! I apologize for being blunt, but truly converting mobile visitors has proved to be a challenge for advertisers across multiple industries.
Just check out the graph below from a WordStream study proving that mobile conversions fall far behind conversions occurring on desktops and tablets: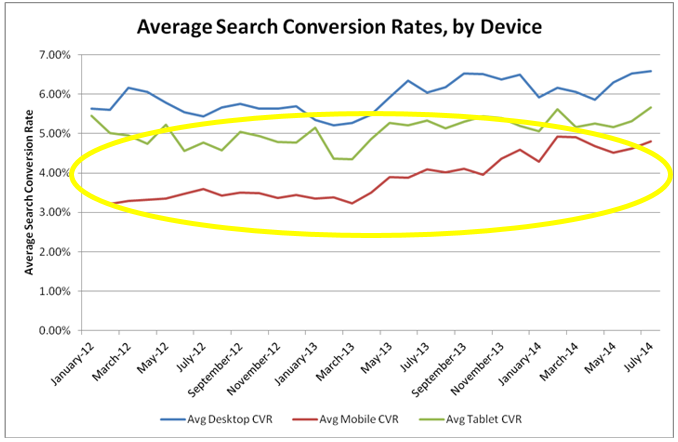 Pathetic!
The biggest problem is that advertisers are treating their mobile ads the same as their desktop ads, when in reality mobile behavior is vastly different. Mobile searchers are on-the-go, multi-tasking, commuting, and easily distracted creatures. In contrast, desktop searchers are more civil, focused, and inclined to conduct research.
Think about it. When you're cooking pasta while browsing your phone for new sandals and you notice the water boiling over, are you going to ignore it and proceed with your shopping? Absolutely not. Advertisers need to realize mobile searchers are not different people, but people in a different state of mind.
So, what has Google done to address this?
They've introduced new mobile ad formats for four of the largest industries advertising on Google including travel, finance, automotive, and shopping. Naturally, non-included industry advertisers felt discouraged upon these announcements. Luckily, Jerry confirmed at SMX Advanced in Seattle that Google intends to scale these new mobile ad units for multiple industries in the coming months.
"When session lengths are compressed as they are on mobile, we need to drive people to answers more quickly," Dischler said. "On mobile, people also expect more rich content. So we're going to build products that work well on mobile first. For each vertical, we'd like to create a template that will lead to an answer." So take a breather, Google has not forgotten about you!
Now let's take a look into some of the most innovative features these new ad formats have to offer.
#1: Mobile Ads are Becoming More Visually Interactive
Google recently announced carousel ads, which are a set of images that you can scroll through (similar to a catalog) directly on the SERPs. They're engaging, interactive, scream 'mobile-friendly!' due to the touch-screen element, and allow the searcher to browse before clicking, which is beneficial for both the searcher and the advertiser.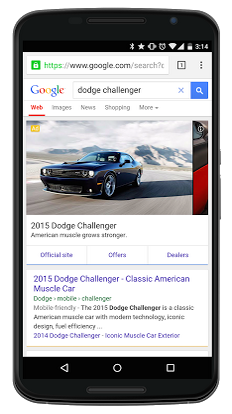 Currently, this feature is for automotive advertisers only. Around 50% of searchers in the automotive industry occur on Google, so they've decided to prioritize these formats for this visual and research-heavy industry first.
I suspect that these formats will become available for advertisers in various industries because, let's face it, imagery is important to both the user and advertiser, so Google withdrawing the ability so see images within ads on the SERPs could lead to fewer mobile clicks and more frustrated spenders.
#2: Easily Compare & Read Product Reviews on the SERPs
Do you remember the last time you bought a car? You hopped online, did a search including the 'must-have' terms to find an affordable and practical vehicle, and hit "Buy now", right?
Not exactly. You likely spent months comparing models, conducting research, reading reviews, etc.
Google understands how people shop. Searchers want to make informed decisions before purchasing. Whether it be booking a hotel room or signing up for a new credit card, a searcher is never going to choose the first thing they see. They also understand that, on mobile, the chances of visiting a bunch of websites to get additional information on various brands are pretty much nonexistent. Mobile searchers don't have the patience, time, or attention span for this kind of investigation.
This is why Google introduced Google Compare in March to help shoppers compare car insurance directly through the SERPs. "Whether you're a national insurance provider or one local to California, people searching for car insurance on their phone or computer can find you along with an apples-to-apples comparison of other providers – all in as little as 5 minutes," says the Google AdWords blog. "You can highlight what makes your business unique, whether that's an 'A' rating in customer service or better discounts for safe drivers."
During the Livestream, Dischler announced Google Compare will be coming for mortgage providers and credit card companies, which leads to the suspicion that Google Compare is going to be available to compare several other products across a range of industries in the future. With the new hotel ad formats, searchers are also easily able to compare hotel locations, reviews, and rates side-by-side.
In addition to the ability to compare products on the SERPs, Google is also integrating more review information into ads. Approximately 88% of consumers trust online reviews as much as personal recommendations according to BrightLocal, so Google is making it easier for mobile searchers to see reviews directly on the SERPs.
#3: Revamp of Dynamic Search Ads to Make Your Life Easier
Dynamic search ads previously just inserted a search query into the headline of your ad in the hopes of boosting relevancy and CTRs. Although this capability worked wonders for some advertisers, others (like eBay) misused the functionality leading to embarrassing results.
The problem with targeting searchers with keywords is that 15% of Google searches are completely unique and have never been searched for before, therefore chasing mobile specific keywords is a fool's game. Luckily, Google has made huge strides with a complete revamp of Dynamic Search Ads providing a much higher level of transparency and lower level of keyword management.
So, how do these new DKIs work exactly? Google's web crawling technology scrapes through the content of your site, and then organizes your site into categories, which then match to relevant queries and ads and direct to the most relevant landing page. Why I already love these new DKIs: it gives the searcher a clean, easy, and relevant experience, and takes the daunting task of keyword management and set-up out of the equation for the advertiser.
Also, you don't need to break a sweat about Google running the show because you will still have the ability to make adjustments on categories, targeted searches, ad text, etc.
#4: The Ability to Buy, Book, & Act Directly Through the SERPs
Mobile searchers are far too busy to visit a bunch of websites. They want to hop on Google, get an answer or complete an action, without having to go through a site full of hurdles and pages to get the end result. With additional hurdles on mobile comes a lack of motivation from searchers. "Eh, I guess I don't really need that," or "I'll do it later," the searcher thinks, and then sayonara to that on-the-brink conversion.
This is why new mobile ad formats are going to allow searchers to do more, faster. Google recently confirmed that the buy button is real, making it easier for shoppers to buy on-the-go. They've also revealed the ability to complete other actions more easily, like booking a hotel or flight with the click of a button, on the relevant check-out page. This will be a huge advantage for advertisers to keep the motivation of mobile searchers high and increase conversions.
I'm thrilled about these new mobile ad formats and am confident that mobile conversion increase potential is set high for advertisers.
What are your thoughts on these new mobile ad formats?
Image Credits
Featured Image: Gonzalo Baeza via Flickr
Image 1: Created at WordStream
Image 2: Screenshot from the Google AdWords blog taken on 6/22/2015