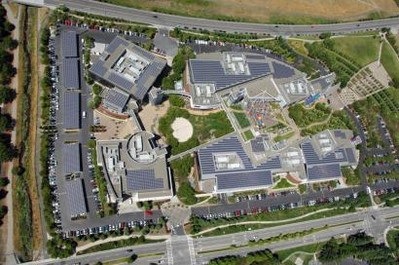 Reportedly, Google is in the process of completing over $120 million worth of renovations and projects for its Mountain View headquarters. The latest project, which includes building a "secret lab" to test new hardware and devices, is being headed up by Google co-founder Sergey Brin and has been named "Project X." According to news reports, the new testing facility will be located at the center of the Googleplex and will focus on secret projects. The lab will feature blacked out windows and utilize certain contaminants and chemicals to test new hardware.
In addition to building the testing facility, Google also has plans to build a 120,000 square foot "Google Experience Center." The Experience Center will be a private museum to showcase Google products and technology for important clients and guests. The large facility will be able to accommodate up to 900 visitors simultaneously at a single event.
Andrew Burnett, one of the architects working on the project, said the following regarding the Experience Center:
"The Experience Center would not typically be open to the public — consisting of invited groups, and guests whose interests will be as vast as Google's range of products, and often confidential… Therefore, the Experience Center must also operate somewhat like a museum, exhibit, or mercantile space allowing flexibility in the exhibits so that as Google's products and needs change, the space can adapt."
Since news of the "secret lab" and Experience Center broke, Google has not provided specific details. However, the company did provide a vague statement:
"Just as we continuously work to improve our products, it's important to iterate on our workspace to keep us productive. That's why we are adding additional meeting and work space to our campus in Mountain View."
With Google committing over $120 million to showcase and test new technology and $12.5 billion to acquire Motorola, it is safe to assume that Google is looking to challenge technology rivals Microsoft and Apple with new products and hardware in the very near future.
[Sources Include: VentureBeat & Mercury News]