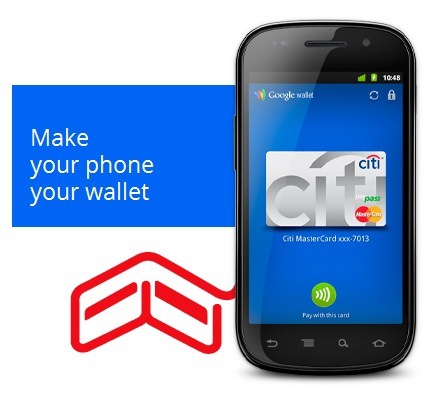 Google Wallet, which was first announced in May, is expected to launch sometime later today. It is believed that this new mobile payment system is already live at one San Francisco coffee shop. Google Wallet will allow consumers to organize credit cards, loyalty programs, and gift cards on their phones and quickly pay for purchases by tapping their phone on an enabled payment terminal.
Currently, the only NFC compatible handset is the Sprint Nexus S 4G. However, Google has indicated that future Android handsets will embed the NFC chip and NFC-enabled stickers will allow other types of handsets to become compatible. It is currently unknown when these stickers will become available.
Initially, Google Wallet will only be available at select retailers. The retailers that will begin accepting Google Wallet immediately following the launch include: American Eagle, Macys, Bloomingdales, Walgreens, Subway, Sports Authority, and hundreds of thousands of other MasterCard PayPass enabled merchants. At participating merchants, users can simply tap their phones on the reader, instantly sending payment card information. In addition, some merchants will be able to receive stored offers and loyalty information.
While Google Wallet may seem unfamiliar and is sure to raise security questions, consumers should be aware that the NFC handsets are more secure than plastic credit cards. However, it may be difficult to entice wary consumers to leave the familiarity of plastic credit cards and begin using the new mobile payment system. In order to motivate consumers to make the transition, some type of incentive may need to be offered.
Although the Google Wallet website declares the unveiling of this new payment system is "coming soon," the rumors indicate we can expect to see the launch sometime late today.
[Sources Include: TechCrunch, Google Wallet, Slash Gear, & Washington Post]