Unfortunately, I have no way of testing this new feature of the Google Voice app for Android since Google Voice is available only in the U.S. But if you have an Android Phone and you haven't used Google Voice yet, you might want to give it a shot. If you are using it already, expect an automatic update to happen soon.
The new feature has something to do with the sending of notifications for new messages which previously takes around 15 minutes to be sent to a user's phone. Now, those notifications will be sent and received by users within seconds after the messages are received in Google Voice Inbox. Thanks to the new feature called – Inbox synchronization.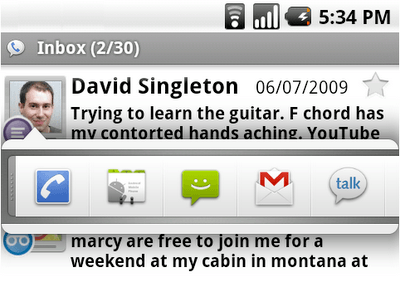 In addition, the Google Voice app for Android also makes it faster to interact with phone contacts from within the Google Voice app. You simply click on any contact's photo and you can quickly respond to voicemail either through email or IM.
If you have updated to the new Google Voice app for Android, you can set up Inbox synchronization from the Google Voice settings. Select "Refresh and notification," and then select "Inbox synchronization." Then you will start receiving faster notifications. The new feature also disables the SMS forwarding to avoid duplication of notifications.